SEO basics: Elements of the Google Search Engine Results Page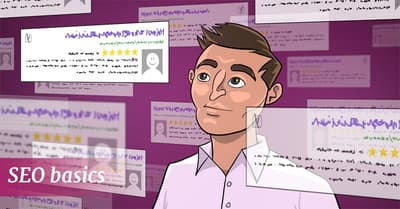 Everybody knows what the Google Search Engine Results Page (SERP) looks like. We've all been there. We cross that page with every search we do. Still, the page can look rather different depending on what you're searching for. And, which of those results are paid for and which are not – the organic ones? In this post, I'll explain all the elements of the Google Search Engine Results Page.
It depends on what you're searching for
What the result page looks like largely depends on what you are searching for. If you're searching for a product you can buy, Google will show shop results on the SERP. Like in this example, when I was searching for ballet shoes for a toddler.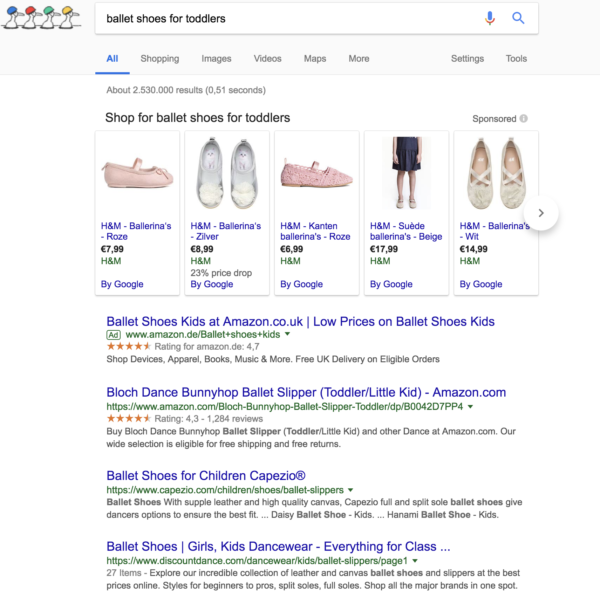 This results page starts with shopping results, the ones with the images on top. To get there, you'll have to pay Google – note the word 'sponsored' in the upper right corner. After those results, the first result is an Ad, another paid result. And then the organic results start.
However, if you're searching for information about the planet Neptune – because your son is writing an essay about that – you'll encounter a totally different looking SERP: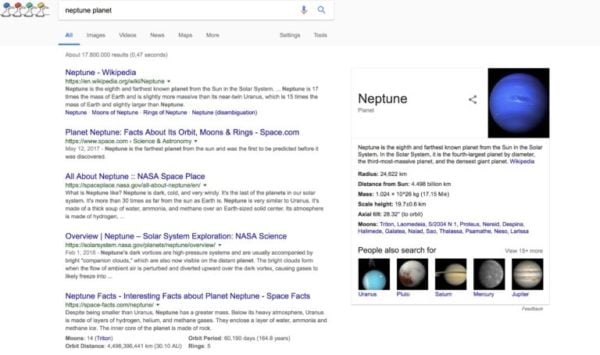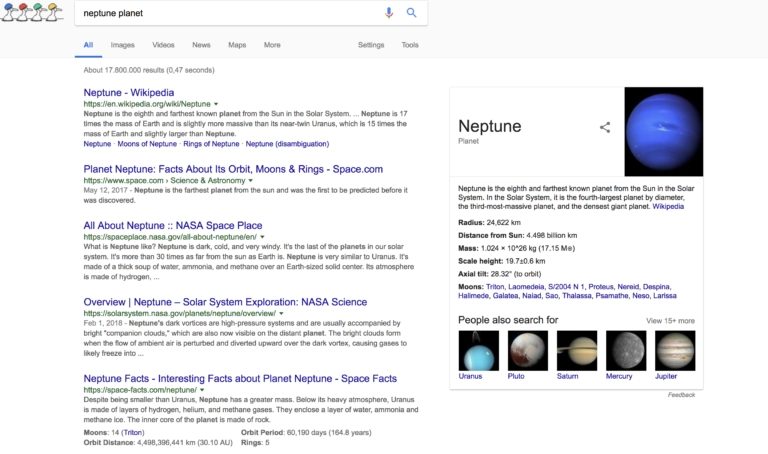 These search results do not show any paid or sponsored results. And on the right end, you'll notice a knowledge graph with lots of information about the planet Neptune.
Read more: What is search intent? »
Browsing through the result page
The default page of Google's search result is a page on which different results appear. Google decides which results fit your search query best. That could be 'normal' results, but also news results, shopping results or images. If you're searching for information, a knowledge graph could turn up. When you're searching to buy something online, you'll probably get lots of shopping results on the default result page.

If you want to, you can apply some filters on the search results yourself. You can, for instance, click on 'images' if you're searching for an image. This allows you to browse through images only. You can also choose 'shopping', 'videos', 'news' and 'more'.
Keep reading: How to get your Shopify store on Google »
Sponsored results and ads
Google shows both paid results and organic results. It can be pretty hard to notice the difference between the two. The ads usually appear on top of the search results. Sometimes it's only one ad, but Google can show more ads as well. This depends on how many people search for a certain search term and who wants to pay for it.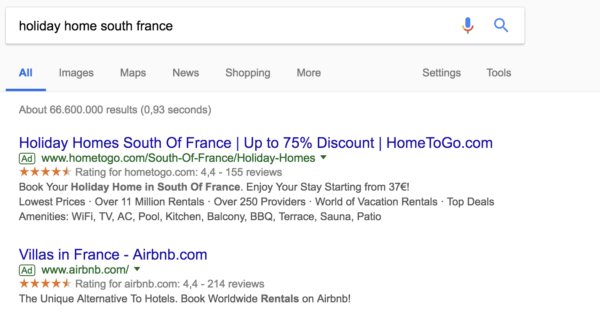 You'll recognize the paid result by the word Ad shown in front of the link to the website. The shopping results in Google are also paid results: a company pays Google to appear in the shopping results. If you want to advertise on Google, you should check out Google Adwords.
Organic results
The organic results in Google are all of the results that are not paid for. The organic results that are shown first are the results that fit the search query of the user best, according to Google's algorithm. Search Engine Optimization (SEO) is aimed to improve the chances to rank in the organic search results.
Snippets
The search result page consists of a number of snippets. A snippet is a result Google shows to the user in the search results. A 'normal' snippet usually looks like this:
Google shows the title in blue, the URL in green and a description of what the page is about. You'll also encounter rich snippets on the SERP. A rich snippet shows extra information between the URL and the description. A rich snippet looks like this:

In this snippet, a picture of the ice cream is added, you can see the rating of the recipe, the time it takes to prepare this type of ice cream and the number of calories it contains. A rich snippet contains much more information than the normal snippet does.
Read on: What are rich snippets? »
Other elements on the SERPs
Besides snippets, images, videos, news results, shopping results and maps, Google also shows some other elements on the SERPs.
Knowledge Graph panel
The Knowledge Graph Panel appears on the right side of the search results. According to Google, this information is retrieved from many sources, including the CIA World Factbook and Wikipedia. Information from the Knowledge Graph is used to answer spoken questions in Google Assistant and Google Home voice queries.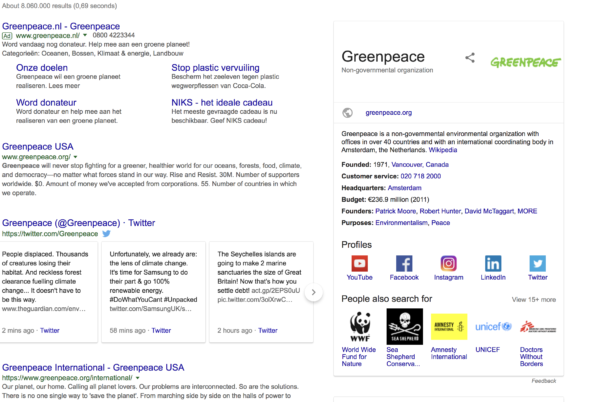 "People also ask"
This box appears somewhere between the organic search results. It'll give suggestions for questions that relate to the search query you typed in. If you're searching for Yoast SEO, you'll encounter these related questions between the organic search results. Clicking on one of the suggestions will give a direct answer to the specific question.

Featured snippets or answer boxes
A featured snippet, aka answer box, is a highlighted search box that answers the question you type in the Google search bar. This featured snippet box is situated above the regular organic search results. Featured snippets often appear as a paragraph or a bulleted list, accompanied by an image.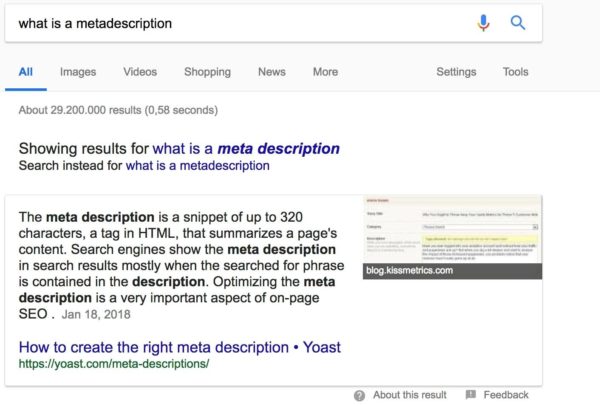 Keep on reading: How to get featured snippets »
Conclusion
Google's SERPs can show various elements: the search results themselves (so-called snippets), a knowledge graph, a featured snippet, an answer box, images, shopping results and more. Depending on the type of query and the data Google finds, some of these elements will show up. You can add data to your page, so Google can show a 'rich' snippet, providing more information about your product or recipe, for instance.
You can pay Google to make the snippet of your page end up high on the search results page as an ad. Or, you can optimize your pages for the search engines – and users! – so it will rank high organically. That's SEO, and that's what we write about!
Read more: Yoast SEO: how to make your site stand out in the search results »
Coming up next!
Event

September 27 - 28, 2023

Team Yoast is Sponsoring WordPress Accessibility Day 2023, click through to see if we'll be there, who will be there and more!

See where you can find us next »

SEO webinar

26 September 2023

Get expert analysis on the latest SEO and WordPress news with Carolyn Shelby and Alex Moss. Join our upcoming webinar! 📺️

All Yoast SEO webinars »