In this article, I'd like to highlight the snippet preview in our Yoast SEO plugin. How does this feature help you make your page stand out in the search results? What are the snippet preview and snippet editor, how do they work and what should you pay attention to when using them?
With the release of Yoast SEO 12.9, we renamed the snippet preview to Google preview. Although the name is changed, the rest of the settings remain the same!
First of all, I have to point out that Google makes the final selection of content to show in the search result pages. No matter how much effort you put in optimizing your meta description, if Google feels that another snippet of your page answers their visitor's search query better, it will use that snippet instead of your meta description. Is that a problem, you think? I think it isn't. It's Google helping people understand your page better.
Let's look at that snippet preview
You can find the snippet preview in the so-called meta box, right below the edit field in WordPress: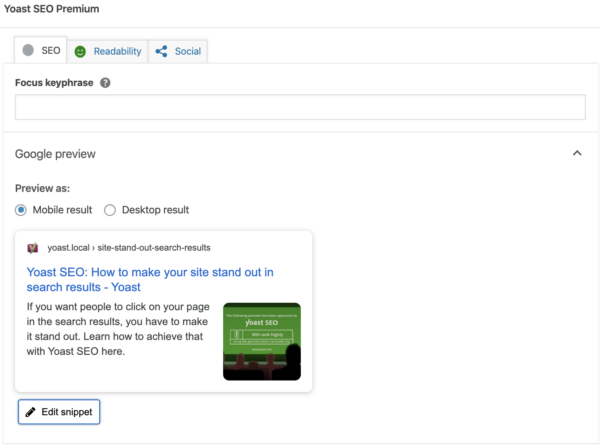 As you can see, we haven't set a meta description yet and the title is perhaps a bit long. Now, where do we change all these things?
Your SEO title
If you want to make your site stand out in search results, it will always have to be optimized one page at a time. Looking at a single search result, the page title is the thing that gets the most attention in the search result pages. It's in the largest font, the blue color pops. It's usually also the most consistent thing in there. Your titles look like this: 'page title' – 'site name' by default (learn how to set the template for titles with Yoast SEO here).
Now if you'd like to change the SEO title for a specific post, simply click 'Edit snippet' and you'll get this screen:
As you can see, the template of the title is displayed here in purple. Title is the name of your post. Page number will give you the number of the page is you have spread the article over multiple pages, separator is the separator or divider you can pick in our plugin as well. Branding should be consistent on all pages, which means your Site title should be your brand name! If you want to adjust the title, you can overwrite the purple boxes here. For tips on how to create excellent titles, please read Crafting good titles for SEO.
Read more: Titles and meta variables in Yoast SEO »
Meta descriptions
We have written quite a lot about that meta description. It's the only 'tool', besides the title, that Google gives us to optimize our invitation to our website. In the meta description, you highlight what your page is about and why the user should visit it.
How to add a meta description
If you don't enter a meta description in the snippet editor – as shown above – it will ask you to provide one. So for this article we added it in the meta description field. As you can see, the snippet preview shows what your result could look like in the search results: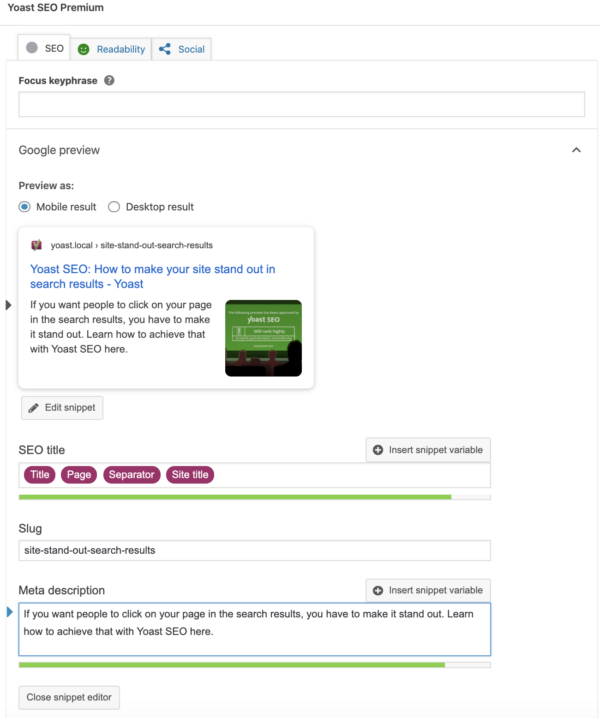 Note that the meta description is a suggestion for Google, as I mentioned earlier. If Google doesn't use the meta description you enter or edit here; some reasons could apply:
Your meta description doesn't match the search query of the user. If you optimize your meta description for a certain keyword, which differs from the query, Google might decide to pick some sentences that fit the query better instead. Again, that might be a good thing.
Your meta description is over-optimized for a certain keyword, or considered to be too focused on sales/spam. Sometimes you may manage to squeeze in an emoji or icon of some kind, most of the times Google prefers text. I think most users do, by the way. It allows for more characters if you leave the fluff out, so your sentences are easier to read.
The length of that meta description
Now let's shortly discuss the length of that meta description. It changed a few times lately, but now it seems to be back at approximately 160 characters, Google will display this in some cases, not all. Sometimes Google chooses to display a longer description, but that seem to be the exception.
Optimizing your slug
Last but not least, you can also alter your slug. That's the post-related part of the URL for that post. In our snippet preview editor, you can change that slug. Remove some clutter, make sure there's focus. If possible, add the preferred focus keyword in there. Google could change that slug into 'breadcrumbs' a lot of the times, by the way. But if your URL is in the results, it's nice to have the focus keyword in bold there as well.
One more thing: site links
Last but not least: site links. Site links are the links that you sometimes find below your main mention: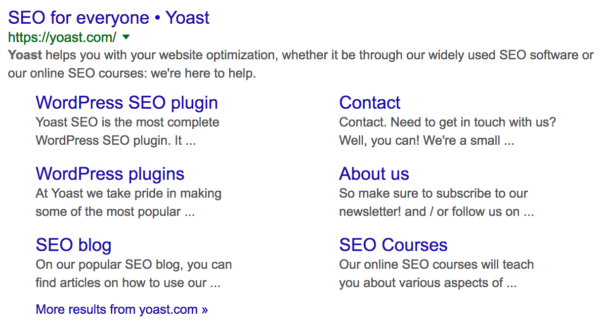 As you can see, it's one mention, with multiple extra site links below it. Now, this isn't in our plugin or snippet preview, since we as site owners can't control or suggest these. Google even removed the option to demote any links here last year. So it's out of our reach, to be honest. Just wanted to clarify that :)
In conclusion
That's it. You can easily optimize your mention in the search result pages if you use the snippet preview, and editor, in our free and premium Yoast SEO plugin. It's an easy, convenient way to present Google with a ready-to-use, optimized snippet for their search result pages. Now go and optimize :)
Keep reading: The beginner's guide to Yoast SEO »
Become a Yoast SEO pro series
Coming up next!
Event

December 09, 2023

Team Yoast is at Attending, Organizing, Sponsoring WordCamp Ahmedabad 2023! Click through to see who will be there, what we will do, and more!

See where you can find us next »

SEO webinar

12 December 2023

Learn how to start your SEO journey the right way with our free webinar. Get practical tips and answers to all your questions in the live Q&A!

All Yoast SEO webinars »