Keyword research for your Shopify or WooCommerce store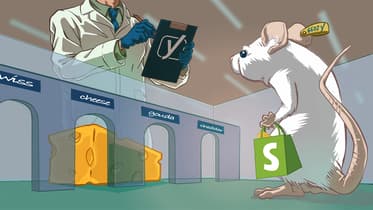 When you start an ecommerce site with WooCommerce or Shopify, having a keyword strategy might seem less important. You're selling products, so the product names are your keywords. While that might be true in a few cases, in most cases, you need to focus on the keywords that describe the problem you or your products are solving for your customer. Selling sun protection? The issues you're solving (or instead preventing) are, among others, sunburn and skin cancer, so these are your keywords as well. In this post, we'll give you a practical approach to performing keyword research for your online store.
What is keyword research for online stores?
After you've defined your position and found your niche, you must have a pretty good idea of the main keywords for your Shopify or WooCommerce store. By putting some real effort into positioning your online store, you unconsciously thought about what we like to call 'long-tail keywords'. You were thinking about how you could refine your product (or better: product description) to match a specific target market. By doing keyword research for your online store, you can understand which words will reach consumers in all buyer journey stages.
Let's first explain the concept of keyword research. You can define keyword research as:
The activity you undertake in order to come up with an extensive list of keywords you would like to rank for.
Your keyword strategy follows that definition, as it consists of all the decisions you make based on that keyword research for your online store. This is where your search marketing starts: explaining what you do, in the language of your target market. It will help you develop an extensive list of (long-tail) keywords you'd like to rank for.
Keyword research for the online store you've built on WooCommerce or Shopify consists of a couple of steps:
Write down the mission of your business.
Make a list of all the keywords you want to be found for.
Create landing pages for all keywords.
Where we say keywords, we also mean keyphrases (more than one keyword in a search query, as in 'search engine optimization').
Our ultimate guide to keyword research has more on this vital topic. You might also want to take a look at this post about choosing a focus keyphrase for your product descriptions and categories.
What is the mission of your online store?
We have talked about how having a mission helps you define what you do on your Shopify or WooCommerce store. The mission of your online store consists of the ideas you have about your website and your company. For the moment, let's not focus on if that mission statement will prove to be genius enough to sell to people. This also largely depends on the market you are in.
Some markets are highly competitive, with large companies dominating the search results. For instance, an online store with illustrations for children would even have to compete with online giants like Disney. Did you know Disney is an online publisher as well? Blogs like Disney Family attract hundreds of thousands of readers per day. We can assure you that these companies have a bit more budget for marketing (and SEO) than a starting online store like yours might do. Competing in these markets is challenging; ranking in these markets is complex — all the more reason to make a good decision on niches and positioning. And keywords.
Please note that if you decide on a specific long-tail keyword, that doesn't mean you can forget about the competitive keywords altogether. It would be best if you mentioned these. Better yet, these should have a role in your website as well. You can't optimize for [gluten-free, vegan chocolate cupcakes] without focusing on [cupcakes] and [chocolate cupcakes] as well. You might already target these keywords with your product categories or other parts of your site structure.
Talk to your potential customers
Something that's often glossed over is that your potential customers can give you insights that prove to be essential. Simply talking to them will allow you to ask about their wants and needs and how they describe what they need. In speaking, you can get deeper into the minds of your customers. You'll get more out of it than simply plugging a head term into an SEO tool and using what it spits out to set up your SEO strategy.
Make a list of keywords for your store
Try to focus on what benefits you bring to the customer, not on what you are selling from your point of view. Usually, that will give you keywords they will most likely use in their Google searches. Ask yourself: What will these people be looking for? What kind of search terms could they be using while looking for your fantastic service or product? Ask yourself these questions and write down as many answers as you possibly can.
Keep your unique selling point or your customer's unique buying reasons in mind when drafting your list of keywords. Make sure these keywords fit your ecommerce site. To get there, start with search intent.
Uncover search intent
Search intent is all about the why behind a search. There are four types of search intent, but only three are valuable for online stores:
Informational intent: People are looking for information;
Commercial intent: People are looking to buy something but they are not yet willing;
Transactional intent: People are willing to buy and are looking for the best place to do that.
In general, people don't go from thinking they need something to buying it the next second. Especially for larger purchases, that buying process goes through a few steps. It goes from awareness to researching and all the way to finding out where and how to buy it. This is called search intent.
In all these phases, customers use different terms to find the products they need. To make your online store a success, you need to know how your customer's buying process or user journey works. All these insights help you reach them with excellent products and relevant content.
The intent drives your content strategy
Different intents need different types of content. For keyphrases with an informational intent, you need to provide answers to any questions a potential consumer might have. How you do this depends on what you want to achieve and in which industry you operate. For instance, if you sell power tools, you can write blog posts detailing when to use a specific drill — or present lists of the most capable power tools within a price range. Think about what people are looking for.
For commercial intent, people are well on their way to becoming a customer, and it's your job to make them a customer of your business. You might solve this by offering content that satisfies the customer's buying needs. People have an idea of what they need and are on their way to drill down their list of drills to consider just a couple of them. In this stage, you need to provide customers with easy-to-understand content that helps them make that choice.
In the transactional stage, a customer might search for [buy Dewalt cordless drill combo kit] — or maybe even [buy Dewalt cordless drill combo kit near me] if they are looking to buy it locally. People get their search down to a specific product, and now they are trying to find the best place to buy it. With these searches, customers have signaled that they want to part with their money, and you need to get them to the online store you built on Shopify or WooCommerce.
Here's how you can use the search results to create great content that matches people's intent.
Check the intent your competitors rank for
There are probably many companies in your niche trying to woo the same customer. It's good to keep a close eye on these. The ones that rank well for your keyphrases or products tend to have done their research. They found the terms needed to reach your customer and built content around these terms to stand out in the search results. Good for them! But you want that spot.
Search intent should also be a part of your competitor analysis. Find out what your competitor is ranking for and specifically look at which intent the keywords they are ranking for have. For instance, you can use the Semrush keyword intent tool to determine which types of keywords you are ranking for and compare that to your competitor. You might find some valuable insights that you can use to provide customers with more targeted information they need to get that transaction.
Be sure to check out what the competition is doing and how they are doing it. After running their domain through an SEO tool like the ones mentioned above, you'll uncover which terms the site ranks for. Knowing this can give you enough ideas for excellent content that can steal their rankings! Don't steal their content, though.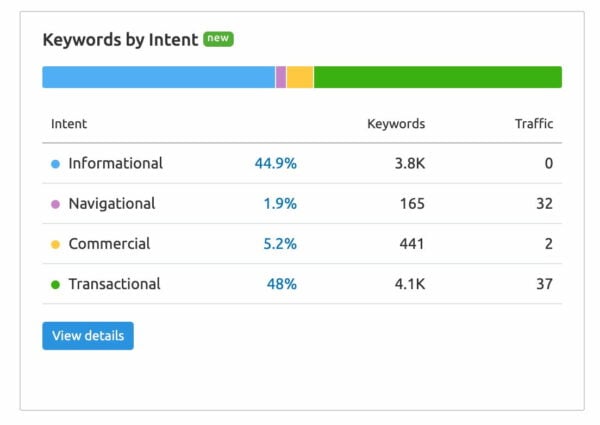 Find (related) keyphrases
We all know the valuable insights a tool like Google Ads Keyword Planner can give you. It's one of the many tools that can give you an idea of the words you might want to rank for. If you need any help finding the right keywords for your Shopify or WooCommerce store, please read about which keyword research tools you can use.
For your ecommerce site, there are other ways to get to know the language and terms around a specific product or service. Professional SEO tools like Semrush and Ahrefs have more in-depth data about your proposed keyphrases, including how difficult it might be to target those terms. Taking the difficulty into account prevents you from targeting impossible head terms that are probably dominated by big brands anyway.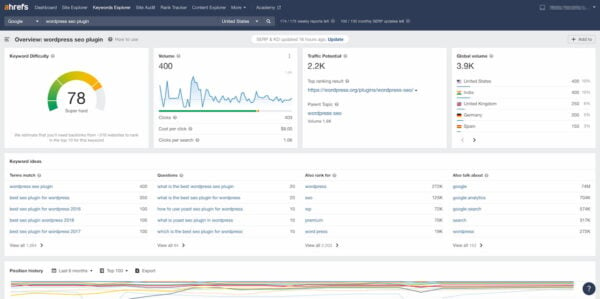 Finding related keyphrases with Yoast SEO and WooCommerce SEO
There's another way to get related keyphrases that you can use to do keyword research for your WooCommerce online store. In Yoast SEO, you can find a 'find related keyphrases' button right below the focus keyphrase one, opening the Semrush integration. After connecting your Semrush account and filling in your focus keyphrase, you can hit that button to generate a list of keyphrases related to the one you filled in. In addition to this list of relevant keyphrases, you'll also see search volume and trend data.
Using this will uncover more keyphrases that might increase the chance of your landing and product pages ranking for relevant terms. With the search volume data, you get insights into how often people search for that specific term, and you'll get an idea if it is long-tail enough to warrant targeting it. With the trend data, you'll instantly see if a related keyphrase is becoming more relevant or less.
Take a peek at Amazon
For products, it also makes sense to take a look at that other colossal search engine: Amazon. Amazon is a goldmine for product-related keyphrases and related terms. You can also use Amazon's information architecture to learn how to classify your product. Search for your product (category) and see related — or long-tail — keyphrases pop up.
Also, take a good look at the titles and product descriptions to gather more information about the products. Here, you'll often find valuable keywords that your customers use to describe/search for the product. So it might not simply be a streaming microphone they are looking for, but a streaming microphone with a built-in pop filter and a tap-to-mute feature that's compatible with all gaming systems and other computers.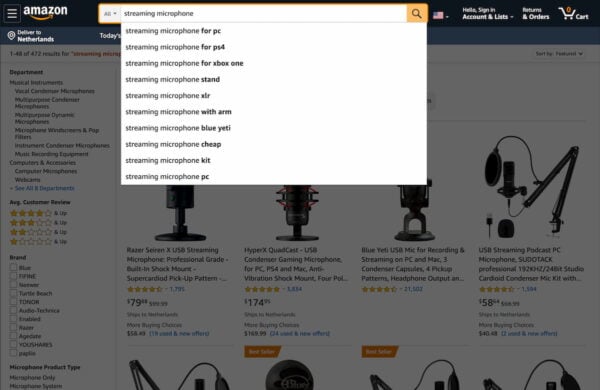 Create landing pages for the keywords
Now that you have found your main keywords, you need to represent these in the right way. A commonly used method is to create a landing page per keyword.
A landing page is a page where your visitors "land" (arrive) from other sources, such as search engines or social media. So basically it's a page that's optimized to evoke a certain reaction from the visitor, such as buying a product or subscribing to a newsletter.
We did an article on this subject, which will help you understand how to set up a good landing page. We've also listed five things you can do to improve your product pages.
The relationship between different parts of your store
It would be best if you created collections of pages that work together in Google. Creating one page containing all the keywords you came up with won't get you visitors. There's just too much competition for most keywords. You should create multiple landing pages and embed them in a structure that tells Google how those pages relate to each other. You can use a cornerstone content strategy to get these noticed by Google for your most valuable content. Marieke wrote an excellent post on setting up cornerstone content and getting it ranked in six steps. Together with your regular content, you'll be well on your way to targeting a wide variety of keyphrases in the search results.
The same goes for your category and tag pages on your online store. If done well, these can be helpful landing pages that can guide people to the right place. Just make sure that they're not competing against each other in the search results for the same terms and buyer intent. Don't make them all want to compete for [power tools] if that is the main thing you are selling. This way, you make it very hard for search engines to determine the main thing they should rank for that term.
Product pages versus landing pages
As you know, there are various ways of getting your products noticed by both consumers and search engines. One of the main things you can work on is improving the site structure of your online store. Another thing is using product pages and landing pages properly — site owners sometimes confuse these.
Product pages serve the informational intent, while you set up landing pages to get the visitor to convert as soon as possible and aim the transactional intent. Content for landing pages is usually written with a single audience and a single goal in mind. This can also be targeted at a specific keyword.
Adding your keywords to your online store
Where should you use your keywords? It depends, of course. If you want to rank your products, you should add a good spread of related keywords to your product pages. You can also use the main keyword in titles, headings, meta descriptions, URLs, and the like. This is basic SEO. When setting up specific landing pages for specific terms, don't make these too general. You don't want that page to rank for everything and the kitchen sink.
Yoast SEO for WooCommerce
The WooCommerce SEO plugin helps you to add your focus keyphrase in all the right places. It comes with a dedicated product-specific SEO analysis invaluable when writing product descriptions and building landing pages. The SEO and readability analyses kindly guide you to write product pages that rank and convert!
Yoast SEO for Shopify
We don't want to leave all the lovely people using Shopify in the dark, so we have developed a unique Yoast SEO for Shopify app. This app helps you do proper Shopify SEO, including using your focus keyphrase in all the right places. The same product-driven SEO analyses power Yoast SEO for Shopify as our WooCommerce SEO plugin. As such, it is an invaluable tool if you want to write product descriptions for Shopify that genuinely help you sell more. Be sure to try it!
Read more: 7 tips to get more traffic to your Shopify store with SEO »
Keyword research for Shopify and WooCommerce stores
Want your store's pages to rank? Then you should carry out keyword research for your online store! Keep the following in mind when doing keyword research for Shopify or WooCommerce:
Determine the mission of your business
Write down the ideas you have about your company, your website, your products, and your customers. Narrowing down your business automatically forces you to think about (long tail) keywords.
Write down the keywords you want to be found for
Focus on keywords that your customers would use. Try to find out what their unique buying reason is. What problem does your product solve?
Create landing pages for all of these keywords
Write awesome content about your keywords, use nice imagery and a design that supports the message of that page.
To finish things off, create lovely collections of pages and give these pages a logical place within your site structure.
So go and determine a keywords strategy for your online store!


Keep reading: Why should you focus on multiple keywords? »
Coming up next!
Event

June 08 - 10, 2023

Team Yoast is Attending, Organizing, Speaking, Sponsoring WordCamp Europe. Click through to see who we'll be there, what we'll do there and more!

See where you can find us next »

SEO webinar

30 May 2023

Our head of SEO, Jono Alderson, will keep you up-to-date about everything that happens in the world of SEO and WordPress.

All Yoast SEO webinars »