On your site, you'll probably have a few articles that are most dear to your heart. Articles you desperately want people to read. Articles you want people to find in Google. At Yoast, we call these articles your cornerstone articles. How does the Yoast SEO plugin help you set up a cornerstone content strategy? We'll tell you all about that in this blog post. Plus, find out how our new SEO workout can make the whole process much easier!
What is a cornerstone content strategy?
Cornerstone content consists of those articles that you're most proud of, that are most important to you. The posts that make people come back to your site or buy your stuff. The articles that reflect the mission of your company perfectly, and the ones you definitely want to rank highest. In general, cornerstone articles are lengthy, and they tend to be informative.
In a nutshell, a cornerstone content strategy means choosing your best content and channeling the most internal links towards it from other relevant pages on your site.
What does Yoast SEO do with cornerstone content?
There are three aspects to a successful cornerstone content approach:
Cornerstone content should be lengthy, well-written, and well-optimized.
Cornerstone articles should have a prominent place in your site's structure.
You should keep your cornerstones fresh and up to date.
With the free version of Yoast SEO, you can make use of the cornerstone content toggle, the text link counter, and the cornerstone content analysis to optimize your content and count the number of incoming internal links.
Upgrade to Yoast SEO Premium and you'll get all of the above, as well as access to our amazing internal linking suggestions tool, the stale cornerstone content filter and our brand-new Internal linking SEO workout!
Why do you need cornerstone content?
Without a doubt, the most common question we are asked is: "how do I make my site rank for keyword X?". What most people don't realize, is that they're asking the wrong question. You see, sites don't rank: individual pages rank. If you want to rank for a particular keyword, you'll need to determine which specific page you want to rank for that keyword.
Adding a keyword to the title of every page is not helpful; you should use a focus keyphrase only once. What also won't work is writing 200 articles around variations of a keyphrase without giving these a proper linking structure. You need one page that is the center of the content about that topic – a "hub" page if you will. That's where cornerstone content comes in. But how do you make sure your cornerstone content articles start ranking in the search engines?
To rank with these articles, you need to make sure they're the best articles you can write. You also need a kickass internal linking structure. Luckily, Yoast is there to help! In this post, we'll explain just what cornerstone content is and how to rank with these articles. Are you struggling with implementing cornerstone content? Check out our Internal linking SEO workout: the cornerstone approach!
How to set up a cornerstone content strategy with Yoast SEO
Step 1: Choose which pages will be your cornerstones
Your cornerstone content pages will need to be 100% awesome in every way. You need to think about keyword research, headlines, first-class content and more. This article just covers what to do with those pages once they're created, so if your pages aren't ready, go and make some now! Not sure where to begin? Check out our detailed post on what type of articles should be your cornerstone content.
Which keywords to target with cornerstone articles?
Your cornerstone articles should be optimized for your most 'head' or most competitive keywords. Of course, you should still be realistic when determining these head keywords. But, your internal linking structure will help your cornerstone pages rank (more on that below), which is why these articles should aim to rank for your most competitive keywords.
Positioning that new cornerstone content on your site
Now let's talk about where to place that content on your site. Important content deserves a place within your core site structure, not a news item or blog post drifting around somewhere. It should be easily found in a few clicks.
This also means you should not create other pages within your site that target the exact same keyword! And you really don't have to, as there are many ways to use keyword variations for these other pages and use these in your site structure.
Step 2: Mark those pages as cornerstone content using the toggle button
Once you've put together a list of the pages that will be your cornerstone content, you need to go to each of those pages and make sure this button is toggled to 'On':

Alternatively, you can head straight over to our SEO workout: the cornerstone content approach and take a look at the overview in the first step. If there are any missing that you want to add, just look them up using the search box and click to add them to the list.
Our SEO analysis will help you optimize your blog post for the search engines. For cornerstone content, you have to go the extra mile, so indicating that an article is cornerstone content will make the SEO analysis and the readability analysis a bit more strict. For example, if a post is cornerstone content, we urge you to write at least 900 words, instead of the 300 words for a normal post.
Make sure you use your focus keyphrase enough, mention it in a few headings, and optimize your images. Readability is equally important, though. Our readability analysis helps you to, for instance, use enough headings and to write in short, easy-to-read sentences and paragraphs.
Read more: How our cornerstone analysis helps you create your best articles »
Step 3: Check that all your cornerstone content pages are marked
You'll want to make sure all of your chosen pages are marked as cornerstone content at this point (otherwise you might need to double back later and redo some steps). It can help you to keep track if you make a note next to each page on your list once you've toggled the cornerstone content button to 'On'.
If you're a Yoast SEO Premium user you can access our new Internal linking SEO workout and quickly check which pages are marked as 'cornerstone content' in the overview provided: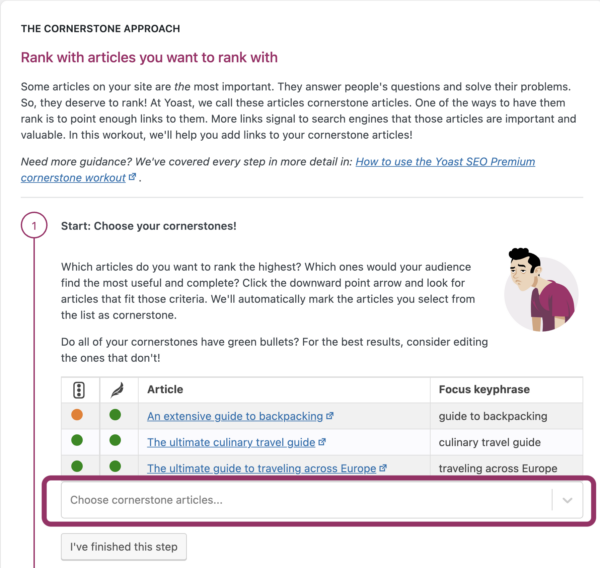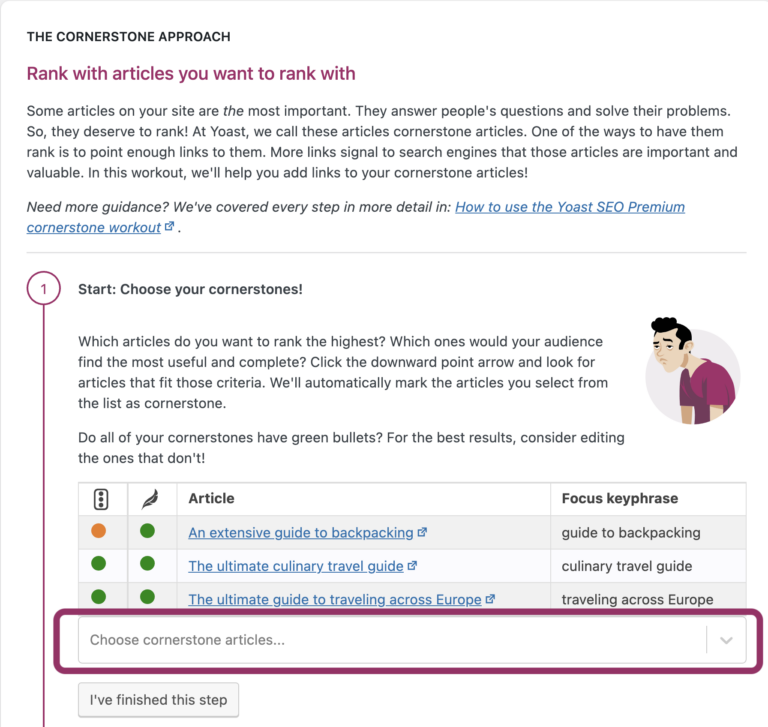 Again, if anything is missing from this overview, you can easily add it using the search box below the list.
Step 4: Make sure your cornerstone content pages have the most incoming internal links
You have to link to your cornerstone articles to make them rank high in the search engines. By linking to your favorite articles the most often, you'll tell Google that these are the ones that are most important. Think of it as a map: big cities have considerably more roads leading towards them than small towns. Those cities are your cornerstones. They should receive the most links. The small towns are your posts on more specific topics. If you build your site structure like this, you won't be competing with your own content for a place in the search engines.
The text link counter allows you to see all the internal links you've put in a post and all internal links to a post from your other pages. This tool provides you with a clear overview of the distribution of your internal links. Make sure to check (and keep checking) if your cornerstone articles receive enough internal links!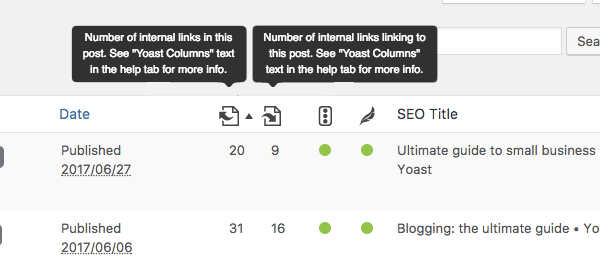 If you're using the Premium Internal linking SEO workout to set up your cornerstone content strategy, you can see all the incoming links of your posts and pages in one simple overview, instead. If any are lacking enough internal links, you can click to add them to the next step of the workout where you will add more.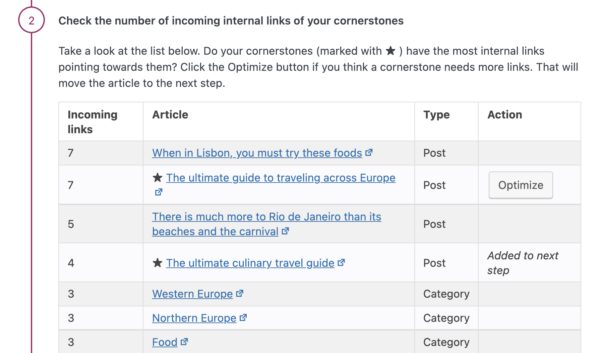 Step 5: Add text links (in context) from relevant pages on your website
When you're adding links to your cornerstones, use the keyword you're targeting as the anchor text for that link, if possible. But most importantly, link from within the content. Don't just add some site-wide sidebar/footer links. The reason for this is simple: links from within content are way more valuable than links from sidebars.
In addition to that, you need to make sure that you're linking to your cornerstones from pages that actually are about related topics. Contextual links are the ones that'll help you rank. Adding hand-picked, relevant links that are useful for someone visiting your website is the best way of achieving this. Automation will not give you quality results. That means that building a decent linking strategy can be a lot of work, especially if your site is large.
If you use our Premium plugin, you can use our internal linking tool. This tool will make linking suggestions for other posts based on the words you're using in your post. The posts you've marked as cornerstone content articles – as described previously – will always appear on top of our list of suggestions. That way, whenever you're writing about a specific topic, you'll find the right cornerstone article to link to.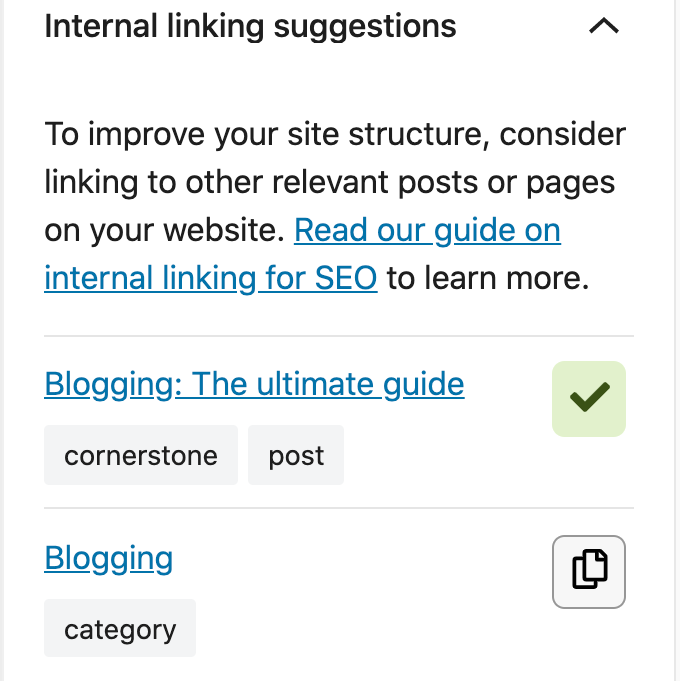 Using our internal linking tool will remind you to link to your cornerstones whenever you're writing a new post. As a result, your cornerstones will stay on top of your linking structure. And that's what they need to get ranking!
Read more: How to use the Yoast SEO internal linking tool »
Once again, the Internal linking SEO workout can make this step a whole lot easier. We've added a tool that shows you your cornerstone articles (with a link you can copy) as well as relevant pages from your site that you can visit to add that link right away!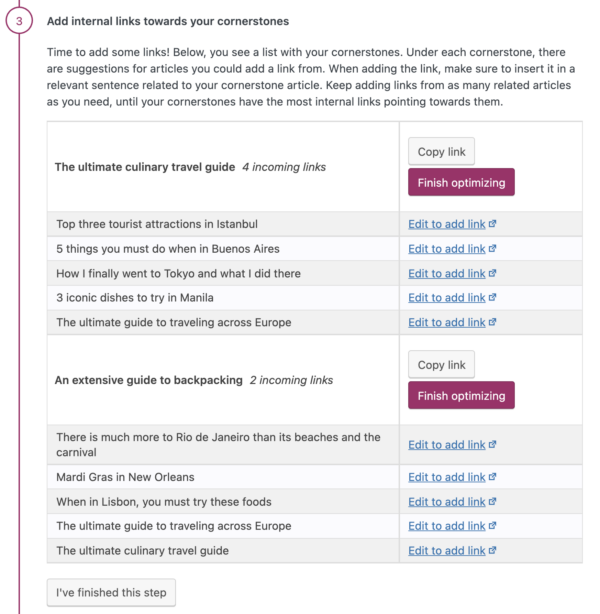 This means you can manage the whole thing from one page — plus you can immediately see whether you've added enough links or not. If you still need more after you've added all the relevant suggested links, just refresh the SEO workout and you'll get more suggestions to add!
Step 6: Monitor and maintain!
Don't start neglecting your cornerstone content strategy once everything is set up — as you add more pages to your website, you'll need to keep making sure your cornerstone content is getting enough links. You probably don't need to check this weekly, but if you leave it for more than a year then your website could change a lot in that time. Keep on top of your links to keep your cornerstone content strategy healthy and effective.
Regularly updating your cornerstone content is important for your cornerstone strategy, too. After all, your cornerstones should be timeless, and therefore, always contain the latest insights. If you have Yoast SEO Premium installed, you'll have an additional feature to help you keep your cornerstones up to date. The stale cornerstone content filter allows you to see at a glance which of your cornerstones need updating. It works in both your post overview, and your pages overview. Neat, right?

Of course, at Yoast, we practice what we preach, so you'll find no stale content here ;-)
Don't forget to promote your cornerstone content
If well-written, your cornerstone content should be something to be proud of! Something that others willingly share and thereby also something that will attract links. Don't be afraid to reach out to other people who have written about related topics: show them what you have created and that it might be worthwhile for their visitors to see. You might even want to offer to write a guest post for them on the topic, linking back to your article.
Cornerstone content strategy made simple with Yoast SEO
The cornerstone content approach is a powerful strategy that channels your internal links toward the content that matters. Your cornerstone articles deserve special attention. They need to be written carefully, to be the most complete and authoritative. They should also be easy to find on your site! Cornerstones need many contextual links pointing towards them to make Google see that they are the most important articles. That'll make them rank in the search engines. That'll get them the traffic they're worthy of!
Our Yoast SEO plugin comes with an array of tools to help you set up and maintain your cornerstone content and your internal links. Upgrade to Yoast SEO Premium and the benefits get even better. Try our Internal linking SEO workout today and give your cornerstone content the treatment it deserves!
Keep reading: Why you should buy Yoast SEO Premium »
Become a Yoast SEO pro series
Coming up next!
Event

December 09, 2023

Team Yoast is at Attending, Organizing, Sponsoring WordCamp Ahmedabad 2023! Click through to see who will be there, what we will do, and more!

See where you can find us next »

SEO webinar

12 December 2023

Learn how to start your SEO journey the right way with our free webinar. Get practical tips and answers to all your questions in the live Q&A!

All Yoast SEO webinars »