Why you should buy Yoast SEO Premium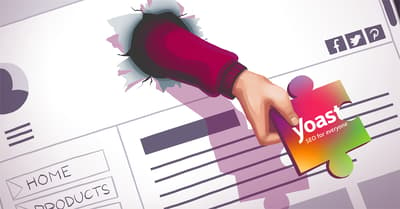 Do you want to take your site's SEO to the next level? Yoast SEO Premium can help you out! But, there is also a free version of Yoast SEO. So, what exactly is the difference between the free version of Yoast SEO and Yoast SEO Premium? Let's uncover the 10 reasons why you should buy Yoast SEO Premium today!
While Yoast SEO is awesome, Premium is the real deal
For more than a decade, Yoast SEO has provided small businesses, bloggers, marketeers, online and offline stores with almost everything they need to compete in the search results. Over the years, we made the plugin better and better — following feedback from users, through thorough research and insights from insiders at the search engines. In 2020, Yoast SEO is run by team of passionate SEO experts and built by very talented developers.
While the free version of Yoast SEO gives you a lot of tools to help you do well in the search results, Yoast SEO Premium makes many tasks much easier. It saves precious time that you can invest in other ways. Yoast SEO Premium also gives you additional tools, like, for instance, the internal linking suggestions or the redirect manager. You can use both these tools to build an impressive site structure. All of this helps make your site a great fit for users and search engines alike. As such, Yoast SEO Premium is a wise investment.
Buy Yoast SEO Premium now!
Unlock powerful features and much more for your WordPress site with the Yoast SEO Premium plugin!
1: Be first to get new features & tools, before everyone else
Almost all new features will be released in Yoast SEO Premium. Some will stay Premium only, some will be added to Yoast SEO free later. So, with Yoast SEO Premium, you'll always be the first to get new features & tools! You never have to wait if, and if so, when, a new feature will be added to the Yoast SEO Free plugin.
2: Yoast SEO Premium is a time-saver
One of the most important things you need to remember about SEO is that it is never done. There's always more to do, better content to write or fixes to make. Luckily, there's a WordPress SEO plugin that's glad to be of assistance. As you might know, Yoast SEO is not a set-it-and-forget-it kind of tool. You need to work with it, whether it's improving your content or building your site structure. In the free version, you still need to do much of the work yourself. Yoast SEO Premium comes with a number of tools that can save you lots of time.
3: Makes doing site maintenance easier
If working on your site is turning into a day job, you might need some help! Premium makes site maintenance easier. For one, Premium comes with a stale cornerstone content finder that reminds you to update your most important content.
Another tool that helps you work on your pages is the redirect manager. Whenever you make changes to pages or URLs, this tool makes sure to add a redirect for you. All you have to do is say where the new URL needs to lead. With the redirect manager, you can also fix your 404 errors in no time. No developer necessary. It's so helpful that 58% of Premium users praise the redirect manager as the best feature in Yoast SEO Premium!
4: Helpful tools to build a great site structure
Building a solid site structure is one of the quick routes to success. Making your content easily accessible to users and search engines helps them both make sense of your site. Yoast SEO Premium comes with a number of tools that help you build relevant links that can build a solid foundation for your site structure. Our plugin comes with internal linking blocks, an orphaned content finder and a targeted internal linking suggestion tool.
With the internal linking suggestions, you'll automatically get relevant content suggested for you while you're writing your new content. No need to remember all those posts are pages!
But don't just take our word for it, here's what Andrew Evans from Intellifluence says about the internal linking tool:
5: An advanced language analysis that makes writing more natural
Yoast SEO is famous for the SEO and readability analyses — a.k.a. the green bullets. The feedback these analyses give you, helps you produce a great piece of content that adheres to a range of SEO best practices. This works splendidly, but Premium makes this process a lot more natural and flexible.
Premium has a very smart feature called word forms support. This innovative language analysis not only looks at the exact match of the focus keyphrase you enter — but also at all the grammatical forms of that word. If you use for instance "decoration", we will find word forms like "decorated" and "decorates" in your text as well, just like Google does. The words don't even have to be in the same order when your focus keyphrase consists of more than one word.
6: Use synonyms and related keyphrases in your text to make it richer
Search engines get smarter every day and context is key in SEO. They use the context in which a keyword appears to determine what a text is about. Synonyms and related terms, therefore, are more important than ever. In the free version of Yoast SEO, you can only add a single focus keyphrase. The plugin uses this to help you optimize your post. Yoast SEO Premium has more tricks up its sleeve — making it a much smarter solution. What that is?
Well, you can add a number of synonyms and related keyphrases to your post. By using these, you can make your content come alive. The Premium analysis makes sure that you use these synonyms and related keyphrases correctly in your post. Awesome, right? You can even use the Semrush integration to gather data and trends about your related keyphrases. Premium users can add the related keyphrases Semrush uncovers for you to your post with a single mouse click.
7: Optimize your posts before sharing them on social media
One of the most popular tools in Yoast SEO Premium is the social preview feature. These previews let you see how your post would look when shared on social media platforms like Twitter or Facebook. This makes it much easier to fine-tune their appearance to ensure that the posts reach their full potential on social media! In addition, the Zapier integration in Premium helps you to automate the publishing of your posts to your social media of choice!
8: Get your site in shape with SEO workouts
Besides our best SEO tools, you'll also get access to our new SEO workouts with Yoast SEO Premium. The workouts bring together everything you need and guide you through the steps to keep your site in good shape.
In the cornerstone content workout you'll take care of your most important posts and pages, making sure they get pride of place in your site structure. Meanwhile, in the orphaned content workout you'll uncover pages and posts with no internal links pointing to them and set things right. Do our internal linking workouts and improve your site structure more quickly and easily than ever before!
9: 24/7 access to our world-class support team
What if you run into issues with the plugin? It would be good if you could contact a real person to help you figure out what the problem is. Luckily, if you sign up for Yoast SEO Premium you get just that: Premium support. Our helpful support staff is available around the clock to get you up and running in no time.
10: Plus, an incredible bonus: free access to Yoast SEO academy
Every Yoast SEO Premium subscription comes with complimentary access to Yoast SEO academy. This is a big deal. We don't just provide you with the number one WordPress SEO plugin to help you do well in search engines — we also supply many hours of instructional material. We offer 5 of our courses free of charge to get you started with the basics. But when you sign up for Yoast SEO Premium, you get access to all 13 of our SEO courses! Learn about Yoast SEO, SEO copywriting, keyword research, structured data, and many other topics related to SEO!
Invest in Yoast SEO Premium: it pays off!
You see, there are multiple good reasons to get a Yoast SEO Premium subscription today. A Premium subscription can save you lots of time and gives you access to incredible tools that make working on your site easier and more fun. Plus, you'll get unrestricted access to Yoast SEO academy for hundreds of hours of SEO training. And, of course, you get to contact our support team if you should ever run into a problem.
Need a recap? Check out the video below:
How much does Yoast SEO Premium cost?
You can buy Yoast SEO Premium for $99 excluding VAT per year, or €99/£99 per year depending where you are in the world. For this, you not only get Yoast SEO Premium and it's awesome tools, but you also get a year of support, updates and access to all out Yoast SEO academy courses. We also offer several bundles to help you save money on the combination of plugins that fits your site best! Check out all of our plugins and bundles here.
Read more: How much does Yoast SEO cost? »
Get Yoast SEO Premium now!
Convinced? Make sure to grab your copy!
Buy Yoast SEO Premium now!
Unlock powerful features and much more for your WordPress site with the Yoast SEO Premium plugin!
Coming up next!
Event

October 04, 2023

Team Yoast is at Attending, Organizing Yoast Contributor day 2023 - October edition! Click through to see who will be there, what we will do, and more!

See where you can find us next »

SEO webinar

12 October 2023

Stay ahead of the curve in the fast-evolving world of e-commerce & explore key trends & emerging opportunities. Register for "E-commerce Trends 2023" now!️

All Yoast SEO webinars »