How much does Yoast SEO cost?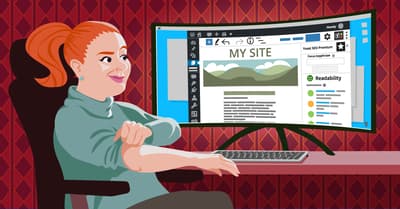 Yoast SEO is free! That's right, you get amazing features that help you rank – for free! In addition to the free version, you can also get Yoast SEO Premium that costs 99 EUR. That amount gets you year-long access to additional SEO-boosting features, 24/7 support, and all the Yoast SEO academy courses! But, asking how much does Yoast SEO cost is about something bigger. By buying the plugin, you're even investing in making the web better.
What do you get when you buy Yoast SEO Premium?
Yoast SEO Premium contains features that take SEO optimization to the next level. We designed them to save you tons of time and increase your chances to perform better in the search engines. For example, the Redirects manager is a valuable, easy-to-use tool that helps you prevent 404 errors with a single click.
Instead of looking up relevant internal links to add to your posts and pages, we have an internal linking tool that scans your site and suggests links for you! As if that's not easy enough, we have internal linking blocks that let you automatically link to related content. These tools do wonders for your site structure and the findability of your content.
What about writing? Does the plugin help you there? Of course! Yoast SEO Premium comes with an advanced content analysis that recognizes different word forms of your keyphrase, its synonyms, as well as the related keyphrases. What is more, this analysis works in many different languages! Want to find out what else comes with the plugin?
Read more: Why you should buy Yoast SEO Premium »
Why the cost of Yoast SEO is an investment in a better web
SEO for everyone has been at the core of what we do from the early days of the company. We genuinely believe that both big corporations and small business owners or bloggers should have an equal chance to get their voices heard online. That's why it is exhilarating to see that the open-source WordPress project is growing rapidly, and it shows no signs of stopping. The open-source model makes it possible for people to join forces and apply their knowledge and skills into making a better web. It also makes it possible for businesses and individuals with low budgets to build their own websites virtually for free.
Yoast owes a lot of its success to WordPress. We try to show our gratitude and appreciation for WordPress by investing a lot of time, money, and effort into it. Therefore, we are part of the Five for the Future initiative. It is a project where participating organizations contribute at least 5% of their resources to WordPress development. Here's how we do that.
Yoast has a dedicated WordPress core team
A lot of our employees are regular contributors to WordPress. We have people who write code, translate, organize events, or work on WordPress marketing, for example. But, we wanted to give even more. So, we decided to hire a dedicated team in Yoast with a it's own team lead! Their full-time task is to work on improving the existing WordPress features and come up with exciting new ways to make WordPress even better. They even have a WordPress Core development blog!
Yoast sponsors events and individuals
We know there are many people out there who are passionate about WordPress, just like we are. And we want to reward their efforts too! So, we established the Yoast Care fund. The fund works with nominations. Anyone can nominate someone who they admire for their contributions to the WordPress project. We'll go through the nominations to find the eligible candidates and award them a gift of $500, and an interview where we introduce them to the public and thank them for their effort.
We don't just sponsor individuals, but events as well! For example, we are regular sponsors of various WordCamps around the world, or exciting events like WordFest, for example!
Yoast helps increase diversity at conferences
Conferences are a great place to learn and connect with people. Unfortunately, a lot of conferences, especially in tech, lack diversity. That makes it hard for disadvantaged groups to have their voices heard. In order to help increase diversity we set up the Yoast Diversity fund.
Attending and speaking at conferences can be expensive. We are aware that there are a lot of brilliant people who can't afford the cost of traveling to a conference. That's the obstacle we are trying to overcome with this fund. It is aimed at helping aspiring speakers at conferences by covering their travel and accommodation costs.
So, what do the costs of Yoast SEO Premium go into?
Of course, we're investing in making our plugin the best SEO plugin out there. But, as you can see, we do much, much more than making a plugin. We are passionate about SEO and open-source. That's why we invest in making the web better for everyone!
Coming up next!
Event

October 04, 2023

Team Yoast is at Attending, Organizing Yoast Contributor day 2023 - October edition! Click through to see who will be there, what we will do, and more!

See where you can find us next »

SEO webinar

12 October 2023

Stay ahead of the curve in the fast-evolving world of e-commerce & explore key trends & emerging opportunities. Register for "E-commerce Trends 2023" now!️

All Yoast SEO webinars »