Giving back (at least) 5 percent to WordPress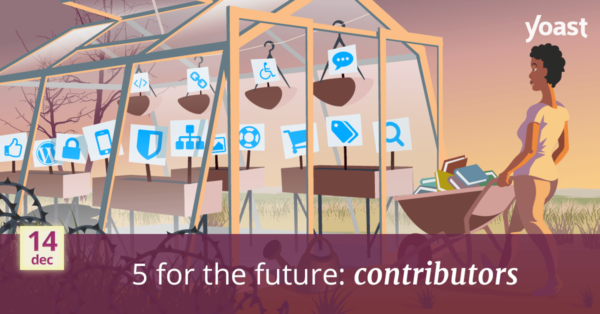 WordPress is an open-source project. The software powers over 35% of the web, but it couldn't do so without the help of users and developers all over the world. Five for the Future is an initiative promoting the WordPress community's contribution to the platform's growth. As an open-source project, WordPress is created by a diverse collection of people from around the world.
What is Five for the Future?
The Five for the Future project encourages organizations to contribute 5% of their resources to WordPress development. WordPress co-founder Matt Mullenweg said that he believes that this should be the minimum in order to maintain a sustainable ecosystem.
And, very importantly: anyone can contribute to the project! You can contribute both as an individual as an organization. There are many developers who contribute, but you could also contribute to other parts of the project, like marketing, design, translation and much more.
Yoast contributors
We, as Yoast, are heavily involved in maintaining and improving the project. With improvements like Gutenberg / the block editor and more, WordPress becomes better and better in helping millions of people globally to build and maintain their blog, company website and/or online shop.
The mission of Yoast is SEO for Everyone. We want to give everyone the opportunity to rank in the search engines. Our SEO plugin, blog posts, and online courses should enable both large companies as well as small websites to attract the traffic they desire.
This is why we at Yoast have pledged to spend 5% of our time on WordPress. At the moment, Yoast sponsors 31 contributors for a total of 141 hours per week.
Visit our Five for the Future page on WordPress.org for more information on how we are involved. And if you are a WordPress user or developer yourself, see how you can get involved as well!
Rewarding WordPress contributors
We value everybody who contributes to WordPress and wish to reward everyone who does so. Of course, we can't hire everyone, but we can help some people by giving them a gift of $500,- and an interview to say thank you for their time and effort. You can help us with finding those awesome contributors! Nominate the people who work so hard to make WordPress even better for the Yoast Care fund, so we can reward them. Find out how the nominating process works!