How to choose a focus keyphrase for product descriptions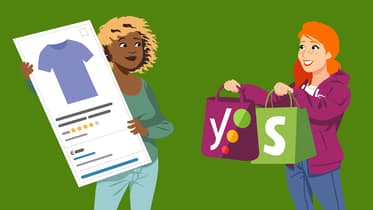 You can set a focus keyphrase in Yoast SEO for Shopify and WooCommerce. With this focus keyphrase, you signal to the SEO app that you want to optimize this piece of content for this specific word or combination of words. There are various ways to think about this, depending on what kind of product-related content you are writing. In this post, you'll learn to pick a focus keyphrase for your products. You'll also learn to think about related keyphrases, synonyms, and more!
Optimizing your products for ecommerce SEO
One of the essential parts of Yoast SEO for Shopify and the WooCommerce SEO addon is the content and SEO analyses. These tools help you write excellent product descriptions, blog posts, and landing pages that will be a hit for customers and search engines. But using it properly requires a bit of thinking — and a bit of research!
Keyword research and search intent
One of the most important aspects of ecommerce SEO is doing keyword research. If you are writing a ton of content, you must know who your audience is, where they are located and what kind of words they use. Doing keyword research for ecommerce SEO can give you these insights. It can also give you loads of ideas to populate your blog with high-quality, product-related content — like frequently asked questions to answer.
Think about search intent
The customer journey can be long, and it can take several sessions for consumers to narrow down their choices. Getting them to buy is hard! When getting your content ready for them, you need to think about search intent. How does the buying process for a specific product work? While some people might be looking for the cheapest, plain black T-shirt, others might have more specific wishes for their product.
For instance, if someone is looking for a highly breathable, comfortable, and technical shirt to help them perform during outdoor activities, they might encounter merino wool as an option. So, that person might go from black outdoor t-shirt breathable to merino t-shirt black to Patagonia Capilene Cool Merino T-Shirt Black. All these search terms might have different content attached to them. For instance, in addition to the regular product pages, you can write a post on the benefits of merino wool for outdoor clothing.
Don't optimize for head terms
There are a couple of things to remember when determining which focus keyphrase you should target for a product. If you sell black t-shirts, it might make sense in your mind to fully optimize your product pages for the keyphrase black t-shirt. This is what most people are searching for, right? But optimizing all your product content for the same keyword leaves you competing with yourself — it causes keyword cannibalization. Which black t-shirt should Google show in the search results?
Optimizing your category pages for head terms is better and choosing something more long-tail for your product pages. Of course, using the product name and brand itself is important, but you can always amend that with the main keyphrase you are looking to target. So, if you want to sell a specific black t-shirt from Patagonia, you could use the full name: Patagonia Capilene Cool Merino T-Shirt Black.
Use the product name on product pages
When optimizing product pages for specific products, you should optimize that for the product's name. The example of the black merino wool shirt mentioned above would be at least Patagonia Capilene Cool Merino T-Shirt. Of course, you could append some terms to it, like the color or other product variation options.
Of course, you are free to optimize the page for black merino wool t-shirt as well, but that shouldn't be the primary goal of this page. You can use the related keyphrase option in the Yoast SEO analyses to incorporate this term in the feedback.
Don't forget to look at the terms the manufacturer uses to describe the product that you can add to your product descriptions. There might even be some product specifications that you should add to your page — there are people who search Google using product identifiers such as SKUs and UPCs!
Use the generic name elsewhere
You can use different forms of the main keyphrase on the product, category, and landing pages. If you have a landing page collecting the best merino t-shirts for outdoor use, please optimize it, including the product name of the Patagonia shirt we talked about and link to it.
Category pages should not be optimized for specific brand products but the general product descriptions. So you could have a category for outdoor merino shirts, but you could also have one for black t-shirts. You could also do categories for brands. As we said, different roads lead to Rome! Not every client will follow the same path to your money pages.
Improve category pages
Category pages collect a range of articles within a specific selection. Often, these pages rank well in the search results, and you could include a little bit of relevant text to make them stronger. This doesn't have to be a wall of text — it just has to be enough to give value to the page and offer search engines more context on what they can find on this category page. You can use category type as input for the focus keyphrase, so the SEO and readability analyses can help you improve this text.
Find out how to improve your category pages for ecommerce SEO.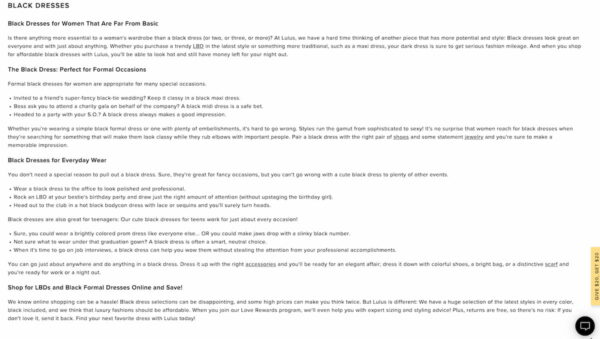 Keyphrases, related keyphrases, and synonyms for products
Our Yoast SEO for Shopify app and WooCommerce SEO plugin come with an excellent feature that makes optimizing your product content much more natural. Thanks to the related keyphrases and synonyms feature, you get loads of flexibility to improve your content.
The related keyphrase feature lets you add several terms related to the main topic. Although we discussed the drawbacks, you could use this to optimize the content for head terms like black t-shirt, although we discussed the disadvantages. You could also use this for other product-specific phrases or features. Once you've added terms, the analysis looks for the words in the text and suggests improvements for you.
The synonyms feature does what it says on the tin; it lets you add synonyms for the main focus keyphrase. For instance, when we're talking about a t-shirt, we could also add top, tee, or teeshirt as synonyms. It doesn't matter if you use different grammatical forms of these keyphrases as Yoast SEO for Shopify recognizes these.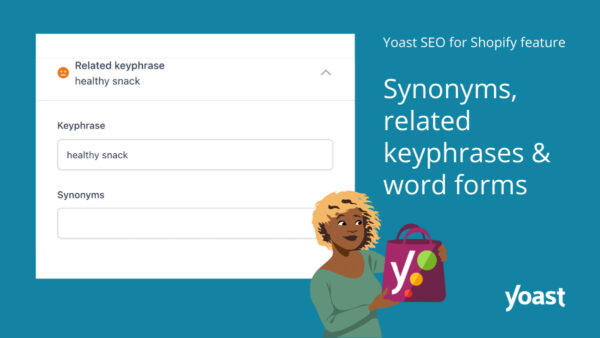 Why and how to pick keyphrases for your products
Optimizing your product content has become much easier thanks to the intelligent analyses of the Yoast SEO ecommerce apps and plugins. Enter the keyphrase you want to rank for and follow the suggestions to improve your content.
By doing keyword research and thinking about search intent, you can develop the right words you want to optimize which posts for. Don't try to rank everything and the kitchen sink for the same keyword!
Coming up next!
Event

December 09, 2023

Team Yoast is at Attending, Organizing, Sponsoring WordCamp Ahmedabad 2023! Click through to see who will be there, what we will do, and more!

See where you can find us next »

SEO webinar

12 December 2023

Learn how to start your SEO journey the right way with our free webinar. Get practical tips and answers to all your questions in the live Q&A!

All Yoast SEO webinars »