What queries are you ranking for, and with which pages?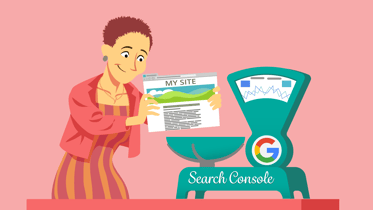 When you're doing SEO, it's because you want your pages to rank in Google. You will have picked out one or more keywords to optimize your pages for, but ranking for those keywords is just a tiny part of the story. In reality, you could be ranking for queries you don't even know about! In this post, we'll explain how and why to check your queries and landing pages. And even better — how to use that information to improve your content.
Keywords, queries and landing pages
Keywords and queries aren't exactly the same thing, although they're closely related. A keyword is usually the focus point of your content, and it can help Google to identify the main topic of your page. However, users often don't search for single keywords. They tend to search for phrases and questions instead. Google actually refers to all searches as queries; keywords are just simplified queries that we SEOs try to focus our content around.
There should be some overlap between your chosen keywords and the queries users are searching for when they find your page. But if you only focus on keywords, you might be missing out on your audience's search intent. And that kind of information is really valuable! So it's always helpful to look at which queries are leading users to your site.
Landing pages (the first page a user arrives at) are an important part of the SEO story, too. After all, you can't rank for any search queries unless you have a suitable page for Google to point those searchers towards. By examining which pages show up in Google for which queries, you can really figure out what's working for your site, and what isn't. And along the way, you'll be sure to find opportunities to optimize your content.
Pro tip:The easiest way to check your site's search queries and the respective landing pages is with Google Search Console. So if you don't have it set up already, do that first!
How to check which queries you're being found with
To start exploring the queries your site is ranking with, open Google Search Console and click on 'Search results' (under 'Performance') in the menu on the left-hand side. Right away, you'll see a list of your site's top-performing queries from the last 3 months. If you want to see your search performance over a different time frame, you can easily click on the filters near the top of the screen to edit this.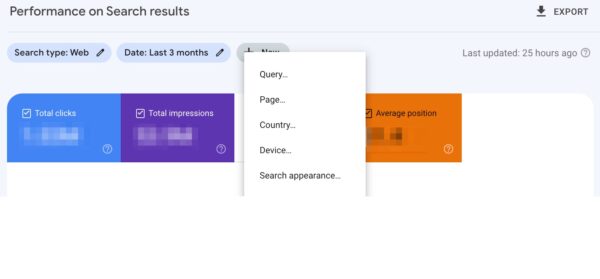 By default, Search Console shows how many clicks each query got, and how many impressions, in order of 'most clicks'. You can change the order of the queries by clicking on the heading for 'Impressions', which shows you the queries that got your site the most search impressions in Google. That's nice to start with, but you can do a lot more with this data! For instance, you can click on 'Average position' in the graph above the data to add in data about how you rank for each query. Then you'll have the option to sort by your average search position, too.
Exploring your queries
It's interesting to see which are your site's top queries overall, so take a bit of time to look through the first 10 or 20 items in the list. You might also want to check how you perform for a specific query (or a keyword). In the filter menu near the top of the page, you can click '+ New' to enter the query, or queries, you want to focus on. You can toggle the filter to only include queries containing a specific term, or to exclude a specific term, or to exactly match that term. You can also compare the performance of two queries if you want to.
If there's a query you want to deep-dive into, you can either click on that query in the list, or enter it as a filter manually (as described above). Once you do this, you'll see the graph adjust to show only data for that query. You can click on the Pages tab to see how this query performs for individual pages, which is really useful. We'll come back to that in a minute! You can also investigate how your performance varies per Country and Device, or take a look at Search appearance to see if you got any rich results.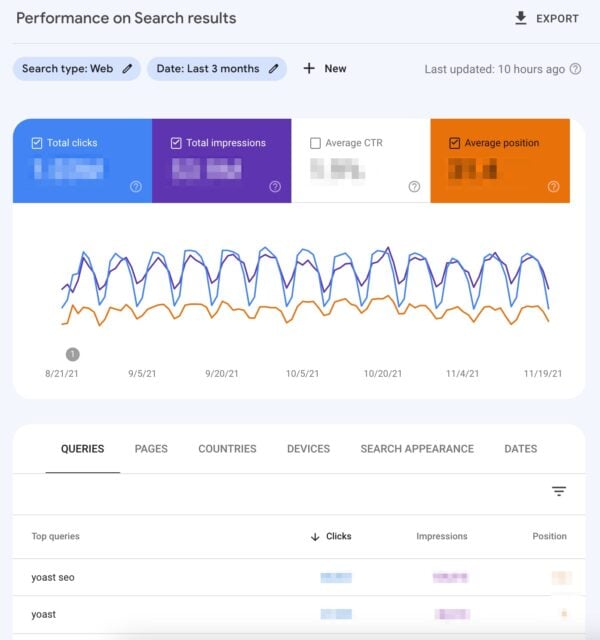 How to check which landing pages users find with a query
As we mentioned, checking which pages users are finding with each query is really useful information! Select a query and go to the Pages tab, and you'll see the pages that have appeared in Google search for that query. There might be more than one page in the list, and that's not always a problem, although it could indicate keyword cannibalization, so that's something to keep an eye on. There may also be pages in the list that surprise you because you know the answer to that query isn't well answered by the page users have landed on. That's an opportunity, so make note of it!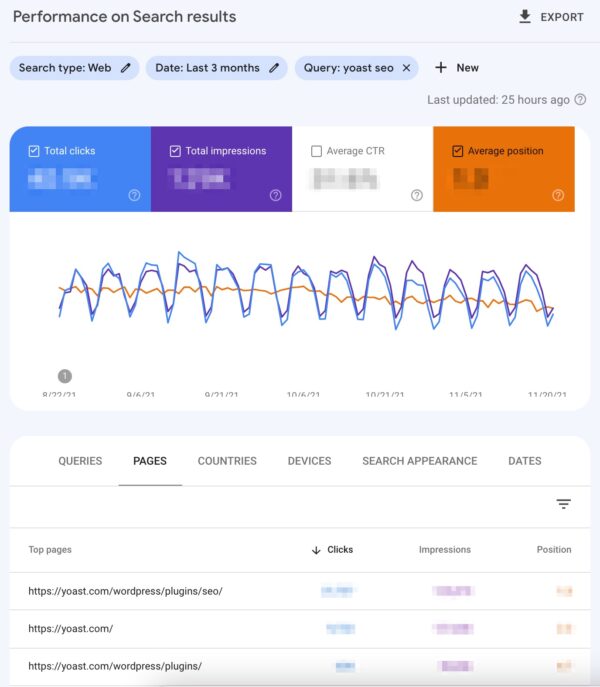 Exploring your landing pages
Instead of starting with queries and then seeing which pages users are finding, it's also possible to start with a single page and see which queries lead to it. To do this is just the same as deep-diving into a query: you can either click on a page in the list to add it as a filter, or enter it as a filter manually. Once you've selected the page you want to look at, you can then click on the Queries tab to see a list of all the queries that Google is ranking that page for.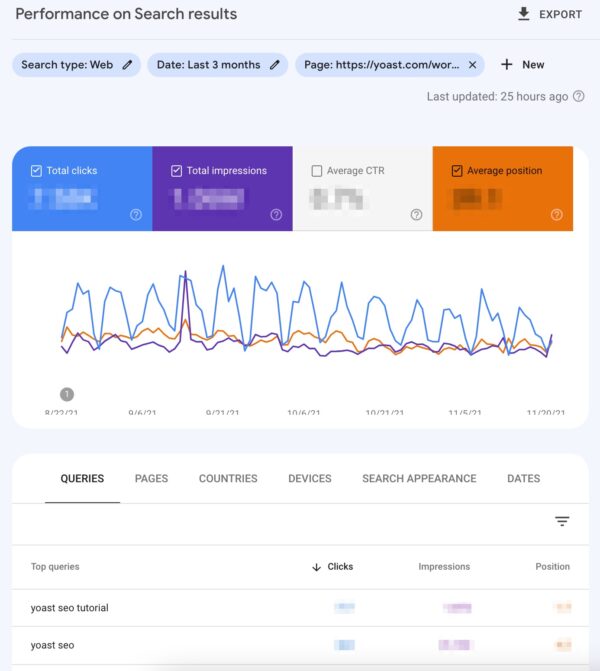 Use that information to optimize your pages
By investigating your landing pages and queries, you get a much better idea of how you're performing in Google search. Seeing the bigger picture could bring a mixture of disappointments and surprises! You might not be performing so well for the queries that most closely match your keyword, but what about the queries you are performing well for? These other queries can be a fountain of inspiration to improve your content! Here are some ways you can use the information you find to align your content with users' search intent:
Adjust the content on your page to better fit your queries
Is there a small mismatch between a page's contents and the search queries that lead to it? Then why not adjust the page to cater for those searches? You might also want to use those queries as a basis for new long-tail keywords. By optimizing your page to meet the demands of people already visiting it, you'll make your visitors happier, and Google too! This is a great way to climb up the rankings and improve user experience.
Write new pages to answer poorly-matched queries
Do you see queries leading to pages, and the connection leaves you completely baffled? Why would Google direct users towards a page that really isn't answering their question? The fact is, there are loads of queries people search for that simply don't have a good answer available. So if you see queries being poorly-matched with your pages, that might be why. Instead of rewriting the whole page, in this case it could be a better option to create a new page, targeting those queries. Use your common sense though — if there are only a handful of people searching for that content, it might not be worth writing a new page solely on that topic. Look for more popular queries to write new answers for instead.
It's time to check to those queries and pages!
Now you know just how important it is to check up on how users are really finding your pages. Keyword tracking is nice-to-have, but you could be missing out on a goldmine of opportunities if you only look at what you want to rank for. By exploring the queries that lead to your site, and seeing which pages users find with those queries, you can really bring your content to the next level. Now, it's time to go and get your hands dirty in Google Search Console and find all the answers you never knew you were missing!
Read more: Keyword research for SEO: the ultimate guide »
Coming up next!
Event

December 09, 2023

Team Yoast is at Attending, Organizing, Sponsoring WordCamp Ahmedabad 2023! Click through to see who will be there, what we will do, and more!

See where you can find us next »

SEO webinar

12 December 2023

Learn how to start your SEO journey the right way with our free webinar. Get practical tips and answers to all your questions in the live Q&A!

All Yoast SEO webinars »