How to customize your Yoast SEO experience
Yoast SEO comes with a lot of features that get your posts and pages in tip-top SEO shape. We believe that everything the plugin offers is valuable and that it's good to take advantage of these tools. We've carefully built the features in Yoast SEO based on extensive research and experience. Each one has a role to play in making your site perform and rank better. That is why we've enabled our features by default when you install the plugin. Of course, there might come a time when you'd like to turn some features off. You can do that in the General settings of Yoast SEO. We want to make sure you know the value and function of each feature. So, in this article, we shortly explain what each feature does, and how you can use the features to customize your Yoast SEO experience.
Note: Some of these features appear both in the Yoast SEO meta box, and the Yoast SEO sidebar. To learn more about the sidebar settings, read: How to optimize your content with the Yoast SEO sidebar!
Turning some of these features off will likely have an effect on the SEO of your website.

SEO analysis
Our SEO analysis is one of the most praised features of Yoast SEO. When it's activated, the plugin analyses various crucial SEO aspects of your text. For example, it looks at how you use your keyphrase, whether you have enough internal and outbound links, and much more! Given the usefulness of the feature and the wonders it can do, we strongly recommend you use it!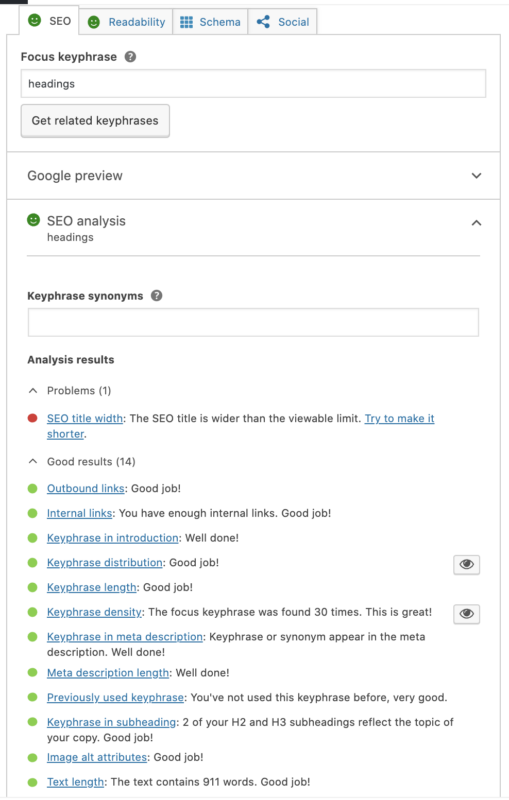 You find the SEO analysis in the Yoast meta box below the post, as well as the sidebar of the WordPress block editor. With the settings in Yoast SEO, you can enable or disable the SEO analysis feature on your whole website, as well as on individual pages, and even for different users.
Readability analysis
Use the feedback you get from readability analysis feature to write easy to read texts. It inspects a lot of aspects of your writing, such as the use of transition words, passive voice, sentence length, and word length. Since readability is a key aspect of SEO, using this feature will provide significant benefits for your site! And, your audience will be thankful for the content that reads like a breeze. Here is some more good news: this feature is available in many different languages!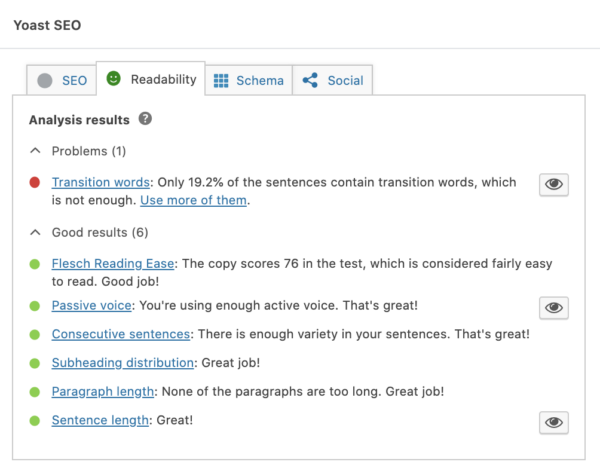 Like the SEO analysis tab, it is also possible to enable or disable the Readability analysis feature site-wide, on individual pages, or per user.
Cornerstone content
Cornerstone content is crucial for your site structure. Your cornerstone posts form the essential content on your site. As such, they are likely to rank high in search results. In Yoast SEO, you can mark your cornerstone posts and pages in the Yoast SEO meta box. That will create a list in your posts overview and give you more control over your critical articles. And, in Yoast SEO Premium, the stale cornerstone content filter makes sure that your cornerstone articles don't become outdated.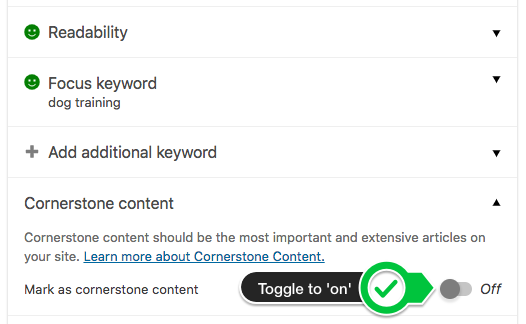 To learn how to turn this feature on or off, read the step-by-step guide on customizing the cornerstone content feature.
Text link counter
The text link counter, located in the Posts overview screen, counts the number of links in your posts, as well as the number of links to your posts. By using it, you get more control over the links in your texts. Why is this important? Because internal links are essential for findability and creating an awesome site structure.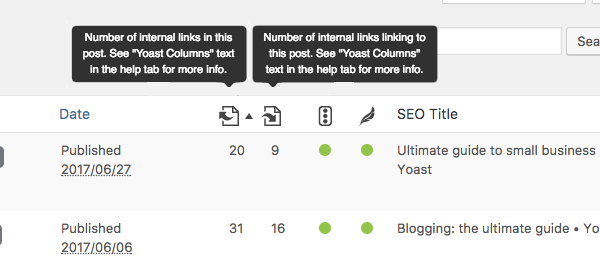 You can customize the text link counter feature in the General settings of Yoast SEO.
Insights
Yoast SEO Premium comes with the insights feature, in the SEO tab, that analyzes your writing and tells you which words you use most frequently in your article. By getting these insights, you can check if the words you use are aligned with your intentions to rank for a particular keyword.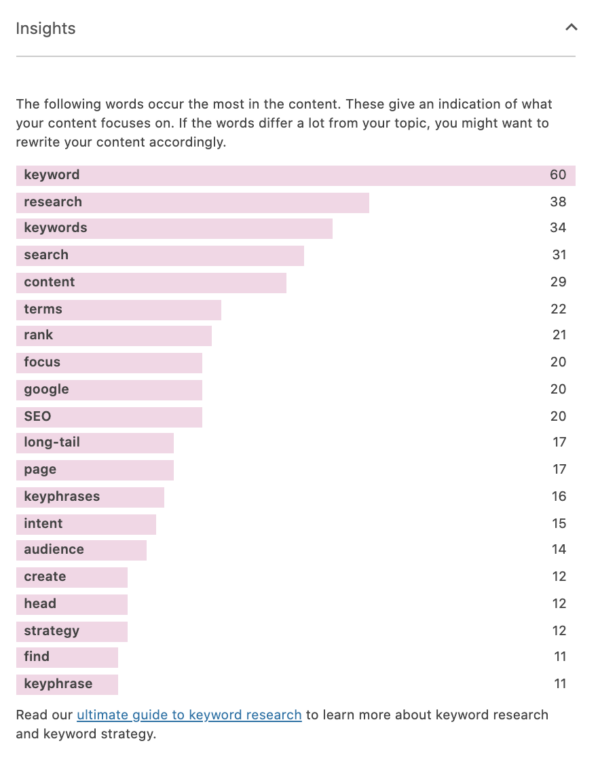 The Yoast SEO settings allow you to turn the insights feature on or off.
Internal linking suggestions
If you have a large site, it can be challenging to keep track of the articles you have. It is even more difficult to have a clear idea of how your posts and pages are related to each other. Yoast SEO Premium makes things a little easier with the link suggestions tool, located in the Yoast SEO Premium sidebar. The tool produces a list of articles that are related to the one you are working on. By linking related content, you create a solid site structure that can have significant benefits for your SEO.

Read more: Getting started with the internal linking tool »
XML sitemaps
An XML sitemap is like a guide to your site used by search engines. Yoast SEO automatically creates an XML sitemap of your website, thus helping your content appear in search results. To learn how to get the best out of this feature, read this article about XML sitemaps in Yoast SEO.
Ryte integration
We added this feature to Yoast SEO to make sure that your site is indexable. Once a week, it analyzes the indexability of your website. If it detects an issue, it gives you a warning in the WordPress Site Health tool. Of course, you can also turn the Ryte integration feature on and off by following these steps.
Admin bar menu
You can find Yoast SEO in different places in your WordPress backend. One of those places is the admin bar menu. From it, you can get quick access to several SEO tools, as well as useful external resources. In the Yoast SEO settings, you can add or remove the Yoast SEO admin bar menu.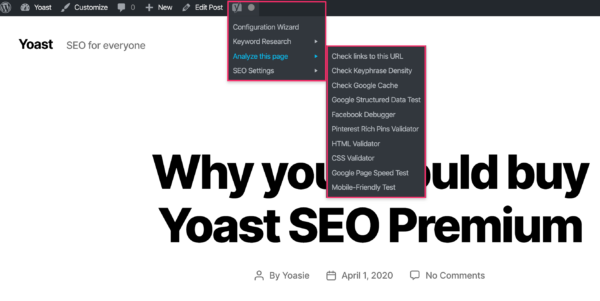 Security: no advanced settings for authors
This feature prevents certain users from accessing the Advanced settings in the Yoast SEO meta box. It is activated in Yoast SEO by default. You can also switch the feature off and give all users access to the advanced settings.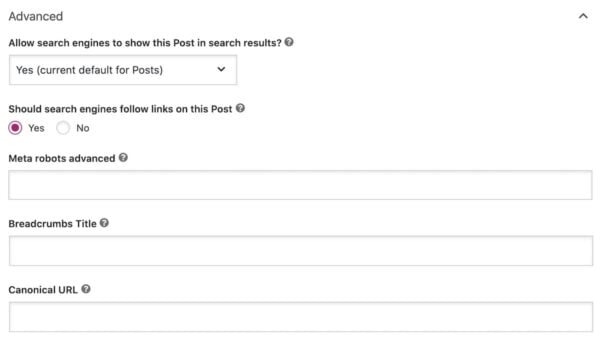 Customize Yoast SEO
Now, you should have an idea of the features that Yoast SEO offers, and how to customize Yoast SEO to your liking. We hope you will take advantage of them all to accomplish your SEO goals!