How to enable Slack sharing with Yoast SEO
Slack is one of the most popular communication platforms for teams. Businesses and organizations all over the world use it for their internal communication. Because of that URLs from your site might be shared on Slack. Improving how those URLs look when they're shared on Slack might increase the number of people that click on them. That's why we've created Slack sharing.
When you enable the Slack sharing feature, Yoast SEO will output two sets of labels + values in each post's meta data. This will improve the way a URL from your site looks when shared on Slack. Those labels and fields are "Written by" and the name of the author, and "Est. reading time" and the estimated reading time we've calculated for your article. If you have a post with a nice Facebook image and description, it'll look something like this: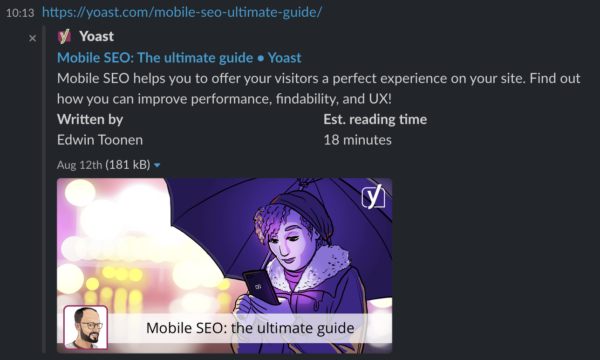 As you can see this enhances the snippet and increases the amount of room your article takes up in Slack. If you don't want this, simply disable the feature and the Written by and Estimated reading time blocks will be gone.
Enhanced Slack sharing for products
If you run our WooCommerce SEO plugin, your products will look like this when shared on Slack: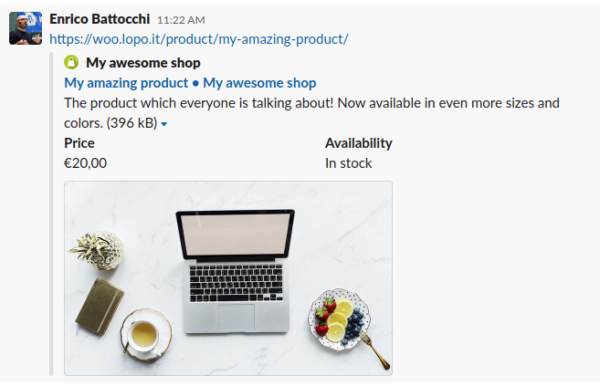 How to enable or disable Slack sharing?
By default Slack sharing is enabled in Yoast SEO. If you don't want the extra information to show up in Slack you can easily disable the feature:
Log into your WordPress website

When you're logged in, you will be in your 'Dashboard'.

Click on 'Yoast SEO'.

On the left-hand side, you will see a menu. In that menu, click on 'Yoast SEO'.

Click on 'Settings'.

The 'Yoast SEO' settings will expand providing you with additional options. Click on 'Settings'.

Click 'General', then 'Site features'.

Click 'Advanced' in the settings menu on the left. Then, click 'Media pages'.


Click the 'Slack sharing' toggle.

Scroll down to the Social sharing heading. Here, you will find the toggle for slack sharing. Click it to enable or disable the feature. If it's enabled, you will see a checkmark. If it's disabled, you will see an X.

Related articles