Yoast SEO Social settings: Twitter tab
In this article, we'll discuss the Twitter tab of the Social settings of Yoast SEO in your WordPress backend. You'll see a video explanation and we'll explain all the settings on the tab one by one.
Video: Social settings – Twitter tab
Would you like to watch this video in your own language? Follow these steps to auto-translate the subtitles.
Twitter tab
You can find the Twitter tab by going to your WordPress backend, clicking "Yoast SEO" and then "Social" in the menu on the left-hand side. On this page, click the "Twitter" tab.

Learn more about the other settings Yoast SEO offers in the configuration guide for Yoast SEO.
Twitter settings
On the Twitter tab of the Social settings of Yoast SEO, you can determine two things: whether you want to enable Twitter card metadata and what default card type to use.
Twitter card metadata
Firstly, you can decide whether you want to output specific metadata for Twitter: Twitter Card metadata. If you choose to disable Twitter Card metadata, Twitter will rely on (Facebook's) Open Graph metadata. We suggest leaving this enabled at all times.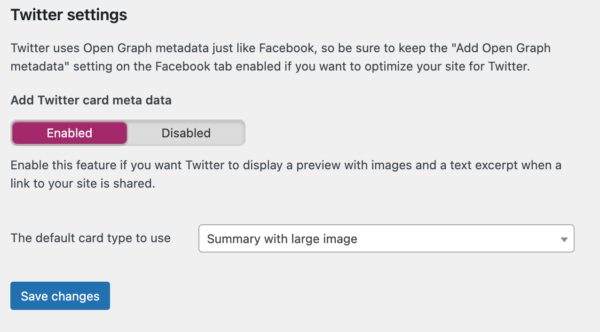 Default card type
In addition, you have the option to choose which card type to use on Twitter. You can set the default card type to 'Summary with large image' or to a regular 'Summary'. We'd recommend going for 'Summary with large image' because that makes your content stand out more.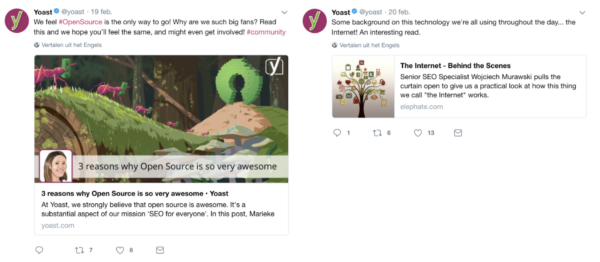 Related articles