Look your best on your Facebook, Twitter and Pinterest shares
Get more clicks on social media
Increase your social media visibility
Control what your content looks like when shared on social media
What social media posts do you usually click on? Most likely, it's the ones that have inviting and informative elements like a photo, a great title, a prominent author tag. Do you want to make your social media shares clickable? Yoast SEO can help you achieve it!
Social media platforms like Facebook, Twitter, and Pinterest can "read" your content and pick out the information they need to present it properly. You just need to feed them the right information with OpenGraph metadata and Twitter Cards. Yoast SEO makes this possible for you. It allows you to effortlessly control what your posts look like when you share them on social media.
Why do I need OpenGraph metadata and Twitter Cards?
The OpenGraph metadata and Twitter Cards are pieces of code that give social media platforms like Facebook, Twitter, and Pinterest information about your content. For example, the code contains information about the name of your site, the type of your content, the title of the page, the featured image, the name of the author, etc. The more complete the information, the better your content looks when shared on social media.
✅ Control how your website appears when shared on Facebook, Twitter, and Pinterest
You can't control who and when someone shares your website on social media. But you can control what it looks like when it gets shared! In Yoast SEO, you can set images and text excerpts that appear when third parties share a link to your site. It doesn't require much effort, yet it gives you the power to show your best side to the social media world!
✅ Increase the click-through rate of your social shares
Yoast SEO also lets you decide what each of your posts and pages looks like when you or someone else shares them on social media. By powering your content with attention-grabbing details, you increase the likelihood that it gets clicked on!
For greater control, you can also get Yoast SEO Premium that comes with a social preview feature, which lets you preview what your posts will look like when shared on Facebook and Twitter!
✅ Increase visibility on social media
When you make your posts more visually appealing and informative, they are more likely to get shared. A good volume of shares will inform the social platform algorithm that your content is useful. So, next time someone searches for a topic you have written about, your result may appear at the top! Just like that, you increase your reach beyond your regular audience.
How does it work?
The Social Settings in Yoast SEO contain four tabs: Accounts, Facebook, Twitter, and Pinterest. First, you should add your social media profiles in the Accounts tab.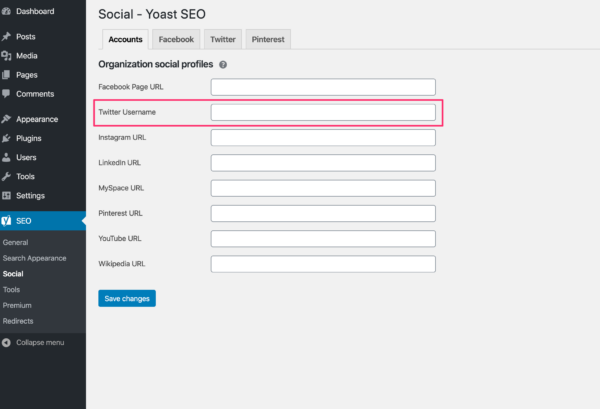 Then, you will need to enable the OpenGraph toggle in the Facebook tab, to be able to optimize the social shares for Facebook and Pinterest. In the Twitter Tab, you can enable the Twitter tag card metadata.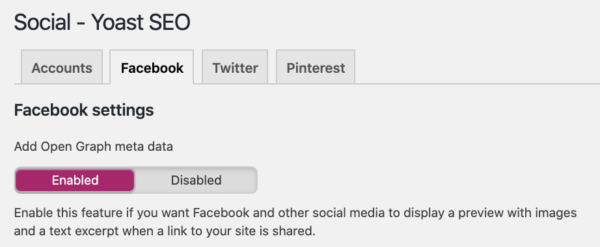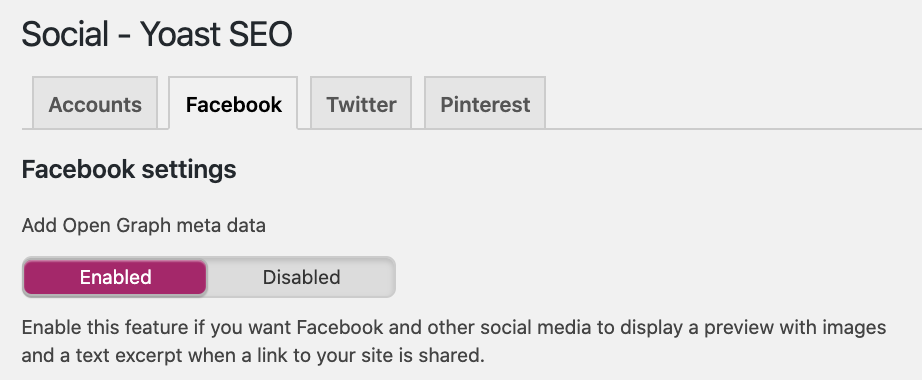 For more detailed information about how OpenGraph and Twitter Card's work, read these articles.
Sharing individual posts
The Yoast SEO meta box in the Post editor also contains a Social tab. There, you can control what the social preview of the post looks like. Choose an image, a title, and a description, and leave the rest to the plugin. If you want to see what the post looks like, you can do that with Yoast SEO Premium.