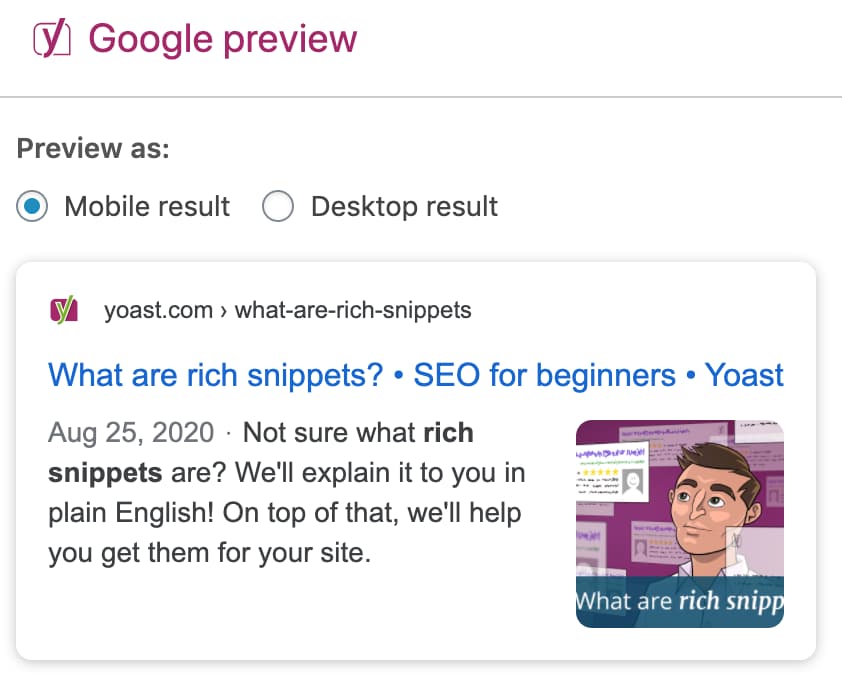 Use the Google preview to preview your post in Google
The Google preview in the Yoast SEO plugin allows you to preview what your page or post will look like in the search results. It has a mobile and desktop view and it shows elements like the SEO title, slug, and meta description. Best of all: you can edit those elements to make sure your site looks good in the search results!
Read more about the Google preview feature in Yoast SEO.
Use the social preview to preview your post on social platforms
Social previews visualize what your content will look like when shared on social media. You can see right away if your image fits and whether your title and description will display well. This way you'll see exactly what your potential visitors see! It's the perfect opportunity to optimize your content, which then hopefully leads to more clicks.
Find out more about the social previews feature in Yoast SEO Premium.
Use snippet variables to create uniform outings
Snippet variables can be used to automate certain processes on your site. This way all your content will use the same custom template. You can set variables for your homepage, site title, posts, etc. The default settings are almost always a great fit for any site, but you can always adapt it to your liking!
Read more on snippet variables in Yoast SEO.
Use favicons to stand out in the browser tab
Do you see the little icon in your browser tab? In our case, it's a Yoast logo. But did you know that you can add your own favicons? So, if you want your site to stand out, make sure you add a favicon! You can preview your favicons in the Google preview in Yoast SEO.
Read more about how you can use favicons to make your brand stand out.
Buy Yoast SEO Premium now!
Unlock powerful features and much more for your WordPress site with the Yoast SEO Premium plugin!