XML sitemaps
Help search engines find your content, and immediately let them know when you publish or update pages
Available in Yoast SEO Free and Yoast SEO Premium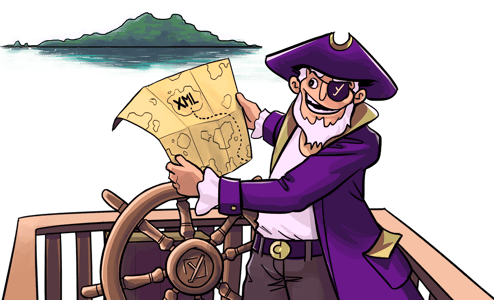 Why do I need an XML sitemap
Search engines discover new pages and updated content by following links. However, an even more efficient way for them to find content is by following a map. An XML sitemap generated by Yoast SEO is a treasure map for search engines. It gives them directions to all of your content and tells them when your pages were last updated. With Yoast SEO you automatically get robust XML sitemaps for all of your content types.
Make your content available for crawlers
Allow search engines to quickly discover your content
Prioritize your most important content
Determine what goes into your sitemap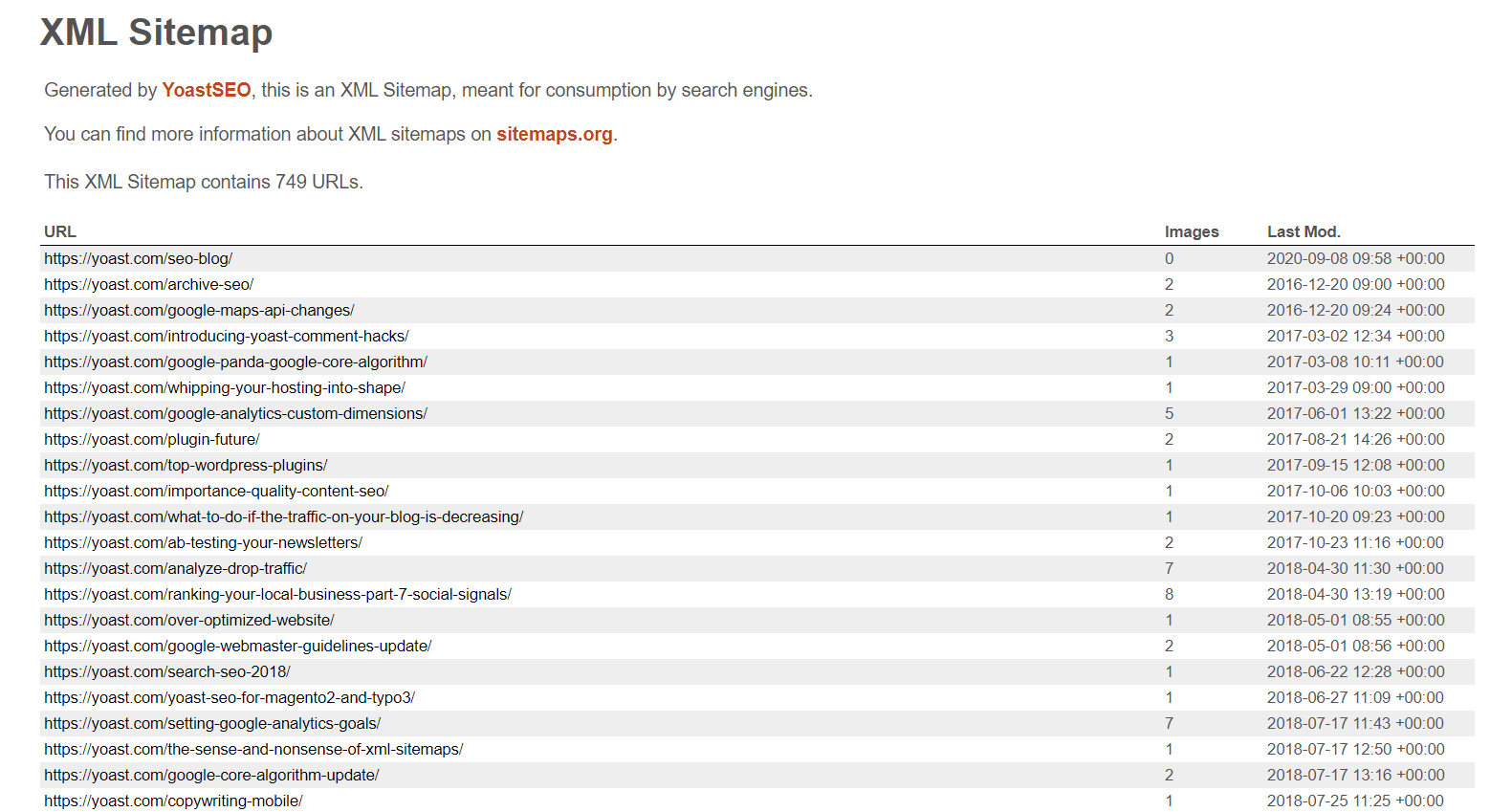 Get Yoast SEO Premium!
XML sitemaps are available for free in Yoast SEO. But, if you are serious about your site Yoast SEO Premium can help you make your job a lot easier.
Why do I need a Yoast XML sitemap in WordPress?
According to Google: "Search engines like Google read this file to more intelligently crawl your site. A sitemap tells Google which pages and files you think are important in your site, and also provides valuable information about these files: for example, for pages, when the page was last updated, how often the page is changed, and any alternate language versions of a page."
Bing says: "Sitemaps are an excellent way to tell Bing about URLs on your site that would be otherwise hard to discover by our web crawler."
Ok, so XML sitemaps are important. But, why do you need a Yoast XML sitemap in WordPress? After all, since the release of WordPress 5.5, all WordPress installations automatically get an XML sitemap as well. Well, not all XML sitemaps are built the same. We have been working on the Yoast XML sitemap for years. Over time, it has become more and more sophisticated. In comparison, the default WordPress XML sitemap is quite basic. Read the FAQ: XML sitemaps in WordPress 5.5 and Yoast SEO to learn more!
Keep in mind, XML sitemaps do not need to be indexed by search engines in order to be read or parsed by them. That's why Yoast automatically adds HTTP headers to these files, saving you from crawl budget issues and index bloat!
They give search engines an overview of your content
An XML sitemap is technically little more than a file with a list of URLs on your site. If you have many posts and pages in WordPress, the list will be very long, and if you don't have many, the list will be short. More sophisticated sitemaps, like the ones we produce, use categories and multiple pages to break things up into smaller, more digestible pieces.
The XML sitemap is a standardized way of offering these overviews to search engines. Because this is standardized, search engines know exactly where to find them and what to expect in these files. Therefore, this file helps search engines discover your content.
Sitemaps can provide some back up in case of bad internal linking
Internal linking is vital for your users as well as search engines. Search engines use links on your pages to discover new content and to determine which pages should get more weight.
But even though internal linking is important, not many people do it well. On some sites, there's content that never gets any links. You should fix this, but in these cases, an XML sitemap in WordPress can serve as an alternate way for search engines to find your content.
Yoast SEO XML sitemaps can assist with crawling
Instead of merely letting search engines crawl every page on your site, a sitemap can help to prioritize your more important pages — saving your crawl budget. By default, Yoast SEO excludes several posts, and content types from the XML sitemap as these pages have no place in a sitemap. Also, you can determine what you do and don't want to add to your sitemap.
Sitemaps give important information
It's not just the simple list of URLs that's important to Google. The additional metadata is essential as well. Search engines can read when your content was last updated if there was any new content added and how all this content ties together. This last part is especially important if the content on your site is not properly linked together.
Extra features
Yoast SEO lets you determine what goes into the sitemap
Yoast SEO has a set of sensible defaults for what goes into the sitemap — excluding many pages that shouldn't end up in sitemap in the first place. If you need more control, you can determine what appears as you see fit. For instance, if you would like to exclude a specific content type from appearing in the XML sitemap, you simply have to flick a switch in the settings. Go to Yoast SEO's Settings » Content types, find your content type, and toggle off Show X in search results.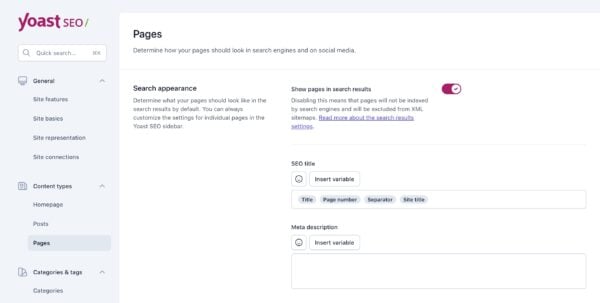 Yoast SEO splits up large XML sitemaps to keep them fast
While a single sitemap can hold up to 50,000 URLs, Yoast SEO chooses to break these up into smaller sitemaps. Our sitemaps hold up to 1,000 URLs and we'll make sure to connect them. That makes our XML sitemaps in WordPress speedy and efficient.
You can add your sitemap to Search Console
Once you've installed Yoast SEO and your XML sitemap is activated, you should add your sitemap to Google Search Console and other webmaster tools. Simply add your website to Search Console first and after doing that, you can add your sitemap. You'll notice when Google has come around to check the sitemap and if it found any issues with it.
How do XML sitemaps in Yoast SEO work?
Watch the video and learn all about how you can get the best out of the Yoast XML sitemaps in WordPress.
Get Yoast SEO Premium!
XML sitemaps are available for free in Yoast SEO. But, if you are serious about your site Yoast SEO Premium can help you make your job a lot easier.
---
Let Yoast SEO help you win the search rankings
Discover all the features of the Yoast SEO for WordPress plugin.