Yoast SEO Social settings: Facebook tab
In this article, we'll discuss the Facebook tab of the Social settings of Yoast SEO in your WordPress backend. You'll see a video explanation and we'll explain all the settings on the tab one by one.
Table of contents
Video: Social settings – Facebook tab
Would you like to watch this video in your own language? Follow these steps to auto-translate the subtitles.
Facebook tab
You can find the Facebook tab by going to your WordPress backend, clicking "Yoast SEO" and then "Social" in the menu on the left-hand side. On this page, click the "Facebook" tab.

In the configuration guide for Yoast SEO, you can read more about the other settings Yoast SEO offers.
Facebook settings
On the Facebook settings page, you can determine whether you want to enable Open Graph metadata and what your default image is when your content gets shared on Facebook. Let's take a look at these settings in more detail.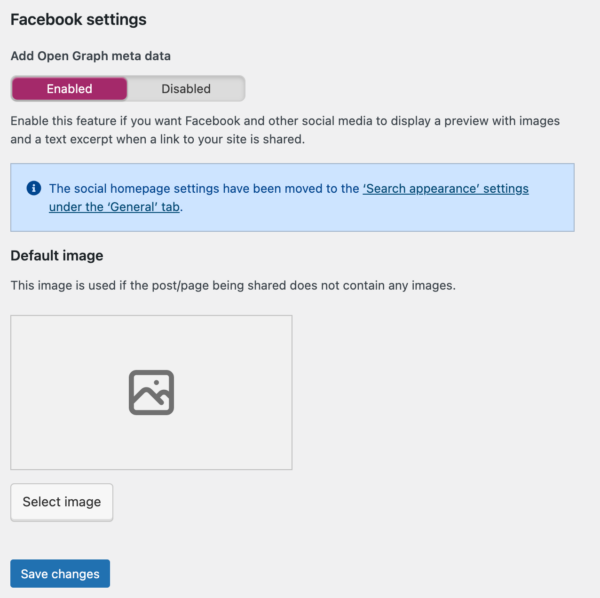 Open Graph metadata
The first thing you can determine here is if you want to add Open Graph metadata. In layman's terms, Open Graph allows users to share web pages on Facebook. With this feature enabled, Facebook (and other social media) will display a preview with images and a text excerpt when a link to your site is shared. These shared web pages have the same functionality as any other object on Facebook. Facebook's Open Graph support is continuously evolving, but the basics are simple. In a few pieces of metadata you declare:
What type of content is this?
What's the locale?
What's the canonical URL of the page?
What's the name of the site and the title of the page?
What's the page about?
Which image or images should be shown when this post or page is shared on Facebook?
Most of the values above are filled out by the plugin by default, based on your post's data. It uses the locale of your site, the site's name, your SEO title, the canonical, and the meta description value to fill out most of the required Open Graph tags.
Other social media platforms also use Open Graph
These settings actually affect a lot more than just Facebook, because a lot of other social networks have started using Open Graph metadata as well. For example, Twitter uses it as a fallback when Twitter data is not available. In addition, Pinterest and LinkedIn also use Open Graph metadata. Consequently, it's very important for your social sharing to have Open Graph metadata on your site. Therefore, we recommend that you leave the Open Graph setting enabled at all times.
Default image
You can also set the default image on this tab. If you have a post or page without an image, the default image will be shown when that post or page is shared on Facebook.
Related articles