UX & Conversion from a holistic SEO perspective
A good user experience (UX) is important for both conversion as well as SEO. Google takes metrics like bounce rate and a site's dwell time (the time spent on your site) into consideration when ranking sites. To get people to talk about your site, you also need them to understand your site. That's why you should continuously invest in decent UX on your website. That's why we consider a good user experience a very important part of a holistic SEO strategy.
After landing on your website you want users to have a great experience. A user friendly, trustworthy website with high quality content can give people an experience like this, and on top of that it can even increase conversion. But what defines user friendly? And how do you create trust? And how do you know what converts best? Our eBook 'UX & Conversion from a holistic SEO perspective' helps you find the answers to these questions!
About this eBook
This eBook focuses on many different aspects of UX and Usability and gives great insights in Conversion Rate Optimization and A/B-testing. It consists of five sections:
Introduction
Defines Usability, UX and Conversion Rate Optimization, and explains their importance for SEO. Also provides some basic insights in SEO.

General Usability
Discusses common usability issues of websites and provides tips on how to improve clarity, calls-to-action, menus and readability of your website.
Usability of specific pages
Focuses on optimizing the ease of use of various types of pages on your website, like landing pages, checkout pages and forms.
Mobile UX
Explains the importance of mobile UX for SEO. Shows common issues and best practices for mobile sites.
Conversion research
Explains the importance of testing changes on your website. Helps you to easily start conversion research yourself.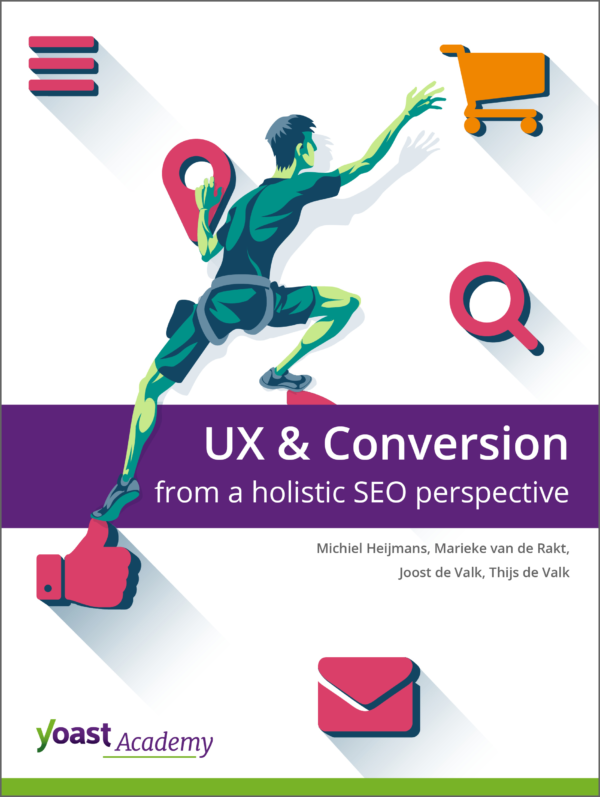 Table of Contents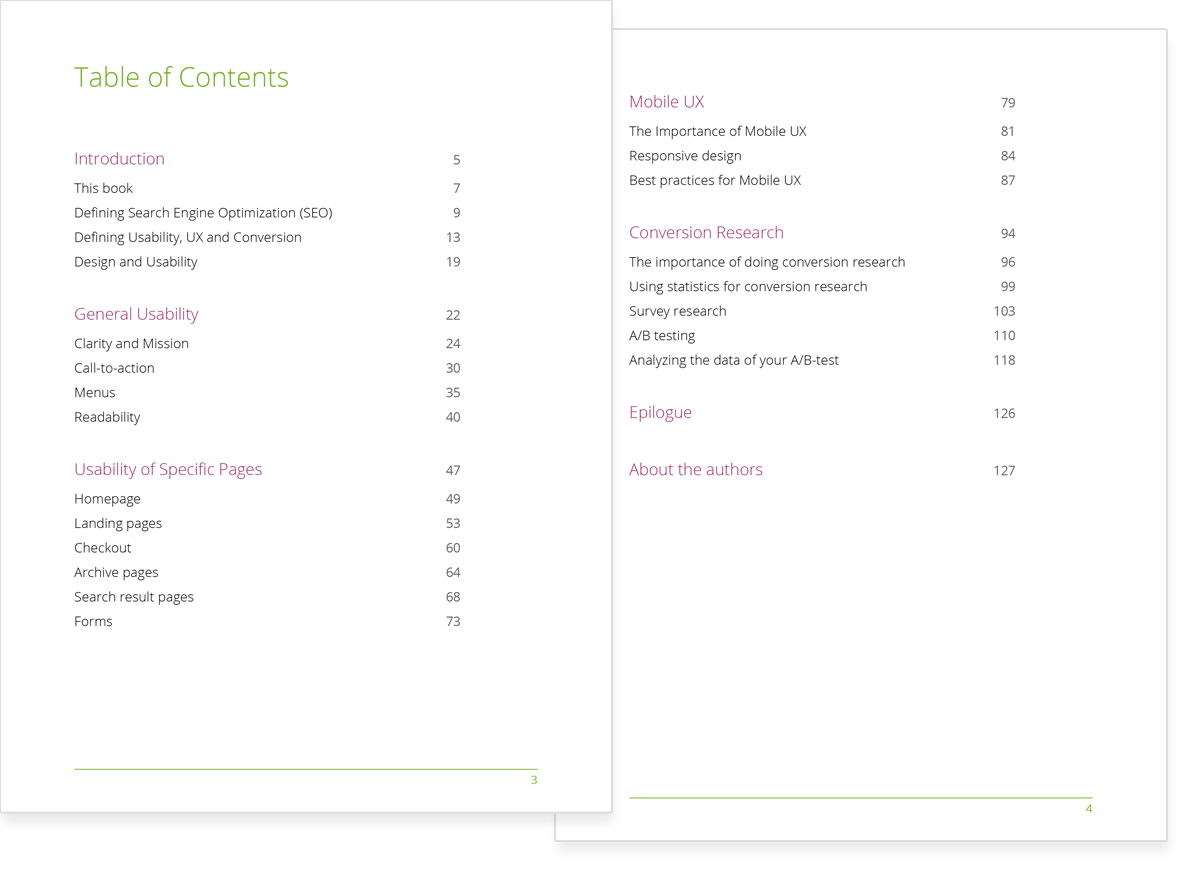 Preview
Holistic SEO and UX
A holistic SEO approach requires an amazing website. An excellent user experience is a very large part of that. At Yoast, we've been giving SEO advice for quite some time now. And although Google has changed its algorithm quite a few times, most of the advice we give at Yoast has remained the same over the years. And this advice is very simple: you just have to make sure the experience users have on your site is really really good. Do not use any 'SEO tricks'; while they might get you rank quickly, they usually don't work in the long run and might even backfire. A holistic SEO approach focusses on all aspects that can make a website great: ease of use, high quality content, excellent site speed… and so on.
The importance of UX for SEO
In our holistic SEO view, the usability of and the UX on your website should be a very important part of your long-term SEO strategy. Having an awesome website with high quality content and a great user experience won't instantly improve your ranking. In the long run though, it will definitely have a positive effect on your SEO! Attractive websites have a lower bounce rate and a much higher chance to receive social media attention. These are exactly the two things that make sure your website will keep ranking well.
Conversion and SEO
Awesome websites will also result in higher conversions. If your audience likes and understands your website, the chance of them buying your products or become a returning visitor is much higher.
You could improve your conversion even more by Conversion Rate Optimization. This actually is, next to SEO, a good supplementary strategy. SEO makes sure that more people find your website. A conversion strategy focuses on the visitors on your website, turning these visitors into customers. In our vision, you should always combine SEO and Conversion Rate Optimization. This means that you focus on attracting more people to your website and at the same time focus on increasing the chances that people will actually buy your stuff. That's a double payoff!
Buy the UX & Conversion eBook!
Do you want to integrate better user experience elements into your website? Want to make your site more user friendly as part of your very own holistic SEO strategy? And optimize your conversion even further? Buy our UX & Conversion eBook!
Product details
The chapters are all written by Joost de Valk, Michiel Heijmans, Thijs de Valk and Marieke van de Rakt. The eBook contains 128 pages, you will receive a PDF, a Kindle version and a ePub version.
| | |
| --- | --- |
| Authors | Joost de Valk, Marieke van de Rakt, |
| ISBN | 978-90-92320-04-9 |
| Number of pages | 128 |