Understanding structured data training
Learn how to get great-looking rich results that stand out in the search results
Understand the concepts and terms related to structured data in detail
Use your newly-gained knowledge to improve your chances of getting rich results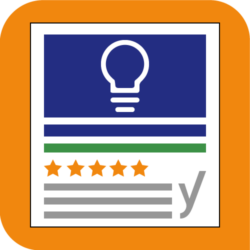 Yoast SEO Premium + Academy
Access to all Yoast SEO Academy courses
Also includes the Yoast SEO Premium plugin
Get the latest SEO news from our experts
Best value for money
Start your free sample lesson!
Free
Try the Understanding structured data training out for free!
Get a taste of what this course is like with a sample lesson
Easy access through MyYoast and Yoast SEO academy
Learn how structured data works…
You might have seen some great-looking results on the search engine pages. They might include an image, ratings, or reviews. So, how do you improve your chances of getting such a result? Structured data is the answer. If you want to compete in the search results nowadays, you need structured data. This training course will teach you all about the concepts and terms related to structured data in detail.
… and how you can use it to get attention-grabbing results in the SERPs
In this advanced course, you'll take a deep dive into the world of structured data. Structured data is incredibly important if you want to compete in the search results. If you want to stand out, you have to get rich results for your site. And if you want to get rich results, you should understand structured data. This course will help people understand structured data in detail. Implementing this knowledge can help them get noticed in the search results.​
Note: The new Understanding structured data training course is a sequel to the previous, free course on structured data: the free Structured data for beginners course. Haven't completed this yet? We recommend finishing it before starting with this more advanced course. Over 5000 users have already taken this course, are you next?
This course is a part of the Yoast SEO Premium subscription. That means that you'll get full access to Yoast SEO academy plus you'll get the Yoast SEO Premium plugin as well!
---
This course is for you if…
You know the basics of structured data but are afraid of using it.

You've followed our 'Structured data for beginners training' or have some general knowledge of structured data.

You are an experienced copywriter, marketeer, or website consultant that wants to stay on top of the latest SEO developments.

Structured data is overtaking the internet slowly but surely. If you use it, you increase your chances to get better positioned in the search results. That translates to more visibility, increased traffic, and greater reach.

You want to improve the search appearance of your site without using code.

You don't have to be a developer to add structured data to your site. Do you want clickable, attention-grabbing results for your pages? We'll tell you how to get them without using code!

You want to get ahead of your competition.

If your site uses structured data and your competitors don't, guess which one search engines will prefer? Yes, the one that makes it easy for them to understand the content with structured data.
---
After this free training, you will know…
all about the different structured data types that

you can use to improve the search appearance of your site;

how to

mark up structured data

and when to use it; 

where to place structured data

(in the code);

the importance of structured data for your site.
In short, you will walk out of this course with valuable information. Powered with this knowledge, you can significantly improve the performance of your site in the search results.
How is the course set up?
This course is the sequel to the previous free Structured data for beginners course. This free beginners course teaches you the basics of structured data, so we recommend starting with this course before moving on to the 'Understanding structured data' training.
The Understanding structured data training course consists of four informative modules.
1. Introduction to metadata
In the first module, you'll learn all about the concepts of markup, metadata and structured data. We'll explain how structured data is also a form of metadata.
2. Schema.org
In the second module, you'll dive into the world of Schema.org. We'll teach you what Schema.org is and how you can find a schema type on Schema.org.
3. Types of structured data markup
In the third module, you'll learn about the different types of markup. We also explain why JSON-LD is the standard. And, you'll learn how to read JSON-LD and where to place it in your site's code.
4. Types of schema
In the last module, we'll go into the most common types of schema and we'll teach you where to look for types of schema.
What's included?
If you get Yoast SEO Premium, you won't just get access to this course. You'll get access to:
This course includes:
over 30 minutes of instructional videos;
PDF files filled with information that will reinforce your knowledge and understanding of structured data;
quizzes that challenge you to revise what you learned and make the learning stick;
a cheat sheet with the vocabulary used throughout the course.
It will take you a little over 30 minutes to watch all the videos that contain essential information. But we encourage you to use the reading materials and the quizzes as well. Take your time, process the information, and revise as much as you need!
Who teaches this course?
This course features some of the top Yoast experts. Meet…
Marieke van de Rakt, CMO of Yoast. Her enthusiastic approach will make you immediately fall in love with structured data and inspire you to learn more.
Joost de Valk, founder of Yoast. He is one of the masterminds behind the Yoast approach to structured data. So, you can trust that he knows this stuff!
The Yoast SEO academy team. They invest all their energy to bring you high-quality knowledge that will help you succeed in the SEO world!
Our instructors are enthusiastic, knowledgeable, and excited to pass on their knowledge to you!
Show off your advanced structured data skills
Finishing a course is a great accomplishment. You'd certainly like to share that with the world, and we make that possible! After completing the course, you'll get a Yoast certificate and a badge you can display on your website, or add to your CV or LinkedIn profile.