Yoast SEO for Shopify course
Learn how to rank in the shopping search results
Improve your online presence to attract more customers to your online store
Drive more traffic to your online store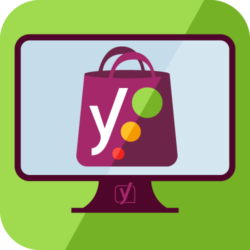 Yoast SEO for Shopify app + Shopify course
$19 / per 30 days
Unlock access to the Yoast SEO for Shopify course
Also includes the Yoast SEO for Shopify app
Learn to do SEO yourself
Improve your rankings right away
What will I learn?
If you have a Shopify store, you probably want to sell your products. But before you can get people to buy your products, you need to attract those visitors to your online store. That's where Yoast SEO comes in!
But what exactly does Yoast SEO do for your site? What are the things the app takes care of automatically? And what should you do yourself? In this course, you'll learn how to use the Yoast SEO app for Shopify to its full potential, so your store can rank higher in the search results.
After this training course, you will know…
what SEO entails and why you need it to drive more traffic to your store;
how Yoast SEO can help you rank higher in the search results;
how to set up the Yoast SEO app for your online store;
how to gain control over what your pages look like in the search results;
how to increase your chances of getting special-looking rich results;
what to do to stand out on social media like Facebook and Twitter.
How is the course set up?
The course consists of three modules, in which we've packed all the knowledge you need to get started on your store's SEO.
Introduction to SEO and Yoast SEO for Shopify
In the first module, we'll explore how search engines work and what SEO entails. Furthermore, we'll show you what Yoast SEO can help you with, and what you should do yourself.
Optimizing your content with Yoast SEO
Then, in the second module, we'll focus on optimizing your content with the Yoast SEO app. We'll discuss the focus keyphrase, the SEO analysis, the readability analysis, cornerstone content, and how you can influence what your pages look like in the search results and on social media.
Optimizing technical aspects with Yoast SEO
The third module is a bit more technical. We'll cover structured data, and how that helps you with getting special rich results. Also, we'll show you how you can hide pages from search engines, and we'll explain in which cases that's necessary.
What's included in the Yoast SEO for Shopify course?
You get access to all of the course content, consisting of:
over 2 hours of instructional videos, tailored to capture your attention and get you introduced to SEO and the Yoast SEO app;
resources brimming with examples that can inspire you, and tips that can get you started on your SEO journey;
quizzes that challenge you to think about your store's SEO, and help you come up with ways to apply the strategies to your situation.
---
Who teaches this training?
This course features some of the top Yoast experts. Meet…

Marieke van de Rakt, the CEO of Yoast. She loves SEO in all its forms, and her enthusiasm for it is contagious!
Chaya Oosterbroek, the COO of Yoast and a dedicated social entrepreneur.
You'll also meet some other Yoast experts like Maartje van Erp and Fleur Heesen.
Our instructors are enthusiastic, knowledgable, and excited to pass on their knowledge to you! 
---
Show of your ecommerce SEO skills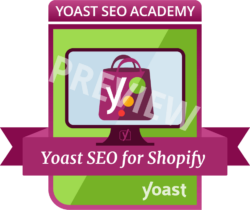 Finishing a course is a great accomplishment. You'd certainly like to share that with the world, and we make that possible! After completing the course, you'll get a Yoast certificate and a badge you can display on your website, or add to your CV or LinkedIn profile.
It will take you a little over 2 hours to watch all the videos. But you don't have to stop there. We encourage you to invest all the time you need to think about how you can apply what you learned to your situation.
---
Get the Yoast SEO for Shopify app to make ranking even easier!
You don't need the Yoast SEO for Shopify app to follow this course. But it does make ranking high in Google and getting more traffic to your online store even easier. Simply put, this is what you'll get:
Drive more traffic to your online store
Easy and quick SEO optimization
Stand out in the search results and Google Shopping
Yoast SEO is functional in 27 different languages
---