International SEO training
Do your potential customers speak different languages? Up your SEO game to reach all of them
Get the insights our SEO experts learned from optimizing the websites of international companies such as Disney and Facebook
2-day online training with 12 hours of quizzes and videos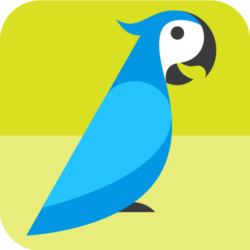 Yoast SEO Premium + Academy
Unlock access to all Yoast SEO academy courses
Also includes the Yoast SEO Premium plugin
Be first to get new features & tools, before everyone else
Learn to do SEO yourself
Improve your rankings right away
Start a free sample lesson!
Free
Try the International SEO training out for free!
Get a taste of what this course is like with a sample lesson
Easy access through MyYoast and Yoast SEO academy
Do your potential customers speak different languages? Are you selling in countries all over the world? Or are you thinking of expanding your customer base? Then you'll come across these problems – if you haven't already:
You see visitors landing on the page in the wrong language … and they're leaving fast
You have no idea why one page is getting no visitors, while the version in other languages is doing fine
One language version has suddenly dropped in the Google rankings
Or maybe even your entire website is tumbling down the search engine results
People come to us with these problems all the time. Because with international SEO, a lot can go wrong. But if you do it right, there's so much to gain:
You don't sabotage your own rankings by letting pages in different languages compete with each other
Visitors enter your site in their language … and they're staying
You don't get a penalty for duplicate content
So instead of losing SEO value, your site is climbing up the search results – in all languages
So how do you do it right? Good question. We couldn't find any courses that explain this properly. That's why we created one: the International SEO course. After this online course, you will be able to:
Pick the right keywords in different languages so your potential customers can find you
Translate SEO copy so that you don't sabotage your own rankings
Pick the right domain structure for your international or multilingual site
Make sure Google indexes the correct page for the correct user – by implementing hreflang correctly
---
What will you learn?
The International SEO training consists of four modules: an introduction, keywords and content, domain structure, and the hreflang standard. Each of these modules consists of several videos in which Yoast SEO experts explain the topics in easy to understand language. After reading the supporting articles, you can do a quiz to test your knowledge. When you're done, you get an International SEO certificate showing that you've mastered this exciting international SEO strategy.
1. Introduction to International SEO
In the introduction, we'll take you behind the scenes of Google's search engines to you show how it works. This is essential knowledge that'll help you make the most of your SEO work. After this, we'll talk briefly about the way we practice SEO: holistic SEO.
2. Keywords and content in International SEO
The second part of the course is all about content for your international site. How do you do international keyword research for SEO? And how do you create and maintain an international keyword research sheet? We'll take you by the hand and show you how to write copy for multiple regions and how to transcreate international content. This way, you'll learn how to create content that's easy to understand for a native speaker.
3. Domain structure in international SEO
Part three of the International SEO training sets out to answer one important question: Which URL structure gets the best result in a specific situation? You'll learn all about top-level domains (TLDs), the use of subdirectories and subdomains, and how to target multiple languages within a country.
4. hreflang: the most important tool for international SEO
When doing international SEO, hreflang is your best friend. You should learn this inside out. But, as we've said earlier, hreflang isn't easy to understand, let alone implement correctly. That's what we set out to solve in this International SEO course. We're taking your from the very basics, all the way to different implementation choices and an evaluation of the risks of hreflang. The end result? You'll be able to implement hreflang without breaking a sweat!
5. There's more where that came from…
International SEO is important, but it is just one chapter of the SEO book. A holistic SEO strategy also requires working on your keywords, content, site structure and technical SEO. If you want to see your site rank, you need the whole package. With the Yoast SEO academy Premium subscription, you can stay on top of all the crucial SEO developments! Don't miss out on all the knowledge that can take your site to the top!
---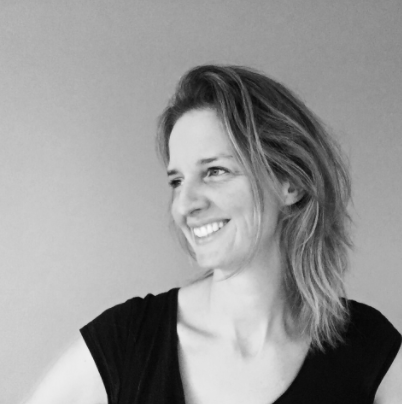 Making a website in multiple languages might be one of the most underestimated tasks. I started the International SEO course with one specific problem and I came out with at least twelve points of improvement. And that's a huge compliment. The content of the course could have been a boring instruction book. But instead it was broken down into tiny understandable and interactive parts which gives you control over pace and complexity.
Paula Nordhauzen – Energized
---
What will you get?
Access to the four modules of the International SEO training
Clear instruction videos (over 120 minutes!), reading material and quizzes
An International SEO badge and certificate
And access to all other 8 awesome Yoast courses!
What we learned from working for international companies
This International SEO training was developed by the experts that developed the #1 SEO plugin: Yoast SEO. In this course you'll get the insights we've acquired over the years, while optimizing the International SEO strategy for companies such as Disney and Facebook.
---
Videos, quizzes and background reading
The International SEO course consists of explanatory videos, quizzes to test your knowledge and background reading. This mixture of learning material provides you with all the necessary skills and tools to set up, improve and maintain an international SEO strategy on your site. Find out more about our learning didactics.
---
Show off your new skills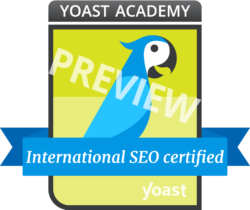 Once you've completed our International SEO course, you can actively implement an International SEO strategy by yourself. Show your new-found skills by showing this awesome badge on your site!
Become an expert in less than 2 days
On average, participants spend 12 hours on the International SEO training. But of course, it's up to you how much time you invest. With your 24/7 access, you can follow the course at your own pace.
Not sure yet? Take a free sample!
You can take free sample lessons of all our courses. Take one actual course lesson to see whether the training is for you, no strings attached!