Technical SEO courses
Learn what you need to consider when picking a host
Get practical tips on how to make your site easy to find by search engines
Learn how to detect and solve errors that keep your site from ranking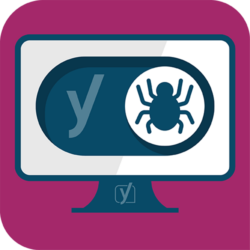 Yoast SEO Premium + Academy
Full access to the library of Yoast SEO academy!
Access all the features of the Yoast SEO Premium plugin in WordPress
Learn to do SEO yourself
Improve your rankings right away
Start a free sample lesson!
Free
Try the Crawlability and indexabiliy course out for free!
Get a taste of what the course is like
Easy access through MyYoast and Yoast SEO academy
The Yoast Technical SEO course series starts with two courses: Hosting and server configuration and Crawlability and indexability. But, we know that technical SEO is much broader! So, over time, we will keep adding more courses on topics such as site speed, site security, redirects, duplicate content, and more!
The Hosting and server configuration and Crawlability and indexability courses will ease you into technical SEO and empower you to work on it yourself! With easy-to-follow modules, expertly produced videos, articles, and quizzes, you'll get to the bottom of these crucial technical SEO topics in no time. Your newfound knowledge will be instantly applicable to your site or situation.
What you will learn:
Hosting and server configuration (for WordPress)
In the first Technical SEO course, we're focusing on hosting and server configuration. You'll learn what to consider when looking for a host and determine what fits your needs. The course consists of these short lessons:
1. Hosting
It may be the most important decision you make regarding your site: which hosting party should you entrust with your site? That's what we'll help you with in this lesson! We'll give you an overview of the most important considerations you need to take into account when choosing a host.
2. Server configuration
Your server's configuration has an impact on the technical performance of your site. In addition, the PHP version you are using affects your site's security and speed. This lesson will give you some basic information on the two most common web server configurations – NGINX and Apache. Then, we'll explain the importance of having an up-to-date PHP version.
3. Q&A
In the last lesson, our expert, Jono Alderson, the head of SEO at Yoast, will answer some of the remaining questions you may have on hosting and server configuration.
Crawlability and indexability
In the second course, Crawlability and indexability, you'll know exactly how Google functions and how you can bring your site in tip-top shape so the search engine can render and index it without fault. Among other things, you'll learn all about topics like XML sitemaps and checking your indexability with Google Search Console and robots.txt. You'll find these lessons:
1. Crawlability and indexability
It all starts with an overview of how search engines like Google work. You'll find out what crawlability means and how this impacts your site and rankings. The goal is to make sure that all of your valuable content is available to search engines, so they can index it correctly.
2. XML sitemaps
Search engines discover new pages and updated content by following links. However, an even more efficient way for them to find content is by following an XML sitemap. It gives them directions to all of your content. Luckily, it's easy to get XML sitemaps generated for you. In this lesson, we'll explain what XML sitemaps are, what pages you should include in them, and how they work.
3. Checking your indexability
Google Search Console is created to easily track the performance of your website. You can get valuable insights from your Google Search Console account, which means you can see what part of your website needs work. Here we'll explain how to use Google Search Console for SEO!
4. How to block crawlers
In some cases, you might want to prevent search engines from crawling your site and showing it in the search results. There are a few different ways to do that, and they have different outcomes. In this lesson, we'll make sure you understand how to use the tools that allow you to block search engines from your pages, parts of your site, or your entire site.
5. Q&A
We finish the course with a Q&A with our expert and founder of Yoast, Joost de Valk.  
What you will receive:
Full access to the Technical SEO courses and the Yoast SEO academy library, including courses on :

Keyword research
Ecommerce SEO
SEO copywriting
Site structure and much more!

A year's worth of access to the Yoast SEO for WordPress Premium plugin and all its features such as:

internal linking tool
redirect tool
crawlability settings
social previews
access to the Yoast SEO workouts and more!
---
Earn a certificate and a badge
Did you complete the two courses? Great! You'll get a certificate and a badge for each of them!
Time investment
On average, participants spend between 2 to 4 hours per course. Depending on your current level of knowledge, this might vary a bit.
---
Not sure yet? Take a free sample lesson!
Take a peek at one of our topics to see whether the course is for you, no strings attached!