Our courses include SEO updates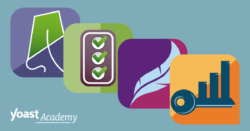 In
our courses
you learn how you can optimize your site easily and efficiently. However, SEO isn't static. Best practices change, new techniques emerge and search engines shift focus over time. These changes can affect how well your site ranks in the search results, and therefore, how many customers or readers are able to find your site!
As teachers, we strive to keep you updated about the most important changes in SEO. As changes emerge and roll out fast, we understand it's a challenge for you to keep up with the ever-changing SEO landscape. Therefore we decided to add a 'Yoast update' module to our courses.
Easy to stay posted
This means that from now on it's easy to stay posted on current developments! Go to your courses and find our latest update. It contains a video in which Joost discusses the most important changes in SEO, WordPress and our plugins, and how this affects you and your website!
Updated every three months
We'll publish new Yoast Updates every 3 months. This means that:
Your knowledge and skills will continue to grow after finishing the courses;
You'll receive updates on the most important changes in Yoast SEO;
We will summarize all important SEO and WordPress news for you!
Want to get Yoast Updates too? Go check out our courses!