5 blog topic ideas for your ecommerce site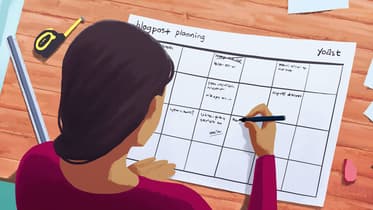 A blog can be a great marketing tool for your ecommerce site. It gives you the possibility to tell readers all about your brand, products, and company. Plus, by blogging on a regular basis you'll increase the chances of your site ranking in the search results. That being said, coming up with new ideas can be difficult. In this post, I'll discuss 5 topic ideas that will help you maintain an awesome blog on your ecommerce site!
Why should you blog?
It might seem like a lot of work, but maintaining a blog on your ecommerce site is definitely worth your time. A blog allows your audience to learn more about your brand and products. You'll be able to tell the story of your brand and products from your own perspective, and inform your audience about new ideas or plans you might have. This builds trust between you and your audience and increases their engagement.
But that's not all! Maintaining a blog contributes to SEO as well. Every time you publish a new blog post to your ecommerce site, you're adding fresh content. Which Google loves. You can use these blog posts to answer questions your potential customers have (and for which your products offer a solution). Or use them to show your expertise on topics that are related to your business. By blogging regularly and using the right keywords, your blog will help increase the overall rankings of your ecommerce site. Including your product pages.
Read more: The ultimate guide to blogging »
5 blog ideas for ecommerce sites
A blog can help your audience to find you online. But maintaining it can be hard. You'll have to continuously come up with new and unique ideas for your ecommerce blog. On top of that, you'll want to create awesome content to make sure your audience keeps returning to your site. So, let's start with a first and quite essential step in creating and maintaining your ecommerce blog: keyword research.
1. Input from keyword research
You can write about whatever you want on your blog, but before you start, it's important to do proper keyword research. Keyword research will help you understand which search terms your audience uses, and therefore which search terms you want to be found on. You might have an idea of the search terms you want your site or products to be found on, but make sure to research them to make sure you're using the right ones. Who knows, your audience might use a totally different word for a product you offer, which means you're missing out on potential customers by focusing on the wrong search term!
You can Google the keyword you came up with to check the searches Google suggests (while you're typing). Or use tools such as Google Trends to research how often your search term is used compared to similar terms. But keyword research is so much more. And if you spend the time to do it properly, this will pay off by providing you with a list of focus keywords that will help you rank for the right search terms.
Keep reading: Keyword research: the ultimate guide »
2. Current events and news
A great way to come up with new topic ideas for your ecommerce blog is by following current events and writing about them. Keep an eye on different news sites and write posts in which you give your view or expertise on news in your niche. To make sure you don't miss anything, you can even set up alerts for specific topics. And if a holiday or event is coming up, write a post about how your products could be used during that holiday or event.
The fun part? You're writing about something people are interested in at that moment. Because it's happening now. And if it's an important event in your niche (or in general), that means that your audience will be probably want to read more about this topic.
To give an example of how we do this at Yoast, a while ago Google announced Web Vitals – a new set of metrics to measure speed and user experience of websites. Because we know our readers will want to know more about this, as they are often concerned with optimizing their site, we wrote different blog posts explaining what these Web Vitals are and what impact they can have on sites.
3. Audience questions or comments
It might seem a bit scary at first, but giving readers the possibility to leave comments on your blog is a great way to get input for new posts. Inviting people to leave comments on your blog means you will probably receive feedback and questions. Which you can then use to determine what subjects your audience wants to know more about and what you can write a new blog post on.
Also, this interaction is a great way to connect to people and make sure they'll come back to your site. If you're still a bit hesitant about allowing comments on your blog, we have a post that will help you handle comments on your blog.
4. Blogs with a personal touch
Writing blog posts allows you to add a personal touch to your site, and with it your brand and company. Even a large company or brand can really benefit from a blog that appeals to people on a personal level. One way to do this is by showing the authors of your blog. Let your readers get to know the people who write your blog posts and their expertise. And, if possible, let your CEO (or experts in your team) write about their own view on the market or the ways they use the products your company sells. By giving your blogs a personal touch, you're giving the company and your brand a face that people can relate to. That helps people connect to your company and might even convince them to return to your online shop.
If you're having trouble standing out in a sea of similar ecommerce blogs, this article about staying unique in a competitive niche might help you find your tone of voice. Which will make it much easier to add a personal touch to your blog posts and connect with your audience.
5. Stories about your products
Your product page is the perfect place to describe your product. Your blog, however, is a perfect place to share stories about your product. If you sell cleaning supplies, write blogs about which stains are best removed with your products. If you sell kids clothes, write blog posts about children playing while wearing your clothes. And don't underestimate the importance of photos, so make sure to add lots of them! If you don't have any, try to add images that are related to your business or brand to liven up your posts.
Tell stories about the different ways people use your products and make these stories informative and entertaining. Don't make these blogs too salesy. Show people why they should buy your stuff instead of telling them they should buy it.
Tip: Want to make sure your product pages perform well in the search results? With our Yoast WooCommerce SEO plugin, you can take advantage of Yoast SEO's excellent structured data to get rich product results. Plus, you can preview what your products look like in the search results! And if you run a Shopify store, that's no problem either. Yoast SEO for Shopify will help you boost your traffic and optimize your content.
Customer stories
Another great way to do this is by asking your customers to share their stories. Ask them about their experiences with your products and if they have photos you're allowed to share on your site. With the permission of these customers, you can write beautiful blog posts based on their experiences. Or you could ask your clients if they would want to write a guest blog.
Read on: How to use storytelling in a blog post »
Let's get blogging!
As I said before, a blog can be a great marketing tool for any ecommerce site. Which is why it should, in my opinion, be part of your ecommerce SEO strategy. It will allow you to get more people to your site, increase their engagement, and present your brand and company the way you want to be seen. I hope these 5 blog ideas for ecommerce sites will provide you with enough input to start and maintain an awesome blog!
If you want to learn more about writing content that's optimized for search engines, then you might be interested in our SEO copywriting training. Among other things, you'll learn which steps you need to take to create a ready-to-publish text for your website. Plus, how to come up with a list of relevant keywords for your website. Useful, right?
Keep on reading: 5 tips to write readable blog posts »
Coming up next!
Event

December 09, 2023

Team Yoast is at Attending, Organizing, Sponsoring WordCamp Ahmedabad 2023! Click through to see who will be there, what we will do, and more!

See where you can find us next »

SEO webinar

12 December 2023

Learn how to start your SEO journey the right way with our free webinar. Get practical tips and answers to all your questions in the live Q&A!

All Yoast SEO webinars »