Yoast SEO 8.0 Introducing the Yoast SEO Gutenberg sidebar & a revamped meta box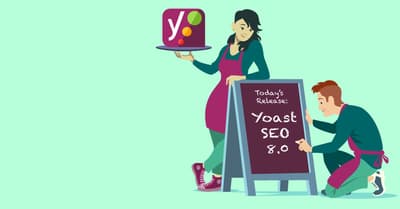 Please welcome the Yoast SEO Gutenberg sidebar! Update to Yoast SEO 8.0 and you'll see our first steps to the – Gutenberg – future. If you've activated the Gutenberg plugin you'll find a brand new version of the Yoast SEO meta box, in the sidebar! Not on Gutenberg yet? We've got good news for you too: we gave the existing Yoast SEO meta box a more intuitive design and a cleaner appearance so it's easier to use for everyone. Here, we'll explain everything: what you'll encounter in this update if you're on Gutenberg and what if you're not. On top of that, we'll share a glimpse of what you can expect from us shortly!
Why a Gutenberg sidebar?
Gutenberg is coming. Step one of Gutenberg is a new WordPress editor. This new editor gives you a brand new writing and editing experience; you'll be editing your content in blocks, instead of the one big field you're used to. In the classic editor you've always found the Yoast SEO meta box below the post editor. But because of the block design in Gutenberg, most meta boxes will fit best in the sidebar. To make our meta box fit and work in the sidebar, we had to completely rethink and redesign it. The result of that we're presenting you today!
While we were at it, we applied some of the changes required for the move to the sidebar onto the existing Yoast SEO meta box as well. These changes improve the usability and accessibility of our meta box and give it a cleaner and more organized look.
What happens if you run the Gutenberg plugin?
Are you using the Gutenberg plugin already? If you update to Yoast SEO 8.0 you'll see two meta boxes: one below your post and one in the sidebar. This is not a bug, but our first move to a future where you can choose between showing one of the two. For now, we're showing you the sidebar and the meta box below your post, as not all optimization options are available in both yet.
What happens if you don't run the Gutenberg plugin?
You won't see Yoast SEO in the sidebar if you don't activate the Gutenberg plugin on your website. What you will see is a revamped, collapsible meta box below your post. We'll get back to you on the revamped meta box further down this post. First, Yoast SEO in the Gutenberg sidebar!
Yoast SEO in the Gutenberg sidebar
So let's dive in! If you run Yoast SEO and Gutenberg, you'll now see collapsible Yoast SEO items in the sidebar. It'll show a selection of the optimization areas you're used to, nicely arranged next to your post. This will give you a convenient overview, in which the green smileys for Readability and Focus keyword will confirm if you've done a good job optimizing: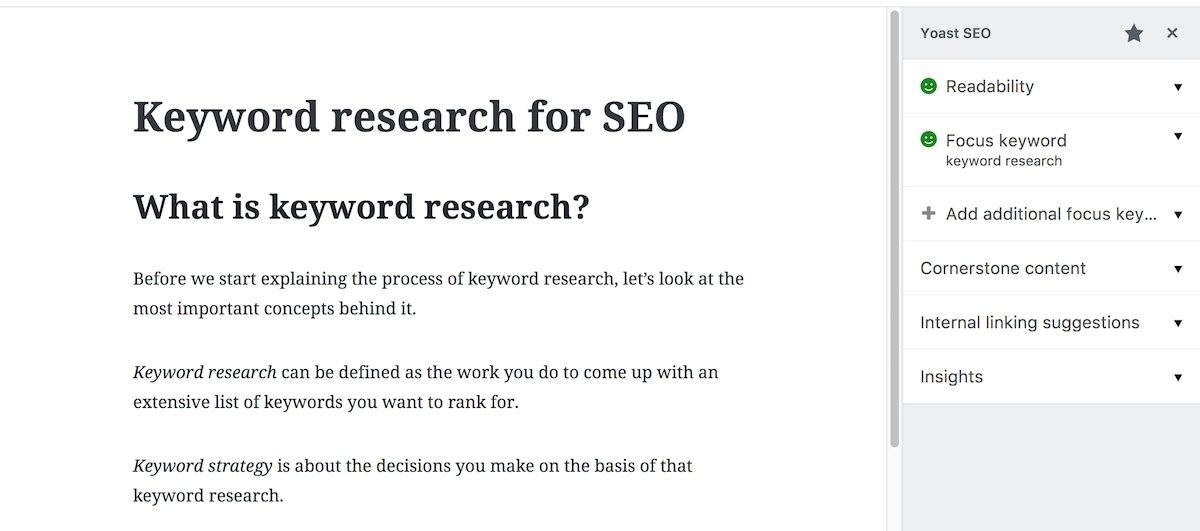 Let's go through the sections one by one!
Readability
As you probably know, Yoast SEO assesses the readability of your copy by checking your text for use of passive voice, sentence length, paragraph length and more. If you click on Readability in the sidebar, this section will unfold and you'll see the assessments you're used to, right there, next to the copy you're creating. This prevents you from scrolling up and down a lot and makes reading and implementing the feedback on your writing much easier.

Focus keyword
If you click on Focus keyword in the sidebar the SEO analysis of your text will unfold. Here you can enter your focus keyword and Yoast SEO will analyze your content for those terms:

Are you using your keyword often enough and in the right places? Like your title, alt text and a heading? Have you added internal links? You can find these assessment here, conveniently placed next to the text you're writing.
Are you using Yoast SEO Premium? Then you can add possible synonyms and up to 5 related keywords! Just click on + Add synonyms or + Add another keyword, if you'd like to add them.
Cornerstone content
The next section of the Gutenberg sidebar is Cornerstone content. Here you can indicate if the post you're working on is one of your most important articles. Marking your content as cornerstone content will help you create the best content for these posts and link often enough to them. Just move the toggle to the right if your post is cornerstone content.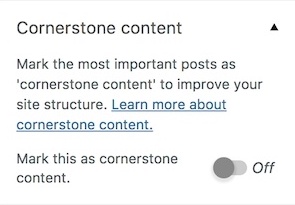 If you use Yoast SEO premium, you'll find two more sections in the sidebar: Internal linking and Insights.
Internal linking
Internal linking can help you create an awesome site structure, which is indispensable if you want to rank high. Yoast SEO premium's internal linking tool makes linking to your (best) posts as easy as pie! This internal linking tool used to be in the sidebar already, but now it's integrated into a collapsable section of the Gutenberg sidebar. So all your post optimization to do's are in one place!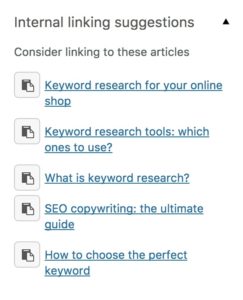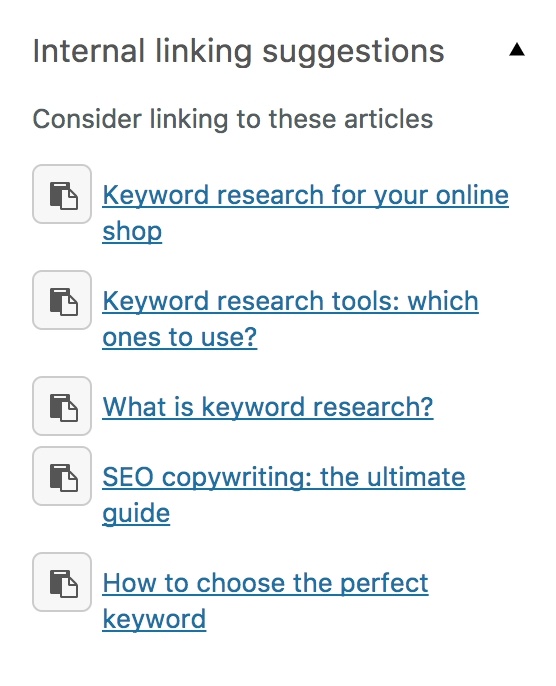 Insights
Our insights tool runs through your copy and finds the most prominent words. If you've written a text and you want to make sure it stays on topic, you can check that with this tool. Do you see a lot of words that you don't want to rank for with this post? Take another look at your post, because you might have lost focus somewhere along the way!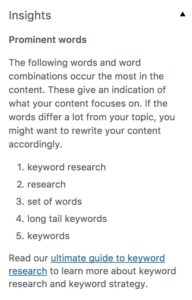 The snippet preview and social previews
We hear you think: "So where can I find the snippet preview and my social previews now?" Well, those you can still find in the Yoast SEO meta box below your post, just like the advanced and video settings of Yoast SEO. Integrating those functionalities in the Gutenberg editor will require some more development work and will therefore be a second step.
The revamped Yoast SEO meta box
If you're not using the Gutenberg plugin you'll notice some significant changes too. While redesigning various sections of our meta box to fit into the sidebar, we realized the usability of the existing meta box would benefit from some of these changes too. So we applied some of the sidebar principles to the meta box as well. This resulted in a meta box with organized, collapsible sections where you can find the Yoast SEO tools you're used to. When collapsed, they'll provide a clear overview of the various optimization functionalities we provide for a post. Plus, the green smileys show you at a glance if you've done a good job optimizing: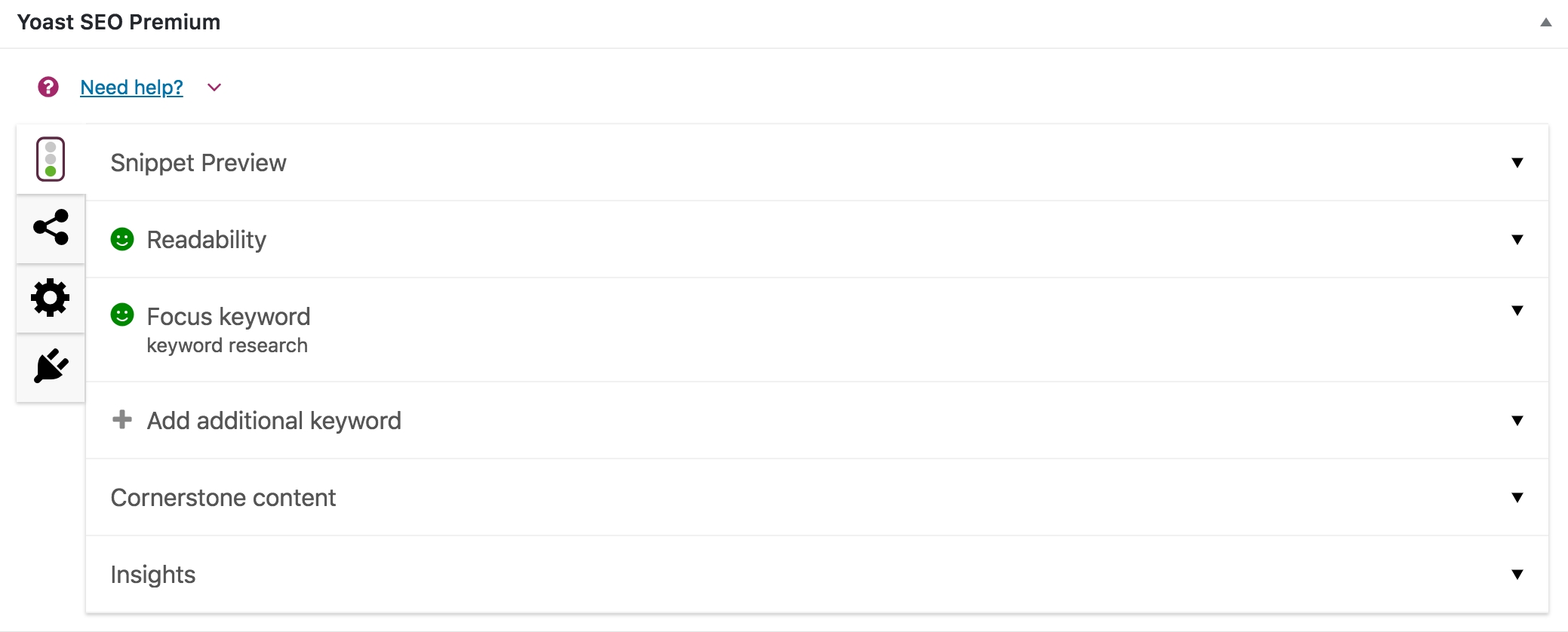 When you unfold one, it's easier to stay focused on the optimization area you're working on.
So, let's unfold them one by one:
The snippet preview in Yoast SEO 8.1
The section on top is the snippet preview, where you can see what your post might look like in the search results. Not much changed here! You can still edit the SEO title, meta description and slug. It's unfolded by default, so when you scroll down from your post you'll directly see its most likely appearance in the search results: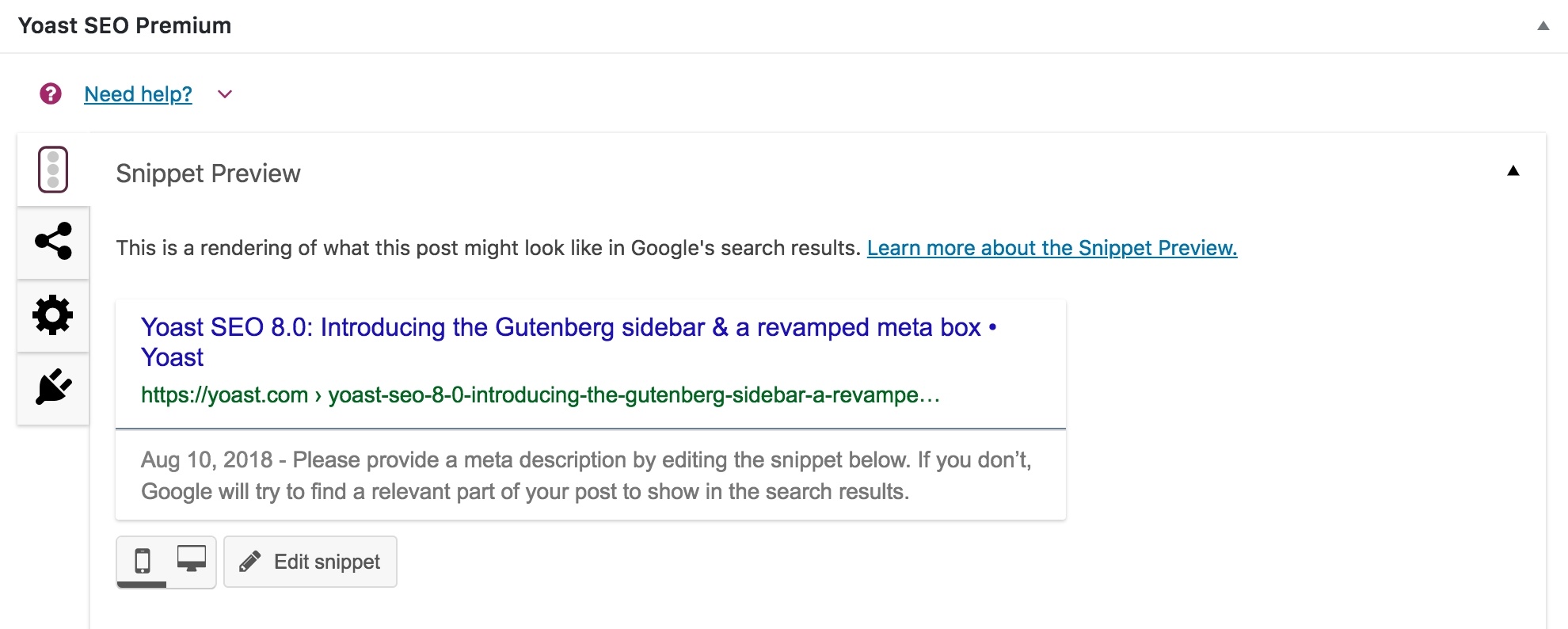 As of Yoast SEO 8.1, you can hit the Snippet Preview button in the top-right corner of the Yoast Gutenberg sidebar to open the snippet preview modal. In this modal, you can see you're snippet and make additional edits like you've always done. See the animated gif below for an impression: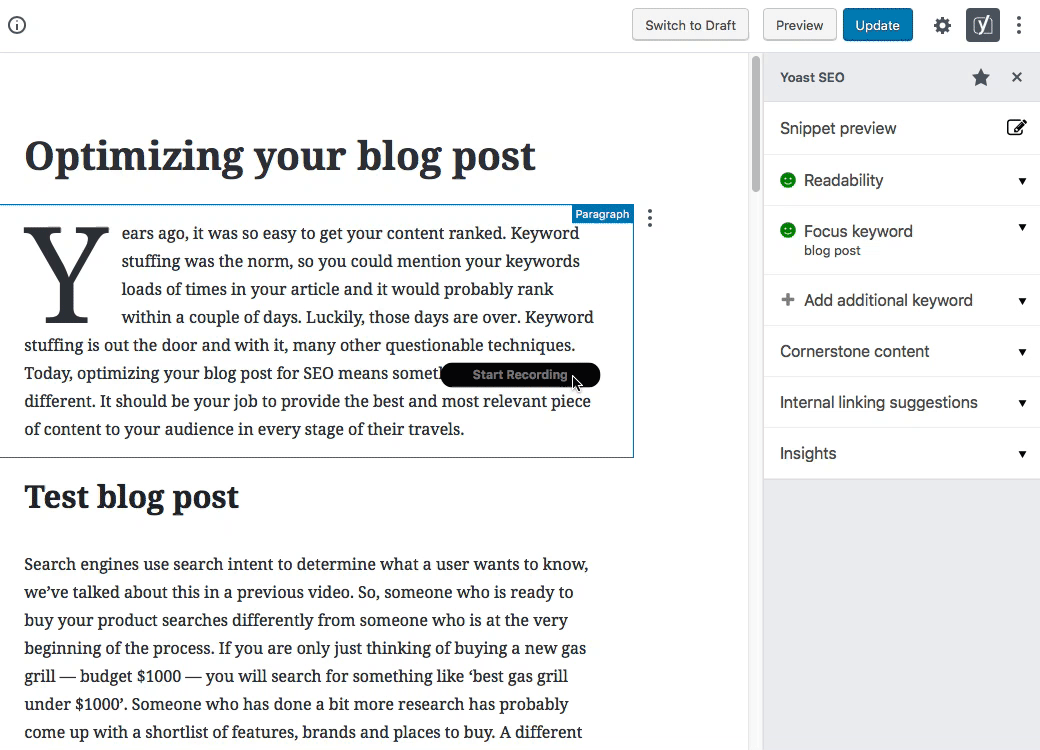 Readability
Instead of finding the readability analysis in a separate tab, you'll now encounter it as the second collapsible section. Check whether you've written a post that's easy to read here: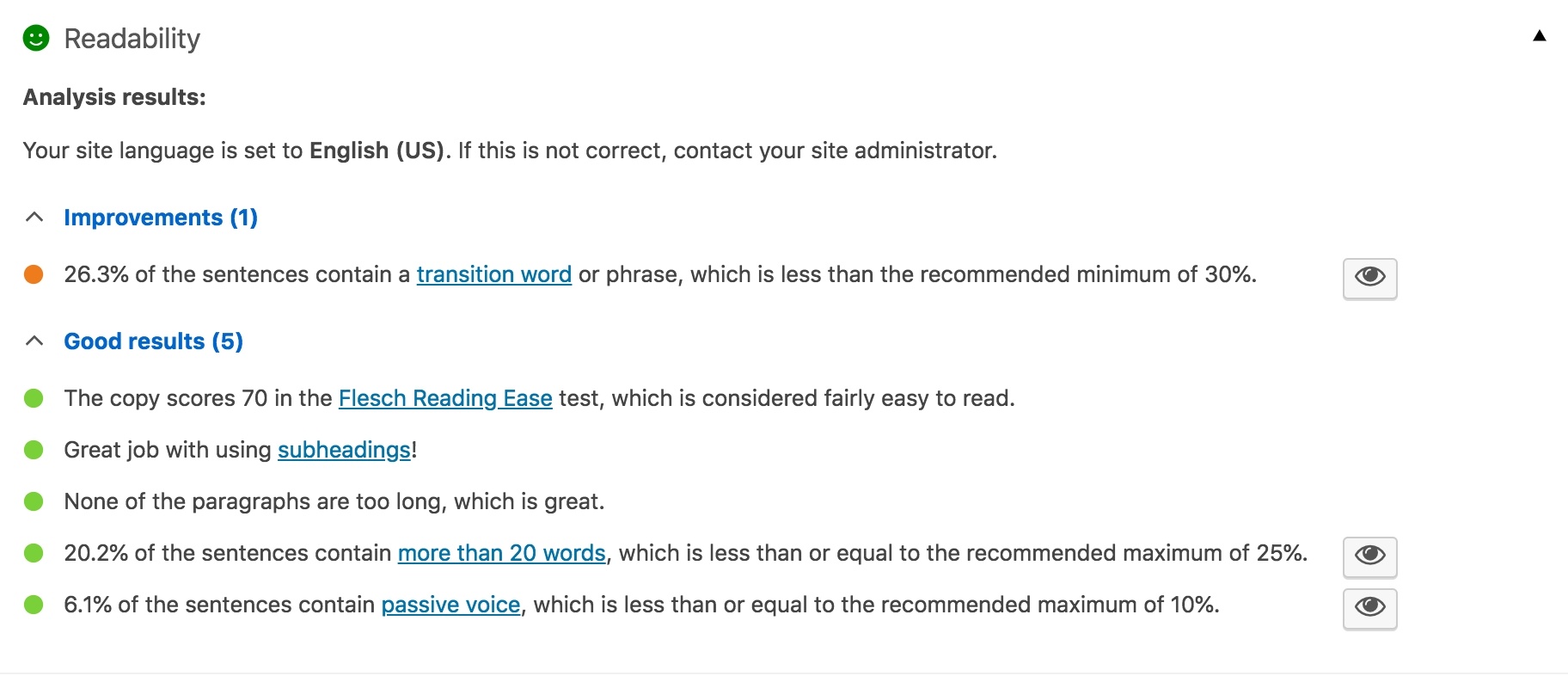 Focus keyword
Where to add your focus keyword? In the third collapsible section you'll find the field to enter the term you'd like your post to rank for. You'll find your scores in the analysis results below the field, the way you're used to.

The next collapsible section is Add additional focus keyword. This is a feature that is only available to premium users. You can add up to five related keywords in this section. In addition to this, premium will enable you to add synonyms of your focus keyword too.
Cornerstone content
Have you written a post on your most essential topic, covering the core elements of your business? Make it your best post with our cornerstone analysis and don't forget to link to it. Marking it as cornerstone content in the fifth collapsible section of the meta box will help you do so. Move the toggle to the right and give it a little extra!

Insights
The last section we'd like to mention is Insights. Unfold it and find the most prominent words that you used in your copy. Check if you've stayed on topic or digressed!

If you want to read more about the design choices we made check this post by our UX designer Tim.
What's ahead?
Modals
As explained above we haven't been able to move all sections of the Yoast SEO meta box to the sidebar yet. Some elements, like the social previews, require some additional development work. At the moment we're, for instance, working on modals to be able to display accurate previews social posts directly from the sidebar.
A sidebar for everyone!
Once all optimization functionalities are available in both the sidebar and current meta box, it's up to you! Choose where you'd like to find Yoast SEO: below your post or in the sidebar? With a toggle you can select which interface you prefer. And by everyone we mean everyone, it doesn't matter if you're on Gutenberg, or not.
Gutenblocks
Now this is exciting! We're working on our own Gutenblocks, something you'll definitely hear more about soon. As we've explained Gutenberg uses blocks to build pages. A block can have its own styling, but also its own meta data, like structured data. So how awesome would it be if you could create a block with the correct structured data attached to it automatically? So Google will know instantly if your block is about a book, a recipe or a certain product? You won't need a developer anymore to add your schema.org data. If you think about this, the possibilities seem endless and opportunities are omnipresent. You can expect more from us on this soon. So keep a keen eye on our updates!
But first, update! Or check the changelog here.
Read more: Why you should buy Yoast SEO Premium »
Coming up next!
Event

December 09, 2023

Team Yoast is at Attending, Organizing, Sponsoring WordCamp Ahmedabad 2023! Click through to see who will be there, what we will do, and more!

See where you can find us next »

SEO webinar

12 December 2023

Learn how to start your SEO journey the right way with our free webinar. Get practical tips and answers to all your questions in the live Q&A!

All Yoast SEO webinars »