Yoast SEO 8.1 Gutenberg part 2: the snippet preview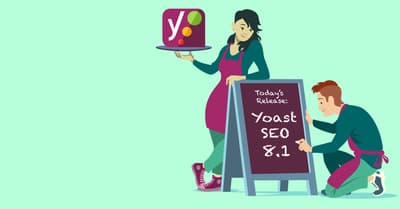 Two weeks ago, we launched Yoast SEO 8.0. In it, we shipped the first part of our integration with Gutenberg: the sidebar. That release was the foundation on which we are building the next parts of our integration with the new WordPress editor. In Yoast SEO 8.1, we introduce part 2: a Gutenberg-proof snippet preview. Also, a much better experience in the content analysis thanks to webworkers!
Gutenberg, meet the Yoast SEO snippet preview
Yoast SEO 8.0, unfortunately, had to make do without a snippet preview inside Gutenberg. There were still some kinks to iron out before we could add that snippet preview to our WordPress plugin. The code for that new modal — the pop-up screen — had to be written from the ground up, exclusively for Gutenberg. That code has now been added to Gutenberg's core so every WordPress developer can make use of the modal inside the new editor. How awesome is that!
Here's what snippet preview pop-up inside Gutenberg looks like: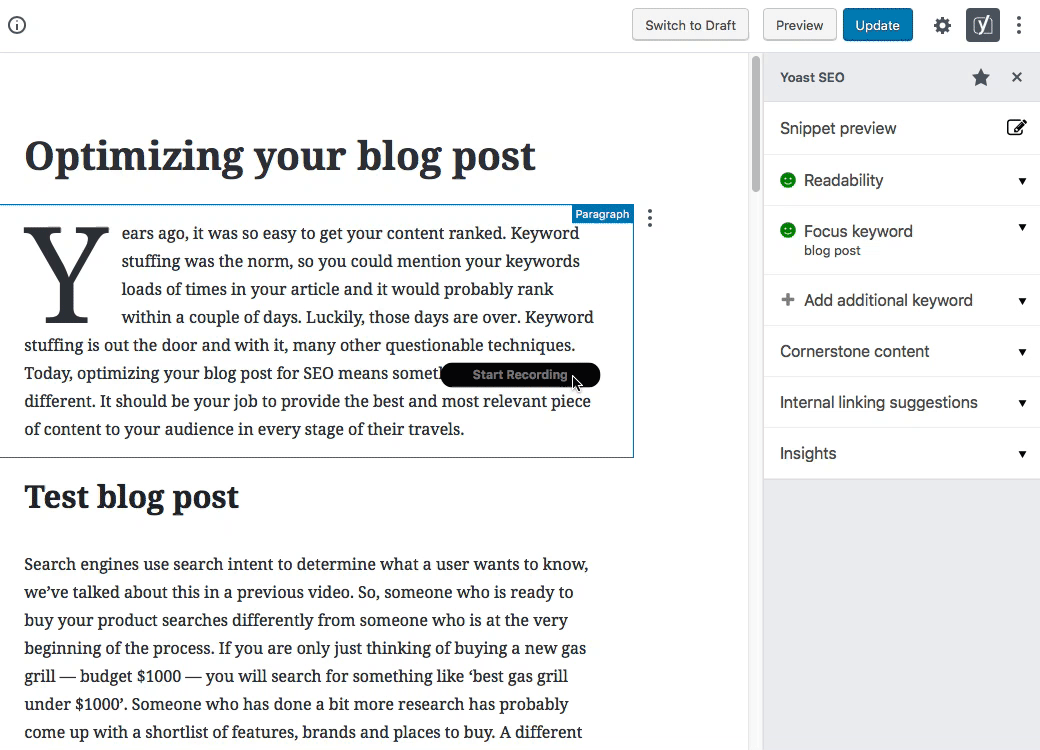 You see that it looks just like the regular Yoast SEO snippet preview. It has all the features you know and love, like the true-to-life rendering of your snippet on both mobile as well as desktop screens, SEO title field editor with snippet variables, slug editor and meta descriptions, also with snippet variables. To open the snippet preview, you simply click on the Snippet Preview button in the Yoast SEO Gutenberg sidebar.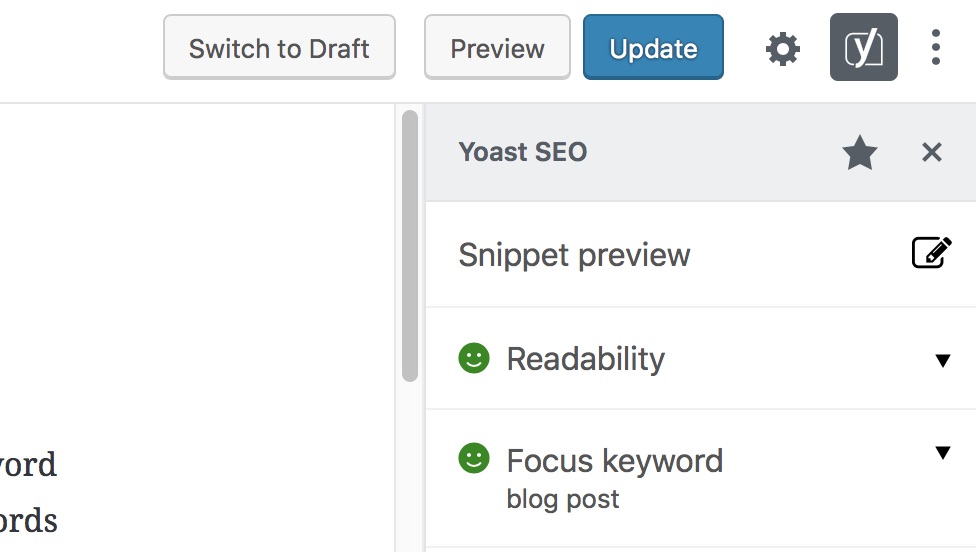 Another cool thing now available in Gutenberg is the Primary Category picker. This has been a staple for many years in Yoast SEO. It lets you make and set the primary category for a post. This will be automatically selected whenever you make a new post. We will port more features over to Gutenberg shortly.
What's next
We, of course, have big plans for Gutenberg. There's still a lot to be done and not everything we're dreaming up is possible right now. Step by step, we're turning Yoast SEO and Gutenberg into a dream combination. We're not just porting over existing features to the new Gutenberg, but actively exploring what we can do and what we need to do that. In some cases that means we have to develop the support inside Gutenberg's core ourselves, this way loads of developers can benefit from the results as well.
Speeding up the content analysis with webworkers
Speed = user experience. To keep Yoast SEO performing great, we added a dedicated webworker to our content analysis. Webworkers let you run a script in the background without affecting the performance of the page. Because it runs independently of the user interface, it can focus on one task and does that brilliantly. Webworkers are very powerful and help us to keep Yoast SEO stable, responsive and fast even when analyzing pages with thousands of words of content. Try it!
The update is available now
Yoast SEO 8.1 has a lot of improvements behind the scenes that should drastically improve how the plugin functions. We are dedicated to giving you the best possible user experience, while also improving our current features and laying the groundwork for new ones. And not to forget that new WordPress editor, right? Update and let us know what you think!
Read more: Why you should buy Yoast SEO Premium »
Coming up next!
Event

October 04, 2023

Team Yoast is at Attending, Organizing Yoast Contributor day 2023 - October edition! Click through to see who will be there, what we will do, and more!

See where you can find us next »

SEO webinar

12 October 2023

Stay ahead of the curve in the fast-evolving world of e-commerce & explore key trends & emerging opportunities. Register for "E-commerce Trends 2023" now!️

All Yoast SEO webinars »