Ranking your local business #5 Citations for local search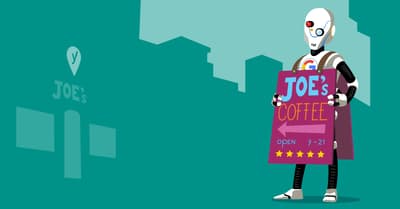 This is the fifth post in an 8-part series on how to rank your business for local searches at Google. Previously, I've listed the most important aspects that influence your local ranking, discussed how to get the most out of Google My Business, covered best practices for on-site optimization, and given you some ideas for building inbound links. Here, I'll focus on another core local search ranking factor: building citations for your business. Learn why and how to do that!
I'd like you to think back 12+ years ago to early 2005. (Scary for a guy who's 35 to acknowledge, but some present-day readers may still have been in elementary school!)
The Internet was a very different place. MySpace, not Facebook, was all the rage, and Twitter, Pinterest, and Instagram weren't even close to launching. There was no iPhone and there was no Android.
In a nutshell, the world was far less digital. When you searched at Google, it returned "10 blue links" of webpage results. The authority of those webpages was largely determined by inbound links.
But the launch of Google Maps in early 2005, and the subsequent release of the 10-pack in May 2007, portended something entirely different. Google Maps and the 10-pack ranked business listings, not websites, which required a completely different algorithm – an algorithm which remains distinct to this day.

After studying this algorithm in detail and discussing it extensively with colleagues like Mike Blumenthal, I wrote in May 2008 that "citations are the new links."
Google now obfuscates much of the evidence that prompted my theory. But the underlying foundation of that Maps/10-pack algorithm still seems to be in place today in the Maps/3-pack interface that has succeeded it.
What's a citation?
My premise in that May 2008 column was that while inbound links were the dominant ranking factor for "10 blue links" results, Google's listing-based results couldn't rely primarily on inbound links to determine rankings.
The reason? At the time, many businesses in Google's business index didn't have websites (some still don't). Without a website, there's nothing for other sites around the web to link to. So Google had to develop an alternative ranking algorithm that wasn't dependent on links.
Based on information in a couple of Google patents highlighted by Bill Slawski, I thought about this secondary Google algorithm. I theorized it focused on the number of times Google's spiders found references to a business across the web largely through mentions of its Name, Address, and Phone number (NAP).
I referred to these Name, Address, Phone number mentions as "citations". This term appeared extensively in Google's patents, and that term has largely stuck to this day.

Your NAP is basically your digital thumbprint – it's how Google knows that a website is mentioning your business as opposed to someone else's. The more times Google sees your thumbprint on reputable websites, the more confident Google is that it's displaying a reputable business in its search results.
Key citation attributes
The core citation attributes are your Name, Address, and Phone number, along with your website. These attributes must be consistent anywhere you expect Google to pick up your thumbprint.
It's why using tracking phone numbers is such a risky practice. It's great to know where your incoming phone calls are coming from, but implemented incorrectly, tracking numbers can pollute your thumbprint. As can stuffing your business name with keywords because you think it will help you rank for those terms.
The reality is that mixing and matching your NAP leaves makes it much harder for Google to match mentions of your business. Subsequently it's more difficult to give your business credit in the form of rankings. It can also lead to duplicate listings if those mismatches appear in prominent enough sources. This is a headache that no business wants to develop (see Troubleshooting GMB Issues).
NAP consistency – which appears twice in experts' top 10 individual local ranking factors – is especially important between your own website and Google My Business. The Yoast Local SEO Plugin makes this two-way consistency easy.
Where to get citations
Unless you're blatantly spamming, there really isn't a bad website on which to acquire a citation. But as with inbound links, certain citations are more valuable than others. Let's take a look at the most valuable citation types below.
Data aggregators
In most developed countries around the world, Google has licensed existing databases to build its local business index rather than starting from scratch. In many cases, the licensors are the largest traditional yellow pages companies in each market. For example, Paginas Amarillas in Latin America, YPG in Canada, and Telelistas in Brazil have all licensed (or appeared to license) data to Google over the years. In the United States, the primary licensors have been Infogroup, Acxiom, Neustar/Localeze, and Factual.
Why did Google choose to license data from these companies? Because they tend to vet business information more stringently than the average web directory, through phone and mailing address verification. So Google has high confidence in the fidelity of the information they license.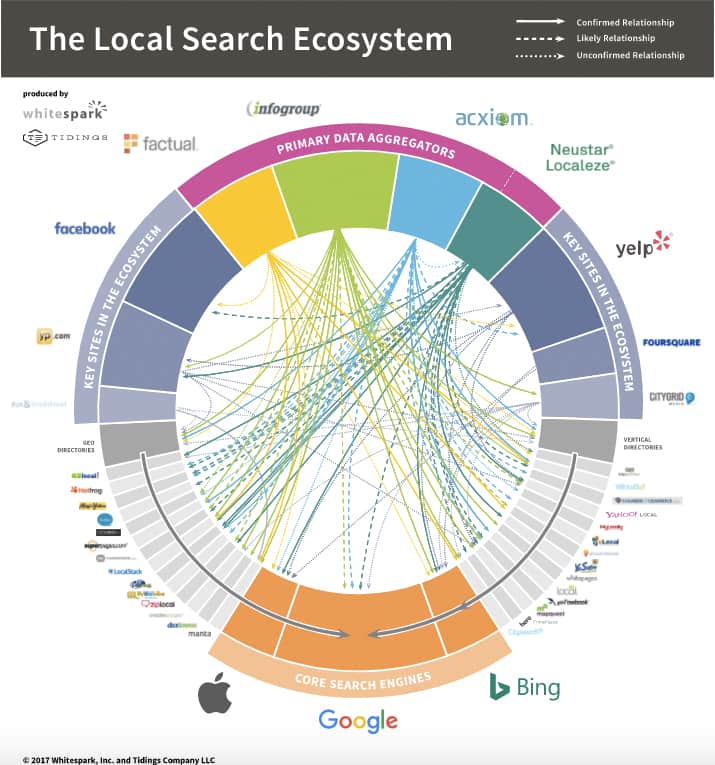 These aggregators also license business data to other directories and mobile apps featuring local businesses, in addition to Google. In turn, Google crawls those websites looking for citations.

These aggregators are not perfect, however. Because they're the original data source for so many websites, an incorrect Name, Address, Phone, or website attribute can be amplified many times over. This creates all kinds of incorrect and mismatched thumbprints. To reiterate, these mismatched thumbprints actually look like different businesses to Google. So it's critical to get your information correct at the source – the data aggregators themselves – if you want to get credit for all of your thumbprints.
Many aggregators allow businesses to correct improper information (or submit missing information) via online portals. This includes Infogroup's ExpressUpdate and Acxiom's MyBusinessListingManager. Others are either not publicly-accessible (Factual) or are prohibitively expensive (Neustar/Localeze), in which case it's best to use a citation submission service (more on this below).
Consumer directories
In addition to licensing data, Google does what it does best – crawls the Internet – looking for local business citations as well. Citations from authoritative consumer directories (such as Yelp or YP.com) carry much more weight in terms of helping your rankings than those from weak directories you've never heard of, like USCityNet or ABLocal.
For U.S.-, U.K.-, Canada-, or Australia-based businesses, Darren Shaw and Nyagoslav Zhekov of Whitespark have put together great resources. These resources delineate the top consumer directories on which you should list your business.
The key point here is that the quality of the citation source matters far more than the quantity of sources on which you're listed. Despite the marketing of certain business listing services touting "dozens" or "hundreds" of directories, the reality is that there are only a handful of cross-industry consumer directories on which you really need to be listed. At that point you should move on to industry and local directories – which are largely outside the network of major listing services. It won't hurt to be listed on longer-tail directories, but they're just not worth your time or money.
Industry directories
As with inbound links, citations from industry-relevant websites help build the authority of your business. They also give Google a sense of the types of keywords for which your business is relevant.
Chances are that U.S.-based businesses can rattle off the important vertical directories in their industry. Sites like Avvo and Findlaw for Lawyers, Houzz and HomeAdvisor for contractors, WeddingWire and TheKnot for photographers, etc. Basically, these are the directories that rank regularly for the keywords that you want to rank for.
Businesses with an optimized thumbprint on these directories stand a better chance of ranking in Google for industry terms than businesses with a messy or missing thumbprint.
The team at Whitespark has also put together a list of the top industry directories. This is a great starting point, no matter what kind of business you are.
Local directories
Citations from local directories also increase the authority and credibility of listed businesses. As I mentioned in my inbound links column, the member directories of your local chamber of commerce and neighborhood business association are great places to start.
There may also be business listing websites that are popular with local residents. In my hometown of Portland, Oregon, the Oregonian newspaper maintains a strong directory at OregonLive.com. Travel Portland and Supportland also maintain robust directories, just to name a couple.
Seek out listings on similar sites in the towns and cities where your business operates.
Advanced citation building
One of the advantages of citation building over other SEO tactics is that it's relatively non-technical. Any business owner with enough time can be just as effective as an agency or expert SEO consultant. It's simply not that complicated to get your business listed on major data aggregators, consumer directories, vertical directories, and local directories. There are a couple more advanced techniques that you can use to either go beyond the basics or outbuild your competition, however.
Unstructured citations
The four types of directory citations I covered above are all what SEO professionals call "structured citations" – sites on which NAP attributes are presented in well-structured format by the sites on which they appear, perhaps even in schema.org.
But mentions of your business name or phone number in general web content (such as a blog post or media article) may be just as valuable. Provided that there's enough context for Google to identify that it's indeed your business being mentioned.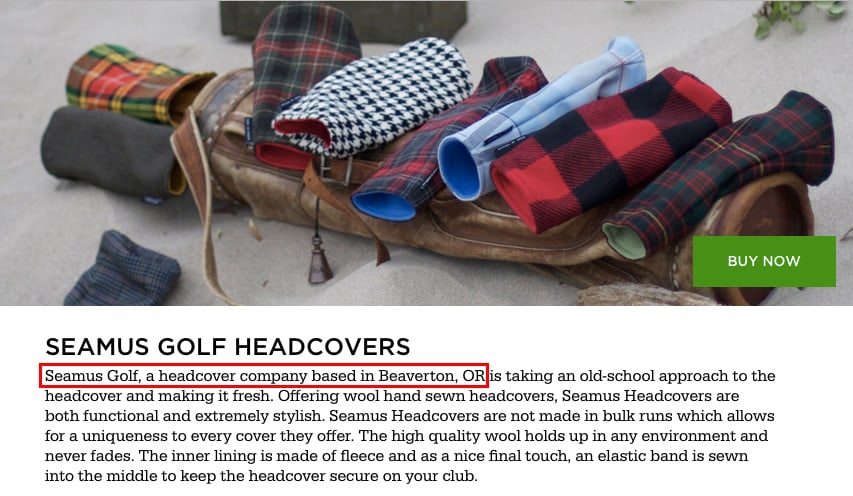 In terms of identifying good prospective sources of these unstructured citations, many of the same linkbuilding suggestions I gave around finding interviews and guest columns apply here.
Longer-tail industry and local directories
If you're lucky enough to operate in an industry and a geography covered by Whitespark's lists of top citation sources, you can probably stop reading here. But if your business is in a country or market in which Whitespark has not yet done research, you can perform similar research yourself.
Simply search Google for [your keyword] and [your city] and note the directories that appear in the top 20 (or so) organic results. You can even get more specific and add the word [directory] to the end of your string, or [submit] to the beginning.


These are websites with a reasonable degree of credibility in Google's eyes, on which it would be helpful to place your NAP thumbprint.
Through a different, but equally effective, mechanism, Whitespark's Local Citation Finder can automate much of this research for you.
Paid citation services
For those local businesses with a moderate budget, there are automated submission tools. These can help get your thumbprint on many important directories in a matter of days (or even minutes in some cases).
My former product, Moz Local, remains an excellent baseline citation submission service for U.S. businesses.
Whitespark's service is a great option for those businesses with slightly larger budgets or more tailored submission needs.
Rule of thumb[print]
It's important to be represented as cleanly and as completely as possible, as many places as you can be online. However, it's important to weigh the benefit of citations against their cost – whether in time or money.
My overriding rule of thumb[print] when it comes to thinking about citation building is "be where your customers expect you to be." That is, if you run a deli, and every other deli in your city is on Yelp, you probably need to be on Yelp, too. If you're a guitar instructor, and every other guitar instructor in your region is on Thumbtack, you probably need to be on Thumbtack, too.
Being where your customers expect you to be also means you'll be where Google expects you to be. Citations beyond these obvious websites provide diminishing returns, so be wary of that fact as you evaluate signing up with new products or services.
The place of citations in the local algorithm of the future
Citations are a rudimentary ranking factor in what is an increasingly sophisticated local algorithm. Because they're relatively easy to build, most successful small businesses will already have a strong citation profile.
In other words, citations have basically table stakes in the Local SEO poker game. You need a strong citation profile to compete. But if your business already has a strong profile, it's unlikely that building a few more citations will move the needle much on your rankings.
Increasingly, Google is able to assess the veracity of a business's thumbprint from users of Maps, location-enabled Android devices, Waze, and other mobile collection devices (such as StreetView cars). Thus, the future competitive differentiators are likely to be different from the structured citations of today.
My colleague Mike Blumenthal has rhetorically posed, "are words becoming the new links?" Google's algorithm gets smarter and smarter at detecting entity mentions that appear in natural language (such as those in interviews or media articles). This could blend the disciplines of citation building, link building, and social media even further.
Summary
Citations are your business's digital thumbprint. "Optimizing" that thumbprint via business name keyword-stuffing or tracking phone numbers carries substantial risk to your local rankings.
Your thumbprint should appear on data aggregators, as well as prominent consumer portals, industry directories, and local directories.
My rule of thumb[print] for citations: be where your customers expect you to be, and you'll be where Google expects your business to be.
Unstructured citations are likely to become more important in the future. More and more local businesses achieve the "table stakes" of basic directory presence.
Read on
Other parts in the Ranking your local business series:
Coming up next!
Stay tuned

Keep an eye on our site and social media to stay up-to-date.

See where you can find us next »

SEO webinar

20 December 2022

Our head of SEO, Jono Alderson, will keep you up-to-date about everything that happens in the world of SEO and WordPress.

All Yoast SEO webinars »