SEO Basics: What are ranking signals?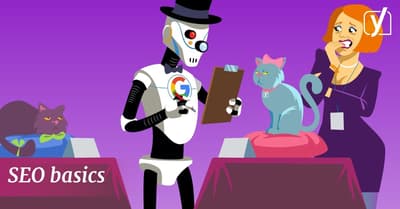 Ranking signals or ranking factors are characteristics of a website that determine the position in the search engines. All ranking signals combined form the algorithm of a search engine. How this algorithm works is a secret. Nobody knows exactly which factors decide the order of the search results.
Google's algorithm isn't static. It changes regularly. The factors that determine the order, and the importance of these different factors change very often. Although the algorithm is secret, Google does tell us what's important. Testing and experimenting give us a relatively good feel for the important factors and changes in these factors. In this post, I'll talk you through the most important categories of ranking signals.
Content
The content on your website is one of the most important ranking factors. Google reads the content of a site and determines what it's about, and for what terms it should appear in the search results, based on the content. So make sure your texts use the keywords you would like to be found on. Texts on your website should always be of sufficient length – more than 300 words is usually Yoast's advice. And, it's important that your readers are able to understand your writing. So keep an eye on text structure, use transition words and make sure your text is as good as it can be! Our plugin helps you to write content that's optimized for both your visitors and the search engines.
Links
A second important factor for ranking well has to do with links. To rank well, your site should have links from other sites, also known as 'backlinks'. The number of backlinks is important, as well as the quality of these backlinks. Links from high quality, trusted websites (for example university sites) will have more impact than links from low-quality sites (such as gambling or porn sites).
Links from other sites are important, but setting up an internal linking structure that makes sense is also a great way to improve your rankings. Because if you have a clear internal linking structure, search engines will be able to understand your site's structure, and your important pages will rank better.
UX
Your website should be user-friendly. Sites that allow and stimulate their visitors to easily navigate through their site, have a higher chance of ranking. If people instantly click back to Google after entering your site, this will result in lower rankings. Because if people can't find what they are looking for, they will quickly return to Google, and Google will pick up on this.
Your website should also be fast, as site speed is another ranking signal. A slow website will result in a slower crawl rate. This means that Google will index pages on your site at a slower rate. New posts will take longer to show up in the search results. Making your website faster can, therefore, help you get organic traffic for new posts faster, and lead to better rankings.
Read more: Site speed: Tools and suggestions »
Mobile
The importance of mobile SEO shouldn't be underestimated. This was made even more clear by Google's recent announcement. Sometime in 2018, Google will switch to a mobile-first index. This means that Google will crawl your mobile site and analyze its performance and content. If your site isn't mobile-friendly, other sites will be rated higher and outrank you. Even if you're not focusing on mobile, you'll still be judged on your mobile site, so now is the time to take action!
Google's mission
Google's mission is to organize the world's information and make it universally accessible and useful. They want to build the perfect search engine and help people find what they are looking for. While Google has changed its algorithm numerous times over the years, their mission remains the same. Ranking signals are all determined with that mission in mind. So ensuring your website and your marketing strategy fit this goal is always the way to go.
Keep reading: SEO Basics: what does Google do? »
Holistic SEO
If you want to rank high in the search engines, the best thing to do is to make a website that belongs high in the search results. Our advice always is: you just have to make sure your site is the best! Don't use any 'tricks'. While these may get your site ranked quickly, they usually don't work in the long run, and could even backfire.
Permanently ranking well in Google requires an extensive SEO-strategy, focused on every aspect of your website. The technical stuff, the user experience, the content on your website and even the security of your website need to be in order. To keep ranking well in Google, you should develop — what we call — a holistic SEO approach. This approach can be a lot of work, but it will definitely pay off in the long run! It can help to keep track of how your keywords are ranking as time goes on.
Read on: Holistic SEO »
Coming up next!
Event

December 09, 2023

Team Yoast is at Attending, Organizing, Sponsoring WordCamp Ahmedabad 2023! Click through to see who will be there, what we will do, and more!

See where you can find us next »

SEO webinar

12 December 2023

Learn how to start your SEO journey the right way with our free webinar. Get practical tips and answers to all your questions in the live Q&A!

All Yoast SEO webinars »