Improve local SEO with Google My Business a.k.a. Google Business Profile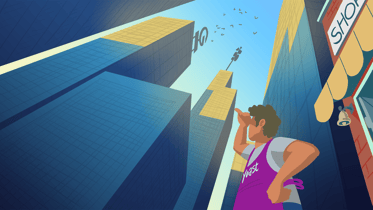 Every business owner with a website is looking for ways to get noticed in the search results. There are loads of tactics to rank well as a local business, but unfortunately, there is no silver bullet. As with most things SEO, this is a combined effort. One of the ways to get noticed is by offering customers up-to-date information like opening hours and contact information. You can do this by using Google Business Profile, formerly known as Google My Business. But what is it exactly, and why is it so important for local SEO?
What is Google My Business?
Before we get started, it's good to know that Google recently changed the name from Google My Business to Google Business Profile. But even with its new name, Google Business Profile is still your one-stop shop for managing your business information and how it will be presented in the search results. It is an essential tool to adjust how your business is shown in Google Maps, the Knowledge Graph, and organic search results. According to the most recent edition of Whitespark's Local Search Ranking Factors Survey, Google My Business continues to be the biggest driver of local SEO success, with reviews coming in second place.
You can manage your business listing by adding NAP details, opening hours, photos etcetera. There are even unique options to show multiple ways to shop (delivery or curbside pickup). In addition to that, you get many other options, like managing the reviews your customers leave behind. As you might already know, reviews should be a critical part of your local SEO efforts.
Want to learn more about local SEO and how to get higher rankings in the local search results? Our Local SEO training helps you improve your online presence and attract more online and offline visitors.
How does it work?
Getting started with Google Business Profile is easy; you just make an account and claim your business. After filling in your details, you will get a real-life postcard from Google at the address you've specified. They send this card to make sure that you're telling the truth and that you're the owner of the business listed at the address. There are exceptions, some types of businesses can get verified via a phone call or an email. Google has a special page that helps you check your verification status.
Once verified, you can fill in all the necessary details and check how your listing is doing. You can even get regular insights to see how many impressions, clicks, and subscribers your listing got over a period. It's a great way of getting a feel for how your business is perceived by Google and customers alike.
Keep in mind that Google My Business (or Google Business Profile) is not the catch-all tool for your local SEO. It has to work in tandem with your other off-page and on-page SEO efforts. You probably won't climb the charts if your profile is inaccurate, but you also won't reach the top without a well-optimized site and localized content. These things go hand in hand.
Ranking factors
Google Business Profile uses many factors to determine rankings for businesses. We'll highlight the three most important ones:
Relevance
Distance
Prominence
Relevance
Relevance determines how well your business fits the search intent of the customer. Is your focus identical to what the customer needs, or are you a bit opaque about what your company does? Vagueness doesn't rank or sell. Be as clear as you can be and keep your focus. That way Google knows what people can expect from you and will be more inclined to show your business in the search results.
Proximity
Proximity is a well-known factor for ranking local businesses. And quite logical when you think about it. You can't rank in a local search for (dentist New Jersey) when you have located your company in Manhattan. However, the exact way Google determines which businesses to show in a local search is unknown, and it can be pretty hard to rank in a given area. Other factors play a significant role as well. It helps to say you are located in a particular area and show it by having local-oriented content around your business on your site. Google uses what's known about the location of the searcher to present the most relevant local businesses.
Prominence
Prominence is all about the activity around your listing; this could be the number of reviews, events, local content, et cetera. It also helps to have loads of quality links to your site. It is somewhat hard to determine what prominence means exactly, but one thing is for sure: no one likes inactive profiles. You have to keep it updated with new photos and manage your reviews. As said before, this goes hand in hand with your site, so make sure both listings align and that you publish content with a focus on your local area(s).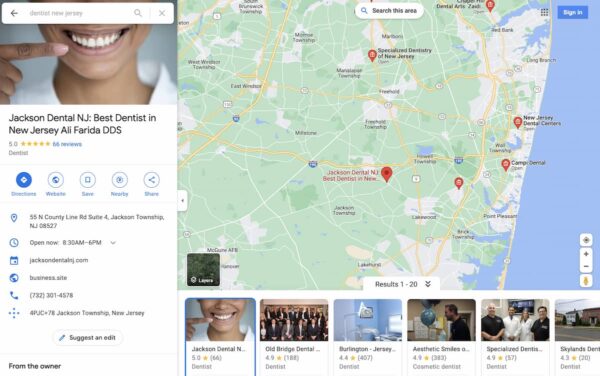 Optimize your Google My Business listing
To start, you need to claim your listing as we explained above. After that, you can use the following tips to make your Google Business Profile account a success. It's good to know that it's now also possible to manage your business information directly from Google Search and Maps, instead of having to go to your Google Business Profile. Keep in mind that everything you add must be in line with the information you provide on your site. Inaccurate information kills your listings and could kill your rankings in the search results:
Claim your listing with your actual business name
Choose a category as accurate as possible
Provide as much data as you can – your profile has to be 100% complete
Check your phone number
Check your opening times – think about holidays!
Review your photos – are they good and representative, or can you improve them?
Create citations on other sites as well – pick well-regarded business listing or review sites and directories, stay away from spammers
Keep your Google Business Profile listing in line with your site
Respond to customer reviews
Above all, keep your data up to date
It's critical to remember that this is not a set it and forget it type of thing. Things change; your business changes. Keep everything active, monitor reviews, and stay on top of things. It's frustrating if your listing doesn't perform as well as you'd like, but remember that it might need some time. Just keep putting in the hours, and it will work.
Managing your listing during a pandemic
Many businesses had to — temporarily — close their doors during the recent pandemic. Depending on where you live, this still might be the case. If that's the case, it's a good idea to let customers know how this affects your business by managing your Google My Business correctly. Always keep your profile updated. Let people know about changes in opening hours or if you're a bit slower in shipping out products. Use Google Posts to notify customers of updates. You can also mark your business as temporarily closed. If you manage these via Google My Business, you will update your business profile in Google and on Google Maps. Check Google's documentation on handling COVID-19 updates for more information.
A tool to manage your reviews
Some time ago, Google added a new feature to the Google My Business dashboard. A feature that allows you to report reviews for removal and check the status of reviews you've already reported. However, this tool only seems to works for accounts with a smaller number of listings. So if you're a business owner with lots of listings in your Google Business Profile account, this tool might not be available for you. If you have just a few listings and your Google Business profile is set up, check out this new tool to manage your reviews right now.
Structured data and Yoast Local SEO
Google increasingly depends on structured data to determine what your site is about and which elements represent what. This is most certainly true for your business information, including the information that Google Business Profile uses. Make sure you add the correct structured data to your site. Enhance your NAP details, opening hours, reviews, product information, et cetera, with Schema.org data. This will make it much easier for Google to determine the validity of your listing. Several tools can help you with this, including our Yoast Local SEO plugin.
Local SEO is critical, even with Google Business Profile
So, you should activate and maintain your Google My Business account and make it awesome. But to get the most out of your listings and to get good rankings, you must have your site in order as well. Optimize every part of it. Create local content for your chosen keyword and business location and get quality local backlinks to build up a solid link profile. Ask customers to review your business onsite or on My Business. Make sure your listing is active and attractive, like we said, inaccurate profiles are no good.
Read more: The ultimate guide to small business SEO »
Coming up next!
Event

September 23 - 25, 2022

Team Yoast is sponsoring WordCamp Pontevedra 2022, click through to see if we'll be there, who will be there and more!

See where you can find us next »

SEO webinar

27 September 2022

Our head of SEO, Jono Alderson, will keep you up-to-date about everything that happens in the world of SEO and WordPress.

All Yoast SEO webinars »