Improve local SEO with Google My Business/Business Profile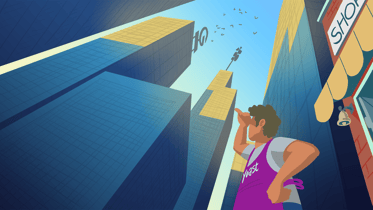 Every business owner with a website is looking for ways to get noticed in the search results. There are loads of tactics to rank well as a local business, but unfortunately, there is no silver bullet. As with most things SEO, this is a combined effort. One of the ways to get noticed is by offering customers up-to-date information like opening hours and contact information. You can do this using Google Business Profile, formerly Google My Business. But what is it exactly, and why is it so important for local SEO?
What is Google My Business?
Before we start, it's good to know that Google recently changed its name from Google My Business to Google Business Profile. But even with its new name, Google Business Profile is still your one-stop shop for managing your business information and how it will be presented in the search results. It is an essential tool to adjust how your business is shown in Google Maps, the Knowledge Graph, and organic search results. According to the most recent edition of Whitespark's Local Search Ranking Factors Survey, Google My Business remains the biggest driver of local SEO success, with reviews coming in second place.
You can manage your business listing by adding NAP details, opening hours, photos, etcetera. There are even unique options to show multiple ways to shop (delivery or curbside pickup). In addition, you get many other options, like managing the reviews your customers leave behind. As you might already know, reviews should be a critical part of your local SEO efforts.
Want to learn more about local SEO and how to get higher rankings in the local search results? Our Local SEO training helps you improve your online presence and attract more online and offline visitors.
How does it work?
Getting started with Google Business Profile is easy; you make an account and claim your business. After filling in your details, you will get a real-life postcard from Google at your specified address. They send this card to ensure you're telling the truth and that you're the business owner listed at the address. There are exceptions; some types of businesses can get verified via phone or email. Google has a special page that helps you check your verification status.
Once verified, you can fill in all the necessary details and check how your listing is doing. You can get regular insights to see how many impressions, clicks, and subscribers your listing got over time. It's a great way of getting a feel for how Google and customers perceive your business.
Keep in mind that Google My Business (or Google Business Profile) is not the catch-all tool for your local SEO. It has to work in tandem with your other off-page and on-page SEO efforts. You probably won't climb the charts if your profile is inaccurate, but you won't reach the top without a well-optimized site and localized content. These things go hand in hand.
Ranking factors
Google Business Profile uses many factors to determine rankings for businesses. We'll highlight the three most important ones:
Relevance
Distance
Prominence
Relevance
Relevance determines how well your business fits the search intent of the customer. Is your focus identical to what the customer needs, or are you a bit opaque about what your company does? Vagueness doesn't rank or sell. Be as clear as you can be, and keep your focus. That way, Google knows what people can expect from you and will be more inclined to show your business in the search results.
Proximity
Proximity is a well-known factor for ranking local businesses. And quite logical when you think about it. You can't rank in a local search for dentist in Philadelphia when you have located your company in Manhattan. However, the exact way Google determines which businesses to show in a local search is unknown, and it can be pretty hard to rank in a given area. Other factors play a significant role as well. It helps to say you are located in a particular area and show it by having local-oriented content around your business on your site. Google uses what's known about the searcher's location to present the most relevant local businesses.
Prominence
Prominence is all about the activity around your listing; this could be the number of reviews, events, local content, et cetera. It also helps to have loads of quality links to your site. It is somewhat hard to determine what prominence means exactly, but one thing is for sure: no one likes inactive profiles. You have to keep it updated with new photos and manage your reviews. As said before, this goes hand in hand with your site, so make sure both listings align and publish content focusing on your local area(s).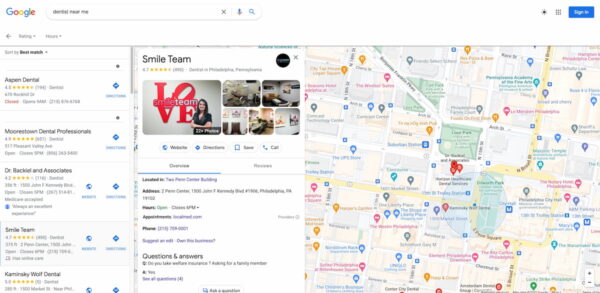 Optimize your Google Business Profile listing
Any business with a bona fide brick-and-mortar location or an online outlet is eligible for a Google Business listing. But what if you operate your business out of your house and don't want people to know your address?
If you don't operate a walk-up brick-and-mortar location but visit your customers in a particular geographic area, you're called a "Service Business." Service businesses include plumbers, carpet cleaners, and courier services. In this case, you're still eligible for a listing. However, you'll want to choose "Service business" when Google asks what kind of business you have.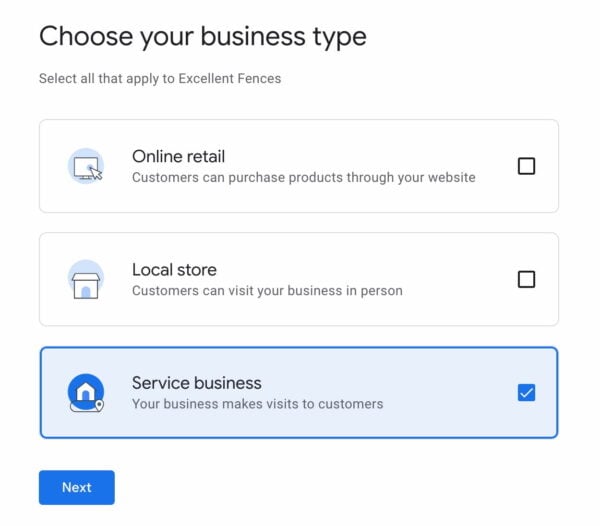 Verifying your location
Google tries to make sure that only legitimate businesses are represented in GMB. It requires anyone claiming a Listing to verify their association with the company. The easiest way to start the process is to perform a desktop search on Google for your business name (for example, "Kido Chicago"). You'll see a link in the panel on the right-hand side of the page that asks, "Own this business?"
Before you click that link to begin the verification process, make sure you are either not signed in to Google (you can create an account in the next step) or are signed into a Google account for your business instead of your personal Gmail. It's not a requirement; however, sharing access to your listing with employees or other company agents from a business account will be much easier.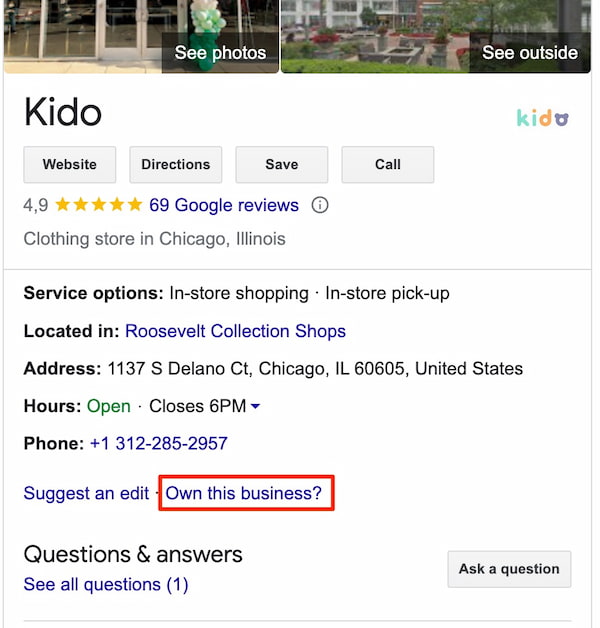 Once you fill out the most basic information (see below for what these details are), if it can corroborate your address and phone number, Google will call and ask you to enter a PIN on the screen. If it hasn't previously seen a business with the phone number and address you submitted, you'll be mailed a postcard within a week with instructions on how to PIN verify.
Primary business information
Name, Address, and Phone
This sounds simple, but it's surprising how many business owners overthink these core attributes or try to "optimize" them. Your Name, Address, and Phone (NAP) are your thumbprint online. If they don't reflect your business accurately in your Google Business Profile, Google — and your customers — lose trust that you are who you say you are. They will stop sending business your way.
Do NOT stuff keywords in your business name. Represent yourself as you answer the phone or welcome a customer into your store. You probably see spammers doing this and succeeding all the time, but it'll come back to bite them at some point. Google is monitoring for these kinds of abuses all the time and getting better at blocking the abusers.
Submit the same address you use on your website. If you're a Yoast user, this should be the address you enter in the Yoast Local SEO plugin. Even if you're a service-area business, you'll have to submit a physical address, not a PO box or other mailing-only address.
You'll see a map displayed just alongside your address. Zoom in and double-check that the pin is in the correct place on your business. Google's pin precision for U.S. addresses is typically pretty good, but it can be spotty in other countries.
Don't use a tracking phone number to segment customers coming from Google vs. other sources. There are ways to do this, but they're pretty advanced. Implementing tracking numbers incorrectly can do tremendous damage to your local search rankings.
Choose a category for your business
From a rankings standpoint, the business category is the most important attribute you can optimize in your Google Business Profile. In our experience, it's best to keep an eye on Google's advice on categories. Remember that advice has changed frequently over the years and might change again.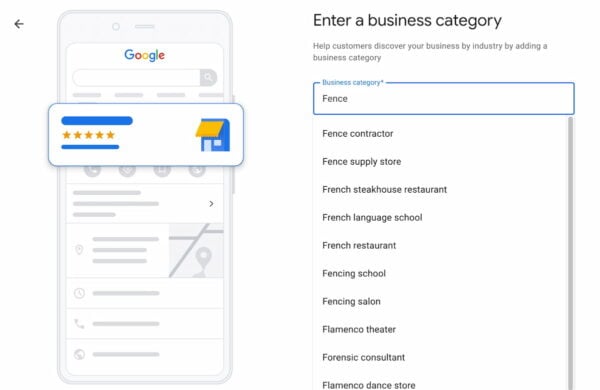 Google maintains a taxonomy of several thousand categories to describe local businesses. You'll probably find a match pretty closely by typing in a few characters of a keyword that describes your business.
Google suggests "using as few categories as possible," as well as categories that are "as specific as possible." And while it's true that Google can and does "detect category information from your website and mentions about your business throughout the web," our advice is to specify as many relevant categories as possible on your Google Business Profile listing.
Google's automated review system may remove one or two from your listing, but this is not spam — provided you select relevant categories. It helps you show up for as broad a range of searches as possible.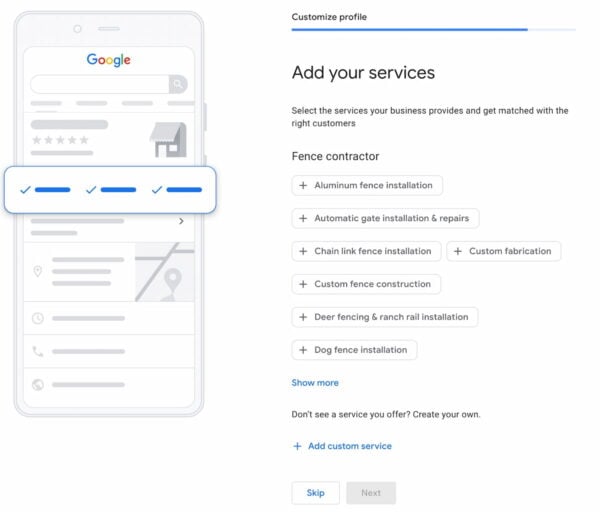 Add your website
In the process, there's a field to add your website URL, but it doesn't have to be your "website" per se. In particular, if you operate more than one location, you may want to enter the page on your website corresponding to the location you're submitting to Google — rather than your homepage. Opinions are mixed on whether listing your homepage, or a location page will help you rank better, so do what's best for prospective customers. If you think your homepage will give them the best initial sense of your business, submit it as your "website." If a location page — or even some other page — will give them a better sense, submit that instead.
Add a business description
Later on, you can add a business description to your profile. It's essential to take a moment and find an excellent way to describe your business on Google. The business description field gives you a maximum of 750 characters to convince people to visit your business. This might be the first thing people read about your business, so make it unique and exciting. Describe what your business offers precisely and how you set yourself apart from your competitors. You can also talk about your history and anything else that's helpful for customers.
Keep the description short and sweet, and don't try to push promotions or deals you have running. You also shouldn't include URLs or HTML code. Give it a think, write a few descriptions and pick the best one!

More business information
After entering the attributes above, you're asked to verify your listing. But don't stop there. There are a few other attributes that are well worth your time to add.
Photos and images
Photos may be the most neglected attribute in all local SEO. The success of Instagram, Pinterest, and any lesser-known apps indicates how visual our internet culture has become. Consumers often select — or reject! — a business because of its photos. Not only on the content of the photos but their quality and professionalism.
Photos are essential in the mobile ecosystem that Google Business Profile powers (including Google Maps), where they dominate a business's representation in Google's user interfaces.
As with all local media or social media sites, Google Business Profile has its image format requirements. Take some time to review them and make sure you have high-quality assets for each format. You can find more on improving your images in our image SEO guide.
Business hours
Selecting your opening hours is pretty straightforward. Google has dramatically improved its interface for telling customers when you're open over the past several years. Hours will be front-and-center wherever customers interact with your business on Google, so they should be accurate. You can even daypart multiple times during the day and add specific hours for holidays and special events.
While you can't control it, you may be interested to know that Google now displays the busyness of your business in real time. This is based on aggregate location-tracking visitors with Android phones and iOS Google Maps users with location services enabled.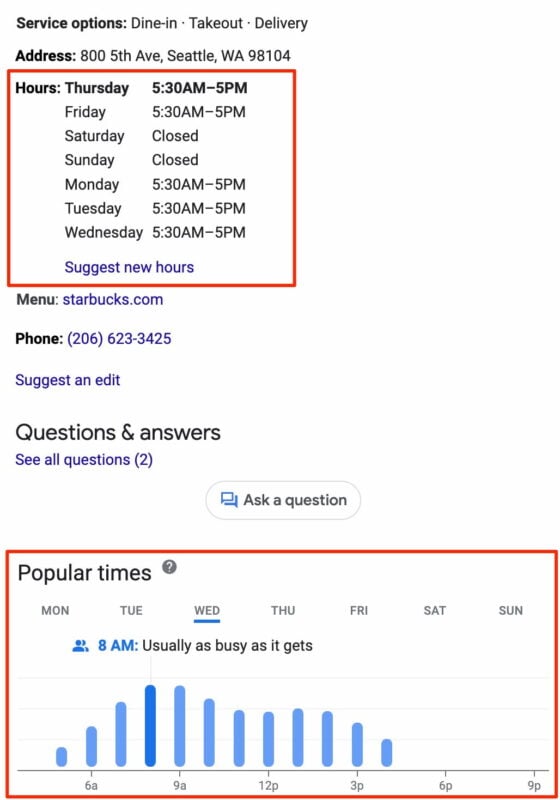 Restaurants can add menus
Specific categories of businesses will have the option to add a link to a menu. Suppose you're lucky enough to be in one of these categories. In that case, we highly recommend adding this, as it gives Google an additional set of keywords that your business should consider relevant.
More options
Google Business Profile has grown quite a bit over the years, and there are many more options to explore. You don't need to use all of them, but some are valuable. The Posts feature, for instance, is a very useful way to communicate with your customers from your profile.
You can connect with existing and potential customers through your Business Profile on Google Search and Maps through posts. You can create and share announcements, offers, new or popular items in stock, or event details directly with your customers. Use this to promote your sales, specials, events, news, and offers. You can even add videos and photos to posts to make them more interesting!
Or, use the Products feature to highlight your products in your listing. It's a great way to get people interested in what your offer.
Another great option is the possibility of getting potential customers to ask questions that you can respond to. Keep in mind that others can also answer these questions, so keep an eye on this. When it works, it can be a real help in turning visitors into customers.
And, as always, get reviews for your business!
Ranking factors beyond your control
Two significant local search and local SEO ranking factors over which you have little control have to do with the physical location of your business.
The first is the proximity of your business to the location where your prospective customer is performing their search. All other things being equal, Google will display a company closer to the searcher than one farther away from her.
In the early years of Google, its algorithm favored businesses close to the center of a given city or its "centroid." Google wasn't as good at detecting the location of the searcher. It defaulted to showing businesses in the areas with the highest population density.
This factor has declined in importance, especially for mobile searches where Google has a precise idea of where you are. Google has also partially improved at detecting desktop searchers' location information through surreptitious collection means.
The second factor is having an address in the city in which your customer is searching. If your customer is searching in Seattle, your Tacoma or Bellevue-based coffee shop won't appear simply because it's irrelevant to that search.
Short of opening additional locations to target areas where high concentrations of your customers are searching, there's not much you can do to optimize for these ranking factors. Still, you should be aware of their importance.
Google Business Profile Insights
Google provides a free, lightweight analytics package as part of GBP. This gives you a basic sense of how customers and potential customers view and interact with your listing.
Insights show how often your listing appears in plain old search vs. Google Maps. It also shows the number of clicks to your website, requests for driving directions, phone calls, and more.
There's also a breakdown of how many customers see your listing for direct searches (for your business specifically) vs. discovery searches (for businesses in your category). While no one outside of Google is entirely sure how they calculate the discovery number, it's probably as good a barometer for the overall strength of your local SEO as any, mainly if you track it over time.
Troubleshooting listing issues
The most typical GMB troubleshooting issue continues to be duplicate listings for the same business. While it's gotten harder to detect duplicate listings, it's much easier to close them.
The first step to identifying duplicates is to search for your business name on Google. If it looks like multiple listings refer to your business, select the one you'd like to report as a duplicate and click "Suggest an Edit." Follow the suggestions to have the listing marked as duplicate.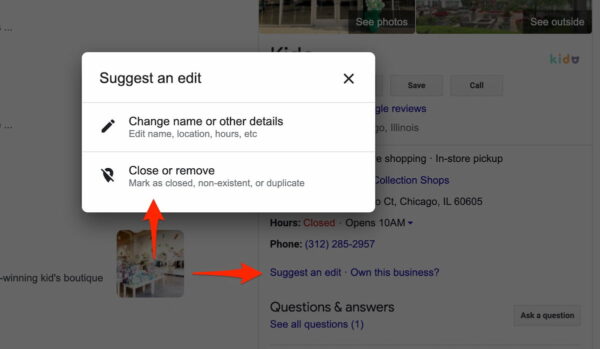 Google support staff are generally responsive to these reports within a reasonable time. If you continue to have trouble, ask multiple people — co-workers, friends, family members, or relatives — to report the same problem, and it's more likely Google will look at it. If your issue seems particularly thorny, you're most likely to get a response by tweeting @googlemybiz, the official Twitter support channel for Google Business Profile.
A tool to manage your reviews
Some time ago, Google added a new feature to the Google My Business dashboard. A feature that allows you to report reviews for removal and check the status of reviews you've already reported. However, this tool only seems to work for accounts with fewer listings. So if you're a business owner with many listings in your Google Business Profile account, this tool might not be available. If you have just a few listings and your Google Business profile is set up, check out this new tool to manage your reviews.
Structured data and Yoast Local SEO
Google increasingly depends on structured data to determine what your site is about and which elements represent what. This is true for your business information, including the information that Google Business Profile uses. Make sure you add the correct structured data to your site. Enhance your NAP details, opening hours, reviews, product information, et cetera, with Schema.org data. This will make it much easier for Google to determine the validity of your listing. Several tools can help you with this, including our Yoast Local SEO plugin.
Local SEO is critical, even with Google Business Profile
So, you should activate and maintain your Google My Business account and make it awesome. But to get the most out of your listings and to get good rankings, you must have your site in order as well. Optimize every part of it. Create local content for your chosen keyword and business location and get quality local backlinks to build a solid link profile. Ask customers to review your business onsite or on My Business. Make sure your listing is active and attractive; as we said, inaccurate profiles are no good.
Read more: The ultimate guide to small business SEO »
Coming up next!
Event

December 09, 2023

Team Yoast is at Attending, Organizing, Sponsoring WordCamp Ahmedabad 2023! Click through to see who will be there, what we will do, and more!

See where you can find us next »

SEO webinar

12 December 2023

Learn how to start your SEO journey the right way with our free webinar. Get practical tips and answers to all your questions in the live Q&A!

All Yoast SEO webinars »