Local ranking factors that help your small business' SEO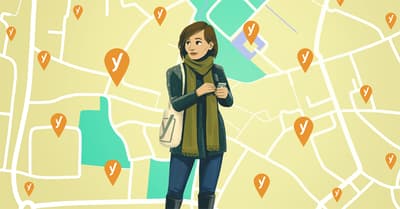 If you have a local business selling products or services, you have to think about the local ranking of your website. Local SEO will help you surface related search queries in your area. As Google shows local results first in many cases, you need to make sure Google understands where your location is. In this article, we'll go over everything you can do to improve Google's understanding of your location, which improves your chances of ranking locally.
What are ranking factors?
Ranking factors are elements that Google considers when determining the position of a URL in the search results. There are many ranking factors, most of which are the URLs and your website's characteristics, but they can further extend to your online presence. An example of a ranking factor is page speed: a fast-loading page that delivers a good user experience is likely to rank higher than a slow page when other characteristics are comparable.
Local SEO ranking factors
In this post, we'll focus on the factors that influence the ranking of your website's pages in local searches. As you can read here, Google itself talks about local ranking factors in terms of:
Relevance: are you the relevant result for the user? Does your website match what the user is looking for?
Distance: how far away are you located? If you are relevant and near, chances are you'll get a good ranking.
Prominence: this is about how well your business is known. More on that at the end of this article.
So you have to show you're relevant, you're close by, and you're well-known. Let's see how you can work on these factors with some concrete actions!
For more backgrounds on the intricacies of local search, please read our ultimate guide to local search and local SEO.
Be relevant
Being relevant means that you offer the service or products the searcher is looking for. While this might seem pretty straightforward, sometimes, people can get too cryptic on their website. Make sure that you clearly mention what your business or profession is, what kind of products and services you offer, and make sure to do this in the wording your audiences use. To find out if you indeed communicate using the language your audiences use, please conduct some keyword research and speak with your customers to find out which terms they use when looking for a service like yours.
Check out this local content strategy guide for more inspiration to write relevant content for your local business site.
Google Business Profile
For your local ranking in Google, you can't do without a proper Google Business Profile listing. Google Business Profile is especially helpful if you want to show up properly in the local pack – i.e., the big panel with the map. You need to sign up, pick the right primary categories for your business, add all your locations, verify these and share some photos. You'll also need to actively manage your profile and build it up over time.
Google Business Profile allows for customer reviews, and you should aim to get some of those for your listing. Every year, the importance of online reviews for local SEO grows. Positive reviews (and negative ones) help Google and its users judge your business. This is pretty much like your local market. If people talk positively about your groceries, more people will be inclined to come to your grocery stand.
Getting reviews is one, but you can keep the conversation going by responding to these reviews. But, as Google puts it, be a friend, not a salesperson.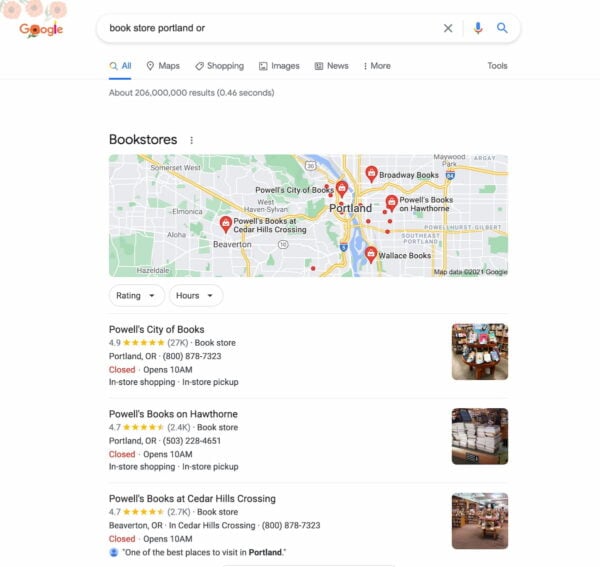 LocalBusiness schema structured data
If you have a local business and serve primarily local customers, of course, you'll add your address to your website. To help Google and other search engines understand the primary address, you can best serve it in a specific format readable for machines. Use localBusiness schema for that. Our Local SEO plugin makes adding that LocalBusiness schema to your pages a breeze!
This is very much about what Google calls distance. If you are the closest result for the user, your business will surface sooner.
Make sure you have one main NAP!
Even if your business has multiple locations, make sure to match the main NAP (name, address, phone number) on your website with the Google Business Profile NAP. That is the only way to make sure Google makes the proper connection between the two. Add the primary address on every page (you are a local business, so your should mention your address on every page). For all the other locations, set up a page and list all the addresses of your branches.
Facebook listing and reviews
What goes for Google Business Profile goes for Facebook as well. Add your company as a page for a local business to Facebook here. People search a lot on Facebook as well, so you'd better make sure your listing on Facebook is in order. Facebook also allows for reviews, which could help your business too. Keep an eye on those reviews! If your reviews aren't that great, make sure to fix that by providing better products or services, or at least show in your replies you take the feedback you get seriously.
Location and keywords in title
The obvious one: for ranking locally, adding city and (in the US) state to your <title> helps. Add your main keywords as well and make the title attractive. Please keep in mind that the effect of adding the name of your town to your titles might be a lot less effective for local ranking than adding your business details to your Google Business Profile. But it won't hurt for sure. For more local content tips, do check out this guide.

Local directories help your local ranking
In addition to your Google Business Profile listing, Google uses the local Yelp and other local directories to determine just how important and local you are. While we usually recommend against putting your link on a page with a gazillion unrelated links, the common ground for a local listings page is, indeed, the location. And, these links do help your local rankings.
So get your web team to work, find the most important local directory pages and get your details up there. We're explicitly writing details and not just links. Citations work in confirming the address to both Google and visitors. If a local, relevant website lists addresses, do consider getting yours up there as well. And while you are at it, get some positive reviews on sites like Yelp as well!
Get relelated, high-quality links
Following how directories help your local ranking – especially in the organic local search results, exchanging links with related local businesses also pays off. If you work together in the same supply chain or sell related products, feel free to exchange links. Don't just exchange links with any business you know. In most cases, these will be low-quality links for your website (because they're usually unrelated). Also, try to build high-quality content that attracts relevant links. And, don't forget to get those local keywords in the anchor text of those inbound links.
Social mentions from local folks
Again, there's a local marketplace online as well. People talk about business, new developments, or new products on Twitter, Instagram, Facebook, and more. All these social mentions find their way to Google's sensors as well. The search engine will pick up on positive or negative vibes and use these to help them rank your local business. If many people talk about your business and link to your website, you must be relevant. Monitor these mentions and engage.
Some say links from other websites, directories, and social media are critical for local rankings. As always, we believe it's the sum of all efforts that makes you stand out from the crowd, not just optimizing one aspect. Take your time and make sure your Google Business Profile is correct, local business structured data is active on your site, and you have proper links to your site and the right people talking about you on other platforms like Twitter. And please don't forget to do proper keyword research and make sure the right content is on your website.
Optimize your content for better local rankings
Google won't rank your site for a keyword if that keyword isn't on your website. It's as simple as that. If your business is in city X, you probably have a reason why you are located there. Write about that reason. And note that these may vary:
You are born there or just love the locals and local habits
There is a river which is needed for transport
Your local network makes sure you can deliver just-in-time or provide extra services
The city has a regional function and your business thrives by that
There are six other businesses like yours, you're obviously the best, and you all serve a certain percentage of people, so your business fits perfectly in that area.
These are just random reasons to help you write about your business in relation to your location. They differ (a lot) per company. Make sure your location/city/area is clearly mentioned on your website and not just in your footer at your address details! If you have multiple locations, set up and write pages for each one and include the proper business details.
Read more: Tips for your local content strategy »
One more thing: what about prominence?
Prominence means that when Google can serve a result first from a well-known brand or business, they actually will. Despite all your efforts to improve your local ranking, this might get in the way of that number one position. But, it just means you have to step up your game, keep on doing the great work you do, work on your branding, and trust that eventually, Google will notice this as well. As a result, Google might allow you to rank on that number one position for that local keyword!
Another thing to note is that prominence is also based on the information that Google knows about a business. All this information is derived from links, articles, and directories across the web. The more positive reviews and ratings your business has, the more likely Google will place it in a high position for local search queries. Not to mention, your position on the "normal" search results page (web results) is also a ranking signal. So, invest some time and resources into SEO if possible, and ask your satisfied customers to leave a good review on Google and other platforms such as Yelp or Facebook.
Keep reading: The ultimate guide to small business SEO »
Coming up next!
Event

December 09, 2023

Team Yoast is at Attending, Organizing, Sponsoring WordCamp Ahmedabad 2023! Click through to see who will be there, what we will do, and more!

See where you can find us next »

SEO webinar

12 December 2023

Learn how to start your SEO journey the right way with our free webinar. Get practical tips and answers to all your questions in the live Q&A!

All Yoast SEO webinars »