SEO basics: What is local SEO?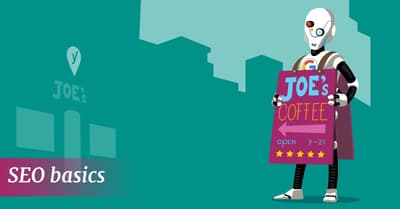 A website allows you to target the entire (online) world. Local SEO, on the contrary, is focused on ranking higher in your local area. Especially now, when people are trying to reach you more often online than offline, it's worth investing in it. Getting found online by your local audience highly increases your business's chances of survival. Here, we'll explain what local SEO is and guide you to more in-depth readings to help you make your website findable in your area.
What is local SEO?
Local SEO is the practice of optimizing your website for a specific local area. If you have a local business, like a shop, restaurant, or agency, you want your web pages to rank for certain search queries performed by a local audience. Optimizing the website of your local business is about making sure people can find you online and offline. Even now, when you might not be getting visitors in your building, you're still targeting an audience that is located in the same geographical area as you are. So you'd better optimize your online presence for that area. You can do that in part on your own website, but there's a lot more you can do!
How does local SEO work?
If you optimize for local searches, you focus on letting Google know — through all kinds of signals — that your business is located in a certain area and wants to be found by customers in that area. Ground-rule these days is that it's by far the easiest to optimize if you have a proper address in a region/city. This allows you to create local landing pages and help people find your shop with a store locator on your website.
One of the most important things on your website is the right LocalBusiness Schema markup that will help you make clear to Google that you have a local business and what area(s) you serve. This might sound rather technical, but fortunately, our Local SEO plugin can take care of this completely. You'll only have to add some details for your business, and our plugin will output it in the proper Schema markup. Apart from technically optimizing your website for local searches, writing specifically for a local audience on your website is a great idea too.
But ranking for local searches requires more than optimizing just your website. One of the first things you should do is create and add all relevant details to your Google My Business account. In addition to that, putting some effort into getting industry-relevant and local links can help. Like a local social media strategy, citations and even word-of-mouth and print brochures contribute to local SEO.
If you want to dive into these topics, we highly recommend reading our ultimate guide to local search and local SEO.
What's the difference with SEO in general?
You could see local SEO as a sub-discipline of SEO. While SEO focuses on getting higher rankings for your website's pages for searches without a local component, local SEO aims for higher rankings in specific areas, such as towns or regions. A local audience often performs these searches. Just by the query, Google can understand to some degree whether a searcher is looking for a local "solution" for his problem. These search queries are particularly interesting for small businesses, as they mostly provide services or products for a local audience. If you want to rank for these local searches, a local SEO strategy, which is more focused on local ranking factors, is worth investing in.
How can I learn local SEO?
So how do you learn local SEO? Of course, you can find a lot of information online, for instance, on our Local SEO tag page. You'll find many topics to read about: Google My Business, Schema, social media, reviews, citations, and so on. However, if you're looking for more extensive instructions, videos, readings, and quizzes to test your knowledge, our Local SEO training course might be the perfect fit for you. It's complete, but at the same time, it's practical and easy to understand even if your website is not your main business, as it is for most small business owners.
Want to rank locally with your WordPress website?
Do you own a (small) business and local clients? And, are you tired of seeing your competition show up higher? Yoast also offers a Local SEO for WordPress plugin. This plugin will help you rank higher locally and in Google Maps without breaking a sweat!
Help your local business stand out
The Local SEO plugin by Yoast gives you everything you need to do well in the local search results pages!
Read more: Ultimate guide to small business SEO »
Coming up next!
Event

September 27 - 28, 2023

Team Yoast is Sponsoring WordPress Accessibility Day 2023, click through to see if we'll be there, who will be there and more!

See where you can find us next »

SEO webinar

21 September 2023

Learn how to start your SEO journey the right way with our free webinar. Get practical tips and answers to all your questions in the live Q&A!

All Yoast SEO webinars »