Tag Optimization for WordPress
Note March 18th, 2013: we've decided to stop selling our term optimizer for now, we'll be including it with another WordPress product later on.
In our website reviews we regularly encounter websites who've got just as many tags as posts, or 20,000 posts and 5,000 tags. This is undesirable as it means you're not using tags to relate your posts together, which is what you should do. We usually tell them to optimize their tags but that's easier to say than do. Deleting them is easy, but that's not a solution. What you should be doing is merging multiple tags into one, adding more posts to a tag or delete & redirect them to your homepage.
That's not something you want to do manually, as it's a lot of work. That's why I built a tool called the Term Optimizer. This tool helps you find tags or other taxonomy terms that are used only once, or even less, and allows you to merge them, redirect them, etc.
Optimize your WordPress Tags with the Term Optimizer
It's simple, once you've bought the file, you place it in your WordPress root directory, it needs to have wp- load.php in the same directory. You then open the URL and you'll be seeing an interface like this (click for larger version):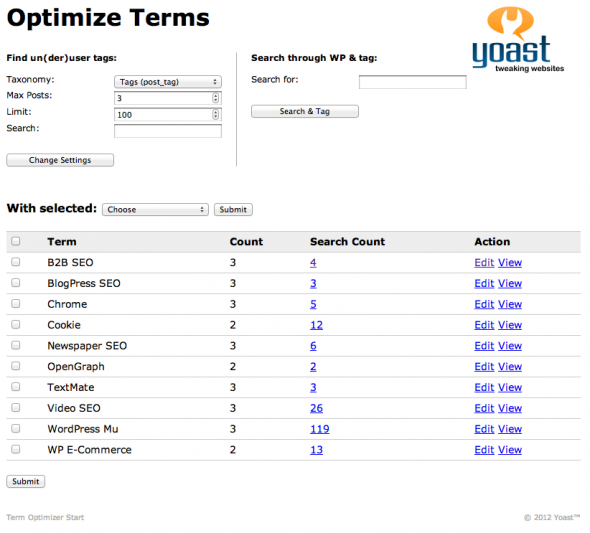 By default it'll search for all tags that are used less than 4 times. As you can see, there's a checkbox before each post. If you check them and use the drop down in the top, you can choose from several actions:

If you choose merge and selected, you'll be presented with a second screen that allows you to choose the tag you want to merge these tags with. Once that's done, if your .htaccess file is writeable, the tool will automatically add the redirect lines to your .htaccess file.
Pressing delete will do something similar, you'll be able to redirect to the homepage, to a category or to a custom URL: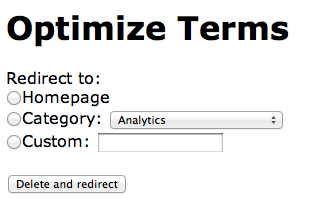 This allows you to optimize your tags with only a few minutes / hours work, instead of having to get a developer to do all this work for you.
Quickly Adding Tags to Posts
Sometimes you realize that you should have created a certain tag and it's now a lot of work to do that through the interface. With the term optimizer you can do that quite simply (click for larger image):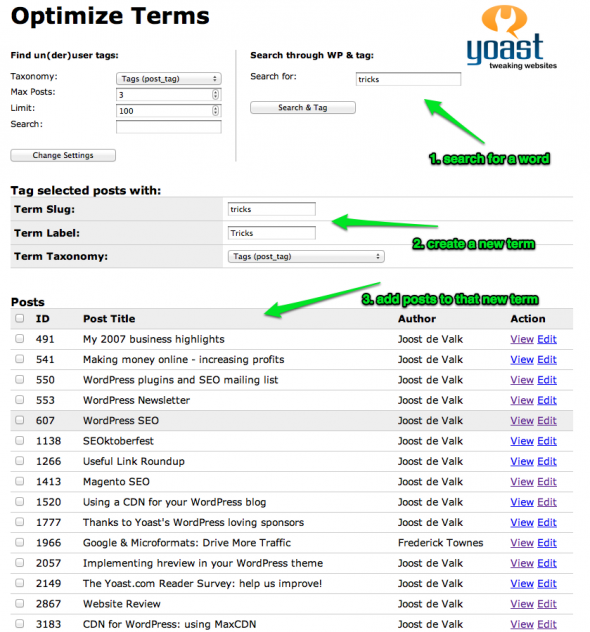 Buy this Tool, start Optimizing your Tags Now!
Do you want to clean up your tags or other terms? Get your copy of the Term Optimizer now