Church SEO: Get people to find your church on Google
This guide uncovers the secrets of church SEO. Use these tips to your advantage to help your church stand out online. Get better listings in Google Maps, make your site load faster, and attract new audiences and revenue to your church. You'll read it all in the SEO guide for churches! Although we're talking about church SEO, the advice could easily be adapted for mosques, temples, or other places of worship.
Table of contents
What is church SEO?
SEO stands for search engine optimization. Doing SEO for your church means helping people find or discover your church (and your community) online. Church SEO consists of many strategies to help people find you — from getting your church found on Google Maps to writing great content that enables you to bond with your current congregation and expand it.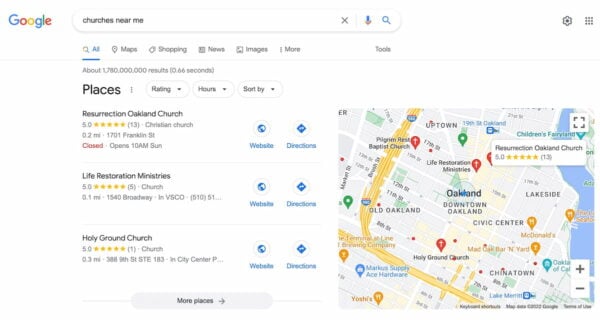 ---
What can you do to improve the SEO of your church?
You can do many things to make your church website perform better in the search results and have it bring in more people and money. Church SEO consists of multiple tactics you can use to reach those goals. For churches, the main focus should be the local SEO part of the strategy — which consists of performing well in Google Maps and optimizing your site for local search.
Focus on local SEO
People searching for churches will probably look for them in a specific location. These are near me searches like churches near me or searches with a place in the search query, like churches in Albuquerque. If your church is located in that area, it should appear in Google Maps for those terms. This is probably the first thing you should fix and improve.
You need to have an excellent, well-maintained Google Business Profile account. Further down this page, we'll go into this more in-depth.
The second part of the local SEO puzzle is your site. Your site has to reflect the details you entered in the Google Business Profile of your church. Google uses this to check who you say you are and to validate your listing. In addition, your site offers you plenty of ways to optimize it for an excellent local result, like localized content about your local area or community. Try to become a community expert!
The glue between these two parts is LocalBusiness Schema structured data. With structured data, you can tell search engines in detail about everything that goes on on your site. It lays out details in a way machines understand, with the who, what, and where neatly connected. You can go specific with this; with CivicStructure structured data, you can tell your place of worship really is a PlaceOfWorship. The Yoast Local SEO WordPress plugin can do this for you.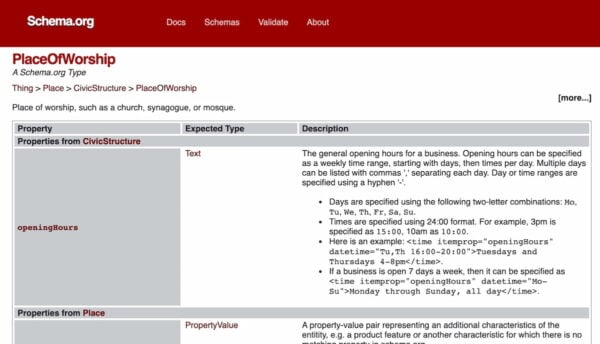 By connecting these dots, search engines like Google have a much easier time recognizing who you are and what you do — which might result in high rankings or better visibility in the SERPs.
Make your site technically sound and improve performance
Another way to help your site perform better is by overcoming hurdles people and search engines might struggle with. Your site has to be free of technical issues, making it easier for search engines to find, read and index your content. If your site has crawling issues, it might take a long time to get all of your pages indexed and ranked.
Your site has to be lean and mean. Try to avoid using tons of JavaScript for tasks that aren't essential. Clean up your code and fix anything that blocks rendering in the browser. Use a theme that doesn't need a lot of extra code to make it interactive. Less is more, remember!
If you're not sure how to approach the technical side of your website, check which technical aspects every site owner should know. Further on in this article, we'll dive a bit deeper into this aspect of technical SEO for churches.
Keep in mind that people and search engines love fast websites — especially ones that load fast on smartphones. People need answers and don't always have the patience to wait for slow sites to load. Make performance a priority!
Write relevant, high-quality content
Content SEO is one of the main drivers of online success. High-quality, unique, and well-written content targeted to the right audience can bring significant traffic. This is true for almost all online businesses — churches included!
People find you by entering particular terms into their search engine, and your content needs to match those terms. You can do this for local search results to target potential churchgoers in your area, but you can also make it more general and have the world meet your church.
People want to read up on your church before going there. They want to read what you stand for, what you do for the community, and your history. Or they may want to know what activities and events your church offers. In addition, they might also like to learn more about ways to strengthen their faith or read recaps of your sermons to stay in the know.
You don't need to do everything, but you need to understand what makes the most sense for you. Do keyword research to find out what your audience is searching for and create content for the most important topics you want to be found for.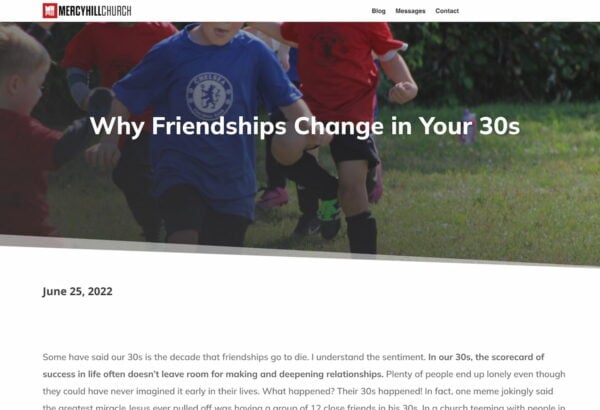 Create excellent resources for your place of worship
You and your church website can also be seen as experts on specific topics. If you are, share that knowledge in high-quality resources that might resonate with a much larger audience than you can reach locally. Offering in-depth resources that stand out from what's already available online might give you a lot of links from relevant outlets, churches, or organizations.
Building resources is hard work, but it pays off if you make something unique. It's an excellent addition to your church's SEO strategy — if you have the workforce, insights, and knowledge to do it well.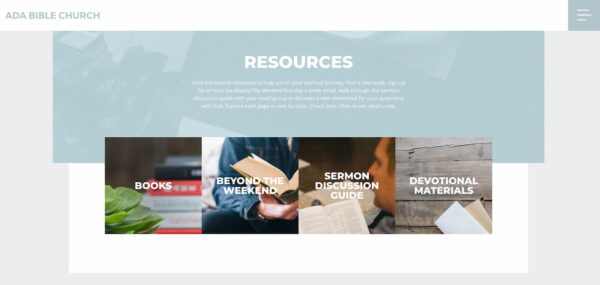 Add great photos for potential churchgoers to see
People not only need to read up on your church and what it stands for, but they also want to see it. Potential churchgoers wish to know what it looks like and what it could feel like. Having high-quality photos on your church website helps your church's SEO, and it helps to attract new churchgoers.
Don't just show your building; have your congregation appear in the photos. People look for people and want to see what kind of people they can expect at your church. You can also take photos at community events and post them to your site regularly. Don't forget to manage your photos on your Google Business Profile, as that is probably the first touch point for many people. Make your church stand out!
The same goes for videos on your church site. We're so used to video these days that we expect everything to have a video in whatever shape or form. Of course, much happens on social media, but posting videos on your site — like recordings of sermons or a recap video of a community event — might help your church's SEO. Be sure to strategize your use of video for SEO, though.
Help people find their way in your church and around
Your church website is like a map of your church, its community, and the local area. For it to serve that function, you need to think about structuring it properly. SEO for churches is not only about thinking about what kind of content you need but also where that content will live on your site.
Break your site up into sections that can guide people to whatever goal they need. For instance, if you want people to join your place of worship, you need to make it easy for people to find everything that they need to make that decision. You could make a section called Join our church with subsections for learning more about the church, the people there, and how to sign up, or have them join a Sunday service to test the waters.
In addition, you could also set up a blog or a resource section that enables you to talk about relevant topics that might interest churchgoers or other interested parties.
One of the most important aspects of SEO for churches is internal linking. You have to think about connecting all the different parts in a way that makes sense. Google and your visitors follow links to discover content, so you must consider the next steps you want them to take while setting up the content.
---
How to get your church on Google: Start with Google Business Profile
Your Google Business Profile is where many of the — potential — churchgoers interact with your church. It drives the listings in Google Maps and the local pack, the map you see, including three business profiles in the search results. It has all the necessary details people use to evaluate your church quickly, like images and reviews.
Most people use terms like churches near me or Catholic churches in Albuquerque to find a church in the area; Google Maps is where they first come into contact with your church. Your listing should be excellent, so get to it!
Set up and improve the Google Business Profile for your church
Your church probably already has a listing on Google Maps. You might even have a Google Business Profile — or Google My Business as it was called not long ago. Whatever it is, drop what you are doing and check the listing. Claim the listing for your church if you haven't done that before. Don't make a duplicate listing; claim the one already there as yours.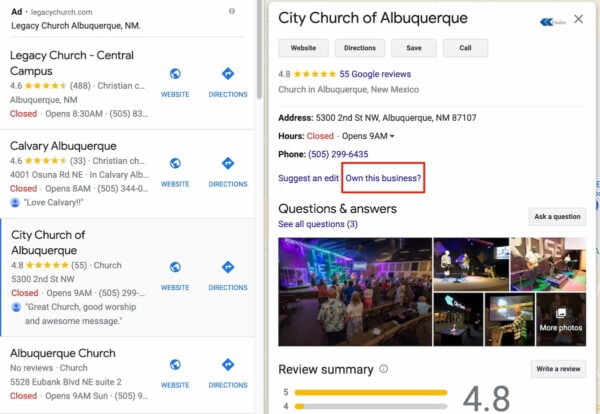 Check and fill in the following information about your church:
NAP details (name, address, phone number),
Website URL,
Opening hours, which usually translates to sermon hours,
A description of the identity of your church,
A specific primary category, i.e. Catholic church
You don't have to fill in a service area,
Add a logo image and some high-quality photos. Choose a great outdoor shot as your cover image.
You can use other features in Google Business Profile to make it more interactive, like posting about upcoming events and real-time messaging to communicate with visitors.
In the Google Business Profile for your place of worship, you'll also find a lot of insights that might help you improve your listing. You can find these details under the Insights tab. In this section, you'll discover how many people interacted with your account and how they did that. Plus, you'll learn about all the terms people have used that Google used to bring up your listing.
Get reviews and photos from churchgoers
One of the impactful features of the product formerly known as Google My Business is reviews. Google My Business lets visitors leave reviews on the listings, with or without their photos. Reviews are a big deal for every type of business, so be sure to get them! And don't forget to manage them.
Visitors use star ratings and reviews to see if locations, places of worship, or events offer a quality experience. If something has four or five stars, they might be more inclined to visit that than another listing with only two stars. Not only that, the way you handle reviews matters as well.
Ask your congregation to leave reviews of your church on Google Maps and have them add photos if they want. They will be willing to do that, which will help immensely. Photos from people who visited your church can be a big help.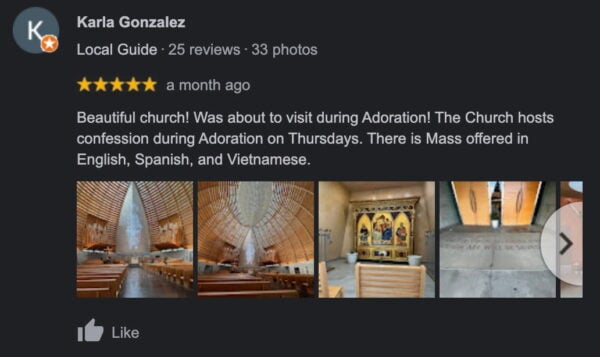 One thing to note: you will get negative reviews, and it's your job to respond well to these. Of course, you can report fake reviews. But bad reviews from real people should be taken seriously. Address their concerns and try to turn those negative reviews into positive ones.
---
More local SEO tips to help your church appear on Google
Local SEO for churches consists of more than opening a Google My Business (Profile), filling in those details, and calling it a day. You can do many more things to perform better in the local search results. Many of these happen on your church website.
Why is it so important to have a good church website?
We use the internet to find everything we need — including churches in our neighborhood! Whenever we are in an unfamiliar place, we can take out our smartphones, open Google, and type churches near me. Google quickly serves up a map with essential details on the different churches around you — with a link to the church's website.
For churches, most searches are local-oriented. People are looking for something in a particular location. As a church, you need to fulfill that demand. But there's a lot more; as a church, you want to help your community in any way you can. And a good website should simply be part of your church's marketing strategy.
5 tips to improve your church site
This church SEO guide is chock-full of helpful tips, but here are five more to improve your church website:
You should optimize the content on your site for local terms. Be sure to use the location's name in spots that make sense. Don't force it into pages or content that feels unnatural because that's spammy. Write content about things happening in your area to help you be seen as an expert in a specific location.
Invest in structured data that makes it easier for Google to understand your details. Structured data is machine-readable code that search engines understand. They use this to grasp your pages and how they connect to your authors, business, location, church, and more. You can use things like CivicStructure and PlaceOfWorship to describe your church. Yoast Local SEO can help you do this quickly by simply picking the desired property. The Yoast SEO for WordPress add-on automatically adds the necessary code to your site.
Make sure that the details of your church website align with your Google Business Profile. This is a big one. Google — and potential visitors or churchgoers — can get confused if your Google Maps listings say something different from your church website. If your phone number is incorrect, or you've changed sermon times, both properties should reflect that! So make sure that your details are always correct and up-to-date.
See which business directories you can list your place of worship. There are a ton of local directories in your area where you can list your church. Most of the time, adding your listing is free, which can help build your profile online.
Yoast Local SEO is an essential tool if you want to rank locally with your WordPress church website. It's an extension to our Yoast SEO plugin and helps you get the details you need to do well in local search easily set up on your site. It enables you to build an about us page on your site, including a lovely Google Map. And, as mentioned earlier in this part, it comes with extended Schema structured data features that help give Google all your details on a silver platter. Get Yoast Local SEO now!
---
Better content for your website with church SEO
Content is still king in this day and age. You can build and rank a bare-bones website, but having high-quality, relevant content makes that process much more manageable. It lets you get noticed for far more terms than you can with a basic site, plus it allows you to build a bond with your audience and helps you become an expert on your subject.
Which keywords do you need to improve the SEO of your church website?
Every SEO strategy should start with keyword research — you should know which words your audience uses to find you. You might be surprised by the range of terms, concepts, and entities your potential visitors describe in their search for answers. As a church, your terms range from churches near me to particular questions about faith and morals. Of course, the type of church matters, as language differs among different denominations.
So do keyword research for your church, and make sure you rank for churches near me and churches in location. Doing that research helps you get the best SEO keywords for your church.
Write content in your voice
To make your content uniquely yours, you'll have to write it in your voice. Try to develop that voice and the way you talk about your subjects. This can help you build your audience and make you stand out from the crowd. As we've said, it's hard to be unique for specific topics, but it is good to try and do it!
This not only goes for the way you talk about your place of worship but also about related topics. Potential churchgoers use your content to validate you and your church.
Yoast SEO has tools on board that helps you to write content and to make it SEO-friendly. It guides you during the process and gives you feedback on improvements to make.
Build great pages and guide people
You should always begin with the essentials. For most churches, that is the location and about us pages. The former is a necessity for Google and churchgoers to find you. The latter is a crucial page as this is one of the first pages where visitors will look for more information about you.
You should accurately describe your church on your about us page. You should introduce yourself, your values, type of denomination, et cetera. Make it attractive, but don't make it into a book-length page. You have other pages to fill.
Your about us page could lead visitors to other pages on your site, like a what to expect page, plan a visit or join our church type of page. Guide them to the next step in their journey.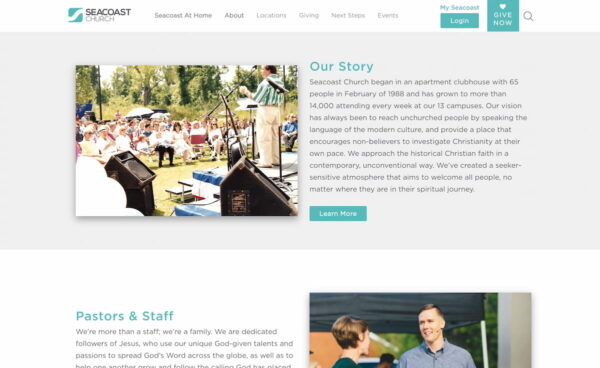 What pages should be on your church site?
What you need to add to your site all depends on what you want to achieve and how many resources you have. You can build a simple static website with just a few pages about where to find you and what you're offering. Most churches will go far beyond that, though. Your website can be the center of all your church marketing activities, from fundraisers, cultural events to community volunteer work. It can also become the center for all knowledge available in your church.
These are just a few of the possibilities to explore:
What to expect: Describe what people can expect when they are interested in visiting your church. Show photos and videos so people can understand what it's like.
About us: We discussed this in the previous paragraph. Describe your church, what you stand for, your beliefs, mission, et cetera.
News/blog: Not every church has news daily or weekly, but having a news section might make sense for more active churches. Or, having a blog will allow you to quickly write and publish content about your church, the faith, the community, and far beyond that.
Sermon archive: If you record or stream your sermons, it's good to add these to a sermon archive page on your site. This way, people who missed a sermon can easily rewatch it. It's also useful for people who don't know your church yet to get a feel for the sermons.
Resources: Your resource section could be home to lots of background information, with scripture reading plans, recommendations, reading material, and ways to find and connect with others in the local community.
How to reach us: Your contact details should always be visible, so add these to your homepage, footer, and about us page. If you want more room for that, you can set up a how to reach us page with maps, sermon times, and other location details.
Events or calendar: We already talked about adding sermon times to your site, but there are probably a lot of other events happening. Add these to an event page! List everything you are doing and keep everyone up to date on upcoming events.
Fundraiser/donations: Your website could bring in money if you set up a donations page with a tool to automatically collect donations from churchgoers. You can also use it for fundraisers and get awareness for the events you are doing to bring in money for your church or community.
Get involved: Describe how people can get involved in the church. Make it easy to find the people they need to make decisions to get more involved.
Volunteer work: List all the good work your church is doing and how churchgoers can benefit the community.
Beliefs/mission: There's a lot to talk about for this, so these probably get their own pages. Fitting these into the about us page will likely not always work. Your beliefs are an essential part of the church and a way for potential churchgoers to see what you stand for.
Invitation to join: If people see all of these pages and think, yeah, I want to visit, invite them to a sermon!
History: Describe the history of your church building, from when it was built, by whom, to the current state of it. It would be great if you can show some photos here.
A page for people looking to rent your church for events: Besides events organized by churches themselves, like sermons, some churches allow businesses and individuals to use the space for things like wedding ceremonies, culture, and business events. These are great revenue drivers for churches, and so you should include a page or section where people can contact you for such affairs.
Internal linking helps uncover content
After building all these pages, it's good to make your visitors aware of them. You can add some of these to your site's main navigation, but you can also uncover them for visitors and search engines by linking to them from other places on your site. Internal linking is one of the most important aspects of church SEO.
With internal linking, you can signal to Google which pages are most important as your most essential pages probably get the most links from other relevant pages. This is a valuable signal for Google to determine which of your pages to prioritize. By not linking to pages, you make them practically invisible to everyone.
Structured data helps search engines understand
Another way to connect the dots for search engines is structured data. We touched on this briefly, but with structured data, you use Schema.org code to describe the properties of different parts of your website in a way that machines can read. This gives them more context about your site, who you are, and how everything ties together. There's structured data for many details, from authors to social profiles and products to reviews. Google uses these details to highlight them in the search results pages.
For your church, it's good to get all the details in order. This concerns the stuff that matters for local SEO, like adding data for sermon hours, NAP details, and general site details, like organization and the like. The details you offer should align with your Google Business Profile, as it's essential to keep everything up-to-date everywhere.
The great thing about structured data is that it connects everything in a graph. This is a sort of network of connections of entities on your site. Search engines can instantly read this to know everything about you and your site.
You can also add structured data to all your articles, events, videos, products, and more. Yoast SEO comes with a fantastic Schema structured data implementation and plenty of options to add suitable properties to your content. To get your site noticed locally, the Yoast Local SEO add-on also comes with structured data to describe your church as a place of worship.
---
Improve the performance of your site
Performance plays a significant role in SEO for your church. Your site has to be fast and performant because visitors will not have the patience for your site to load. Google is also looking for fast websites, and they would see sites that score well on the page experience signals and other page speed metrics. Performance optimization is part of technical SEO and something you should invest in.
Improve site speed for better performance and user experience
Site speed is an essential factor in today's church SEO. People love fast websites, and the same goes for Google! If you want to improve your rankings and increase the chance for Google to crawl your site, you must also improve the user experience on your site. Improving site speed is where you should direct a lot of your effort.
First, start with a Google PageSpeed Insights test to see where the pain points are. After that, what can you do to improve the performance of your church website?
Optimize for mobile: Most of the time, when a site is lightning-fast on mobile, it's lightning-fast on desktop. The other way around is not necessarily the case. That's why you should work from your mobile site up. Make it easy to use and easy to load. Give it a great design that doesn't come with too many bells and whistles.
Choose a better hosting plan: One of the easiest, most rewarding site speed improvements you can make is to upgrade your hosting plan. It doesn't cost much more, but the rewards can be great!
Invest in a CDN: A content delivery network has servers around the work and uses geolocation to use the server closest to the visitor. This speeds up content delivery.
Optimize images (and add lazy loading): Almost every site has unoptimized images, which is vital to fix. Optimizing your images is one of the things you can easily do yourself. See further down this article for more tips. If your site is image-heavy, it might also make sense to get an image CDN to help deliver the images.
Evaluate your theme: Many themes look beautiful and come with many options to make them yours. This comes with a cost, as everything added to the theme makes the site heavier to load. Choose a stripped-down theme that only has what you need and still looks great.
Minimize redirects: It's good to redirect URLs to different, relevant ones once you delete them, but you need to keep an eye on them. Having millions on your site might cause issues, like redirect loops or other chains that search engines might have trouble following.
Minify code: By minifying your code, you're optimizing file delivery by stripping out unnecessary characters in the code. This leads to much smaller file sizes for your JavaScript and CSS files, which makes them easier to load.
Use caching: With caching, you save your site's static files on the server so they can serve those from the server — without the visitor downloading the duplicate files every time. Plugins like WP Rocket are essential for this.
Use fewer web fonts: Web fonts look great, but they all need to load external resources. Try to keep web fonts to a minimum, or, even better, don't use them.
Use fewer WordPress plugins: Every plugin you add to your site comes with overhead. Adding more and more will make your site slower. Plus, they come with a security risk and need management. So, be strict in what you add to your site and delete the rest.
Make it easier for Google to crawl your site
For Google to rank your site, it first has to discover, crawl and index it. This might seem like an easy process, and you are forgiven for thinking so. It's not as easy as one-two-three. While WordPress and our Yoast SEO plugin do a lot of the work helping Google to come by quickly and crawl your site there's a lot more to do.
Today, getting your site ranked for the terms you want to rank it for can be challenging. There is a lot of competition, and many sites have already published tons of articles about the topic you want to write about. This means it can be hard to get in. So, on the one hand, you have to focus on the quality of your content and its uniqueness, as we talked about earlier, but you also need to make sure that your site is crawlable and understandable to Google.
Google limits what it can crawl daily, and you have some control over what it does and does not crawl. It might be that it crawls useless URLs that your CMS added instead of crawling that new blog post you just published. It might also be that your site is so complex that Google has trouble getting to the pages that matter.
Focus on making your site crawlable. Speed up your site, upgrade your hosting, rely less on external scripts, et cetera. Yoast SEO has unique crawl settings that let you turn off specific URLs that add to the overhead. In addition, it has plenty of tools to determine which parts of your church site you want Google to crawl.
Watch out with (background) video
Many modern church websites use auto-playing background videos to impress their visitors. Usually, this will look pretty cool, but it will hurt the page's performance. The video takes up a lot of space, and a browser has to work hard to get that data and use it.
Plus, the video player adds extra scripts that also have to load. If you combine this with other harmful practices, like unoptimized images, your site can weigh dozens of MBs that all have to find their way to the visitor. For visitors on a desktop PC or a Mac, that might not be such a big deal, but these are horrendous for smartphone users.
Run your site through Google PageSpeed Insights or Web.dev/measure to see how your site performs. You will probably have a bad score if a video is playing on your homepage. Below is a screenshot of a random, beautiful church website with a video playing and some unoptimized images on the homepage. The results are terrible, and this influences everything. Fix this, and your scores go up, and users' experience will return.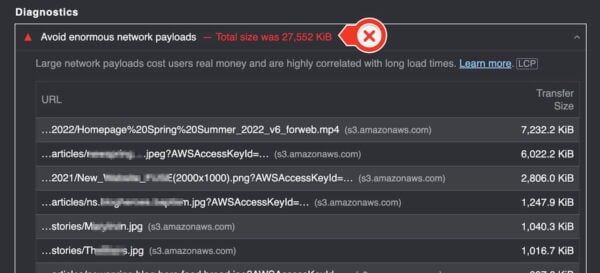 Easy win: optimizing images
We've mentioned this briefly in the previous section, but optimizing the images on your site is one of the most critical performance improvements you can make. It's also one of the easiest! Uploading huge, unoptimized photos is one of the most common SEO mistakes.
Start by thinking about your image use in general. Do you need to have so many? Are they there for decoration, or do they serve a purpose? Once you know which ones to keep, scale those images down to a usable size and run them through an optimization tool. There are many to choose from.
In addition, it's good to lazy-load those images. This means photos and illustrations will only load once in the browser's viewport. Many themes and CMSs do this by default, like WordPress, but sometimes you have to add it by hand.
Another thing WordPress does automatically for your images is to convert them to a so-called next-gen image format like WebP. These image formats produce much smaller image sizes in the exact dimensions without losing their quality. If you use a large amount of photography on your site, investing in an image CDN might make sense.
Don't use image carousels
Scanning dozens of church websites, you'll quickly notice that many of them prominently feature an image carousel. Many think a carousel is a good idea because you can use multiple images or convey numerous messages simultaneously. But, as we've said again and again: image sliders are bad. Visitors are annoyed by them; they are an accessibility nightmare and increase your website's loading times.
Get rid of the carousel on your site and invest in good static content whenever you can.
---
A better user experience for your church
The experience you offer people in your church is essential — the same goes for your website! User experience is the real feeling and experience users get when they visit your website. This is influenced by various aspects, like the performance of the site and the ease with which people can find what they are looking for. User experience is also design and ease of use.
Your site should offer a clean, easy-to-understand design without too much flashy stuff. It would be best if you did not hide essential pages or interactions behind complex dropdown menus. Ideally, when people come to your homepage for the first time, they should immediately know where they need to go to find the answer to their questions.
User experience is performance and mobile-friendliness. Your site should load as fast as possible and stay free of pop-ups and sign-up forms for newsletters blocking visitors' clean entrance. You don't want users frustrated before they even get to your site!
A good user experience combines good visuals, like photography and videos, and high-quality, written content that satisfies all the search intents your visitor might have.
Examples of church websites with good UX
If you start digging, you can find many interesting church websites with great design and an excellent user experience. Church websites are built in various content management systems, like Wix, Squarespace, and WordPress. Here are several standouts: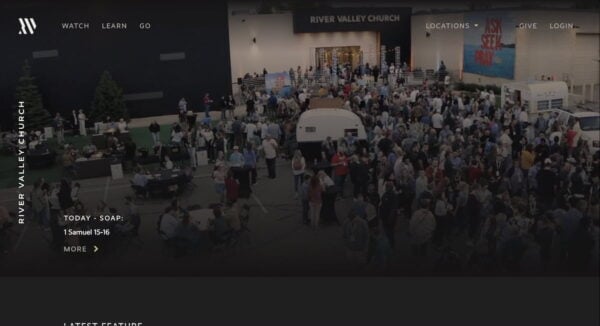 Name of church: River Valley
Type of site: WordPress
Uses Yoast SEO: Yes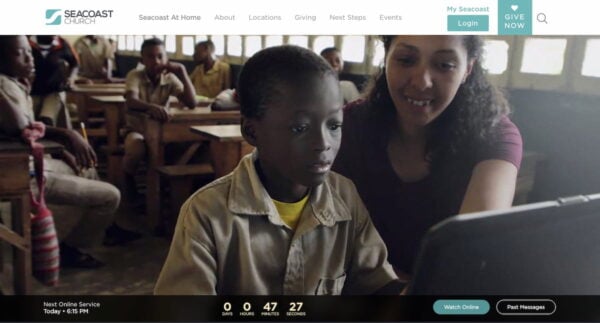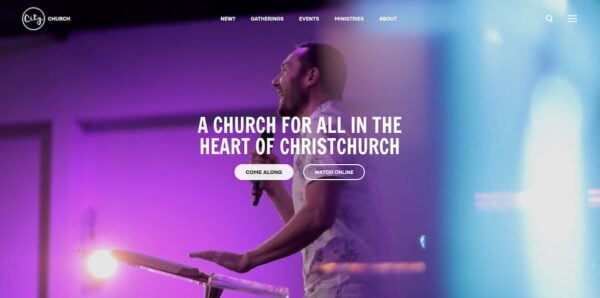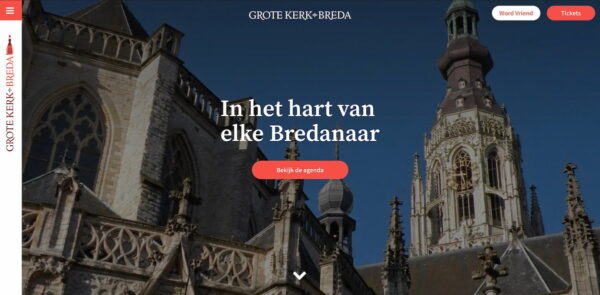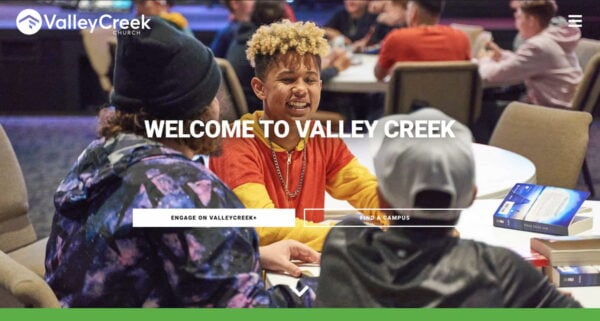 ---
Investing in Yoast SEO Premium and Local SEO is a great idea
Some of what we're talking about on this page can be solved by installing SEO plugins on your WordPress site. The Yoast SEO plugin for WordPress is one of the planet's oldest, most popular SEO plugins. It's built by experts with years of experience and runs on over 15 million sites worldwide — from the baker on the corner to big brands like Disney and Star Wars.
Yoast SEO is free to use and has many features that help improve your website. It automatically optimizes WordPress for you and makes church SEO much easier to grasp. It comes with a readability analysis and SEO analysis that help you improve your content for search engines and visitors alike!
Yoast SEO Premium comes with even more advanced features and 24/7 support. It comes with the most advanced content analysis, SEO workouts to make repeating tasks easier to handle, and internal linking suggestions that help you build a great site structure. Plus, you get free access to our Yoast SEO academy, which offers many interactive courses related to SEO and WordPress — all for one low price! Awesome, right?
As church SEO is so locally-oriented, the Yoast Local SEO add-on for WordPress comes with helpful additions that help you put your church on the map. One of the features makes it possible for you to select the proper type of business. Usually, this is reserved for restaurants and stores, for instance, but with Yoast Local SEO, you can choose from a list of civic structures, including places of worship. The plugin will automatically add this to your structured data, making it clear to Google that you are a church!
---
Growing your audience/getting people to church with church marketing
Getting people to your church doesn't stop at setting up a Google profile and building a website. You can do many other things to get people to notice you. These might increase your rankings as you develop your community and good name.
On-page versus off-page SEO for churches
SEO happens on two fronts: on-page and off-page. On-page SEO consists of everything you do on your site, from improving your site structure to writing better content and local optimizations to site speed improvements. This is probably where the bulk of your work should happen first.
The other aspect is off-page SEO which consists of everything you do to put your church in the spotlight. For instance, this might be related to getting stories in the press or setting up a social media strategy. Or shooting a video and uploading that to YouTube.
Link building for churches
Links are essential for SEO, meaning you should consider ways to get links to your site or content. There are many ways to do this, of course. Ideally, you would like to write content so well that people will share and link to it from their sites. Resources, for instance, are very linkable pieces of content.
You can also invest in link building. Link building is going out, and trying to get links from relevant publications. You could reach out to these relevant sources — other churches even! — and ask them if they want to link to your pages. Or, you could offer to write for them under the condition that you will get links. You can also try to find directories or other listings where you might place your links. Denominations and Associations often have websites that link to individual churches.
Get the press to talk about your church
Getting good PR for your church is also a form of off-page SEO. Getting people to talk about you is always a good idea. Invite reporters to talk about your events, community services, or whatever you want. Then, ask them to include links to your site from the publisher's website. Good publicity can mean a great deal even if you don't get a link.
Record video
In the early days, the web was mostly about written texts. Today, however, it's very video-centric. On many church sites, you can find promotional videos showing their church, congregation, and message to get people interested in the church. Many churches collect past sermons in a special sermon archive section of their sites to give people the chance to watch back older sermons.
A YouTube channel would also be an interesting addition for the more adventurous. Or, use video-oriented social media like TikTok and Instagram to post videos for a different, younger audience. Be sure to strategize your video SEO, though!
Use Google Ads and apply for a Google Ad Grant
One of the more prolific ways to get your church to appear on Google is by placing ads. Of course, this will cost you money. How much that depends on the terms you want to rank for and the number of competitors you are against. Luckily, there's help if you are a non-profit organization.
Google gives eligible non-profit organizations $10.000 a month to spend on ads. Google Ad Grants provide non-profits like churches a chance to compete with for-profit organizations in getting noticed online. You can use it to promote events, courses, or your church in general or put the spotlight on your donor campaign — whatever fits your bill. Here are the requirements to join Google Ad Grants if in the USA — rules differ per country.
Organizations must be recognized by the IRS as tax-exempt 501(c)(3) organizations formed for charitable, educational, religious, literary, scientific, or other tax-exempt purposes.
Fiscally sponsored organizations are not eligible for Google for Nonprofits.
Organizations, such as churches, that are automatically considered tax-exempt under group exemption must still obtain recognition of 501(c)(3) tax exemption from the IRS to qualify for the Google for Nonprofits program.
Organizations must be validated by TechSoup.
Social media for churches
Social media is another way for churches to build their audience and profile. Not every channel is applicable for a church; Twitter, for instance, might be less of a priority than Facebook. Visual-oriented platforms, like Instagram, offer exciting possibilities to combine the written word with moving or static images.
Use social media to connect with your audience — be open and respond. Keep your profiles up-to-date and produce posts that resonate with your churchgoers.
Newsletters help grow your audience
The newsletter is on the list of the most effective ways to communicate with your audience. It's easy to set up, easy to build, and easy to send. There are loads of options when determining what you could do with the newsletter for your place of worship. Are you going to send one every month? Weekly? Do you want to tell stories in the newsletter, or do you simply want to inform your churchgoers of upcoming events or fundraisers? Everything is possible!
SEO for churches helps you find people and helps people find you
Getting your church listed on Google is only part of the battle. Building a great Google (My) Business Profile allows you to do well and is a must-have for any church. Support this with great local SEO on your site, like publishing content about your location, community, events and adding relevant Schema structured data will surely help.
SEO should be part of your church marketing strategy. It helps you get noticed in the search results and the world beyond that. Investing in church SEO will pay dividends to those who have patience.