The history of Yoast
Watch our video or read all about the history of Yoast on this page!
How it all began…
Joost de Valk founded Yoast. For a long time, Joost and Yoast were pretty much identical. However, over the past six years, the company has grown rapidly. Nowadays, Yoast is much more than just Joost; it's a sizable company with Marieke van de Rakt at the helm.
We get a lot of questions about the rapid growth of our company. How did we start off? What made it possible for Joost to start up Yoast? High-time to present the history of Yoast.
The early days of Joost
To understand how Yoast came about, we have to go back to Joost's childhood. Joost was born in 1982 and grew up 
in Beuningen, near Nijmegen in the Netherlands. From a very early age, Joost was intrigued by computers. As he consistently broke the family computer, his parents decided to give Joost his first computer at age 12. "I had to pay them back, though. I delivered news­papers for two years," Joost remembers, "but, I got my very own computer. And, my parents were among the first to have a decent internet connection."
Having a computer with internet access turned out to be vital for the future career of Joost. He launched his first website in 1994. "I loved building stuff in code; I spent all my money on buying extra RAM." During his early days, Joost taught himself to write code and to speak English fluently.
After high school, Joost tried college and went to different universities. He quickly decided, though, that he was much too headstrong for traditional education. He started working at an IT company at the age of 20. "I was a nerd, writing code and all, but I was able to sell stuff too," Joost says, "Apparently, I'm a smooth talker." By then, Joost was already writing on his blog www.joostdevalk.nl about HTML, CSS, and coding in general.
Open source calls
In 2005, he became involved in an open source project: WebKit. WebKit is an open source software component for rendering web pages (an essential part of Safari). Joost loved working with developers from all over the world. He enjoyed building something that everyone would be able to use. "The concept of open source appealed to me," Joost explains, "I liked the equality and the openness of WebKit. I loved the fact that everyone, including me, could contribute to something."
"The concept of open source appealed to me"
In the meantime, Joost met Marieke and they fell in love. Rather soon after they became a couple, they found out Marieke was pregnant. In the summer of 2006, their eldest son Tycho was born. Starting a family was a turning point in Joost's career. When Marieke became pregnant, she was working on her PhD-thesis. As she was determined to finish that thesis, Joost decided he needed a job closer to home to help her take care of the baby. At the beginning of 2006, Joost found a job as an SEO consultant.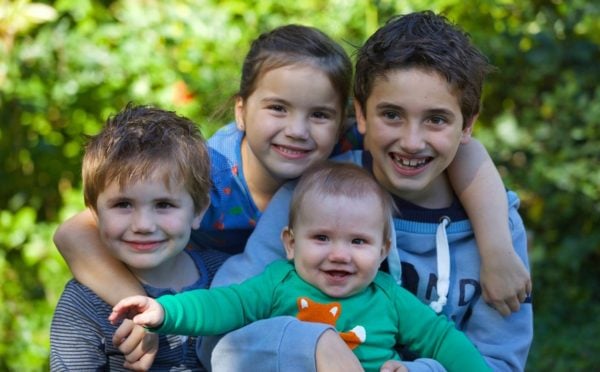 2006 – 2010: Joost becomes Yoast
The SEO job turned out to be a significant career move. Before 2006, Joost never had any interest in SEO, but that was about to change! Joost: "As I was able to write code and develop websites, I immediately understood all technical aspects of SEO." This technical background combined with his ability to write appealing copy and to speak in public were the perfect ingredients to become an SEO expert.
Between 2006 and 2009 Joost went to a lot of conferences (first as an attendee, later as a speaker) and began writing about SEO on his blog. Joost spoke at conferences like SMX and gradually became a well-known SEO expert. In 2007, at SMX Stockholm, Joost tried to explain to Rand Fishkin how to pronounce his first name. That's when Rand said: "O, that's easy, just toast with a Y." Yoast was born.
WordPress and SEO
At around the same time, Joost began to work with WordPress. Joost created his first WordPress site in April 2006. "I was searching for a CMS, as that made it easier to use and maintain websites. I looked into a few and chose WordPress."
Joost just started working as an SEO back then, and WordPress seemed the most SEO-friendly to him. "I already worked on WebKit and was a big believer in open source. The fact that WordPress was open source appealed to me a lot."
Joost quickly became a WordPress fanboy. He became an active member of the WordPress community, wrote about WordPress on his blog and made his first core contribution in 2007.
Joost began combining his knowledge of SEO with his passion for WordPress. He developed some small plugins. Those plugins helped WordPress users to optimize their website for search engines. These plugins quickly gathered a large user base.
2010 – 2012: Joost starts Yoast
In 2010, Joost decided to give up his job as an SEO consultant. He took
 a leap of faith and began a company. Back then, he was pretty sure he would never hire any employees. So he named his one-man-company after himself and his blog: Yoast.
Joost made money by doing site reviews and providing SEO consultancy at major companies like eBay. Besides that, he was developing his SEO plugins for WordPress. In October 2010, Joost finally made one plugin of all these little ones: WordPress SEO (now Yoast SEO) was born.

Michiel joins Yoast
At the end of 2011, Joost met Michiel Heijmans, who had just started his own business as well. "The site reviews were going well," Joost explains. "I couldn't do them all. Michiel stepped in and did some site reviews." That cooperation turned out to be another turning point in Joost's career. They became close friends. Michiel's knowledge of SEO and UX combined with his outstanding people skills was a perfect match with Joost's ambition and drive. Joost decided to bring Michiel on board. In 2012, Michiel became the first Yoast employee.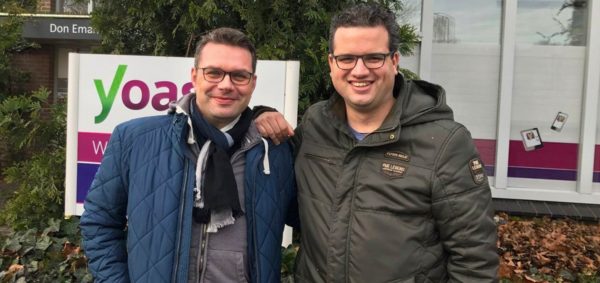 2012 – 2014: Yoast becomes more than Joost
Michiel and Joost hired an office in their hometown Wijchen. Yoast was becoming a name in the WordPress community, and Joost put a lot of money and effort into developing his brand. They hired an illustrator, Erwin, (freelance at first) to create some avatars and drawings of Joost. Later on, they decided to hire a graphic designer, Mijke.
In 2012, Yoast started to make money off WordPress plugins. Yoast SEO already had a lot of users but didn't have any paying customers. In September 2012, Yoast launched Video SEO. Since our paying customers asked for more support, Joost's brother Thijs joined in on the adventure later that year.
Marieke joins Yoast
In the meantime, Marieke had finished her Ph.D. in 2011 and was working at different universities. At the same time, she interfered with Yoast quite a lot. That was dear to her heart too. Their little family had grown: daughter Wende was born in 2009, and son Ravi in 2011. Joost and Marieke were both juggling their careers and caring for their children.
In the summer of 2013, Marieke finally decided to give up her academic career and focus solely on Yoast. That made the combination of Yoast and family much easier. Later on, they eventually decided to complete their family with their youngest son Borre, born in 2015.
As Marieke joined the company, Yoast started to grow at an increasing rate. Marieke's academic career was no longer a limitation to Joost's career and Yoast. They could now focus on the same things and follow shared ambitions instead of different career paths. It turned out that combining their energy made Yoast grow tremendously. With the growth of the company, Yoast became more than just Joost and Yoast was no longer a synonym for Joost as a person.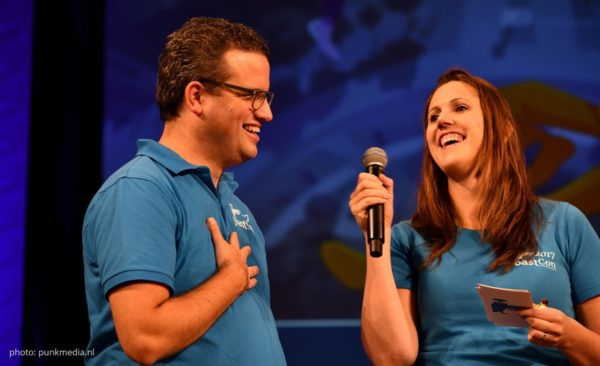 2014 – 2016: Yoast keeps growing!
In 2011, Yoast was Joost. At the end of 2012, Yoast consisted of Joost and another four employees. At the end of 2013, Yoast consisted of ten employees. And at the end of 2014, Yoast employed a total of fifteen people. In 2015, another nine people joined the company, which made a total of 25. At the end of 2016, there were about 40 people and at the end of 2017 more than 50 people worked in the Wijchen offices. Also, more than a dozen people are working in countries around the world.
Omar joins Yoast
In 2014, Omar Reiss joined Yoast. Omar's involvement was also of great importance for the growth of our company. Yoast had a team of three developers when Omar came onboard, without a clear system.
Omar was able to make a real team of the developers. He introduced things like pair programming and set up a system in which colleagues review each other's code. Above that, he made sure that the code quality of Yoast SEO became much, much higher. Joost and Omar were also able to attract many new developers for our team. Nowadays, our development team consists of over twenty developers in Wijchen and three developers abroad.
Joost, Marieke, Michiel and Omar form the board
Michiel, Marieke and Omar became more and more involved in the management decisions. Together with Joost, they formed the board of Yoast. Joost sold part of the stocks of Yoast to both Omar and Michiel. Joost will always remain the founder of Yoast, but all important decisions are made by these four people.

Yoast changes
In 2015, Yoast underwent a major redesign. Our design team replaced the many avatars featuring Joost with new colorful illustrations. The logo was no longer orange, but green and purple. The change in design reflected the shift in the business. Yoast was no longer a synonym for Joost de Valk. "My head on every page started to annoy people," Joost explains, "Yoast consisted of more than just me and people didn't seem to get that yet."

Academy
In 2015, we also launched Yoast Academy. Yoast Academy helps people do SEO themselves, by teaching them how to optimize their websites. The first online SEO course appeared in 2015. Many courses followed and the team to grew to develop and improve new courses.
Open source
Yoast has grown. The company grew and the profit increased. That didn't change our passion for WordPress and open source, though. Giving back to the community that got Yoast to where it is today is crucial to the company. That's why Yoast sponsors many WordCamps and why we hire developers that focus their time and energy entirely on the development of WordPress core.
Support team
With the growth of the users of the (premium) plugins, the demand of support grew tremendously as well. Taco, who joined Yoast in 2013, grew into his role of support and community manager. He now leads a big team of support engineers working from countries all over the world. Besides that, Taco is a very active member of the WordPress community. He organizes local WordPress Meetups and WordCamps in the Netherlands and WordCamp Europe.

2016 – now: Continuously improving
Yoast keeps on growing on so many levels! In the past few years, Yoast has accomplished and grown so much. Now, in 2019, we have over 90 people working at Yoast (and almost half of the employees are female!).
YoastCon
In 2015, Yoast organized the first edition of YoastCon as a celebration of their fifth anniversary. This one was hosted at the Lindenberg in Nijmegen when Yoast only still had 21 employees. With five talks and three workshops, it was a great first SEO conference for Yoast!

In 2017, Yoastcon was held for the second time in another, bigger venue: De Vereeniging in Nijmegen. This edition was an all-day SEO conference with six talks, one panel-discussion and 11 workshops which ranged from everything about Yoast SEO to copywriting.
The most recent edition of YoastCon happened in 2019. This time it was a two-day conference, held again in De Vereeniging. With 22 talks, six workshops and a panel discussion we could say that it was an educational and super fun experience!
Yoast Academy
Yoast Academy has grown a lot. In 2017 Jesse van de Hulsbeek became the Yoast academy lead. Together with the other amazing people that are part of the Yoast Academy team, they developed several new courses. There's a free SEO for beginners training, a Yoast SEO for WordPress plugin training, a new SEO copywriting training, and an All-around SEO training. Besides those new courses, there's also the possibility to get a Yoast training subscription or to buy one (or more) of the training bundles!
Marieke van de Rakt is the new CEO
On January 25th, 2019, Marieke took on the role as CEO and Joost, former CEO, became the new CPO at Yoast. Marieke is focusing more on company culture. She feels that it is important for employees to enjoy their work and feel appreciated: And as Yoast is growing, that becomes more and more of a challenge.
"In many ways, I was already the CEO. Among the four of us, I am the one most thinking ahead. I am the one most concerned with company culture. I am the one who's often leading the way. That does not mean I decided upon the route though. That's something we do among the four of us. Still, I was the one proposing to my partners that we needed to make decisions."
Marieke doesn't think there will change that much. She has the ambition for Yoast to be a flourishing, inclusive and outward-looking company. She also started a women's empowerment program at Yoast, which aims to give female employees at Yoast more confidence to step up. Joost is now focusing more on product development. His first project as CPO was the 11.0 update of Yoast SEO.
The future of Yoast?
It is hard to predict the future. Google changes regularly, and Yoast will change accordingly. It's hard to see what will be next. There are lots of plans, though!
We always strive to come up with new creative solutions. Yoast Academy will keep improving our existing courses and were working on new ones as well. We're also working on extending our portfolio with broader courses – not just SEO – for people wanting to create websites. We want people to focus on producing quality content, quality web design, and quality coding. We want to improve even more websites, and we want to make SEO easier for everyone.
PS. Yoast will not change its name to Mahreekah (that's how you pronounce Marieke in Dutch) even though she's the new CEO… But Marieke isn't saying that we'd never organize a MariekeCon!