Exciting news: Yoast joins Newfold Digital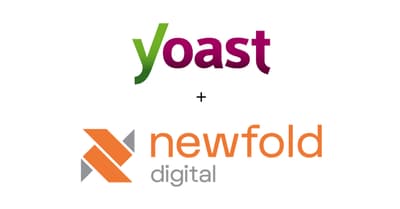 Big news for Yoast! We're so incredibly happy to announce that we are joining Newfold Digital. Joining forces with this leading web presence solutions provider will enable Yoast to take SEO for everyone to the next level! We look forward to new possibilities to help even more people to improve their SEO. We believe that our joint forces will help us to expand new possibilities across many platforms.
Get all of our SEO ideas into practice
Joost de Valk founded Yoast in 2010. Yoast never had any funding before, it grew organically into a company with 140 employees maintaining a plugin with over 12 million active installs. We don't want to stop there! We're planning to grow and improve even further! Joining Newfold Digital provides us with the freedom to build and iterate on ideas to further our mission. We plan to release many new features and products to help people with the findability of their websites.
Joint love for WordPress
Yoast loves WordPress. We are WordPress and open source fanboys and girls. Joining Newfold enables us to fully keep that love alive. Bluehost of course is a member of the amazing Newfold Digital family. We are really excited to team up with Bluehost. Over the years, we have attended countless WordCamps with the Bluehost team and we worked together on many WordPress Core releases.Yoast and Bluehost will enhance our offerings and contribution to the WordPress community together.
Only changes for the better
A big change, but only a change for the better! All the important things stay the same.Team Yoast will remain the same, all of our employees stay with us. Our headquarters will stay in Wijchen, the Netherlands. Our brand will remain our brand. Our mission will remain our mission. Yoast SEO will remain Yoast SEO. Our CEO will remain our CEO and all of the board members will stay in their roles.
So much exciting stuff is coming up!
We are really excited to be able to announce this news today. In the next few months we will really start working with and learning from our many new colleagues at Newfold Digital! We have some amazing plans already lined up that'll be exciting to our customers. Stay tuned for more updates and information!
Coming up next!
Event

December 09, 2023

Team Yoast is at Attending, Organizing, Sponsoring WordCamp Ahmedabad 2023! Click through to see who will be there, what we will do, and more!

See where you can find us next »

SEO webinar

12 December 2023

Learn how to start your SEO journey the right way with our free webinar. Get practical tips and answers to all your questions in the live Q&A!

All Yoast SEO webinars »