YoastCon 2015
In 2015, Yoast celebrated its fifth anniversary. Joost started the company Yoast in 2010, offering website reviews and free plugins. Yoast's core business was, and is, sharing knowledge and making it easier to create usable websites. Five years later Yoast had turned into one of the biggest WordPress plugin providers with at that time 21 employees (and counting)! To praise these first five years full of growth and experience Yoast decided to celebrate this milestone with a conference: YoastCon!
Read more about YoastCon 2017 and YoastCon 2019.
Wednesday the 27th of May 2015, Yoast hosted YoastCon for the very first time, in de Lindenberg in Nijmegen. Chris Lema, Marcus Tandler, Karl Gilis and other friends of Yoast gave lectures and there were multiple workshops.
Speakers and talks
Growth hacking tips that work on every website – Karl Gilis
Karl told us during this first YoastCon all about conversion optimization and why the best practices won't always work for you. It looks like everybody is A/B testing and publishing their best practices these days, so why should you do all the work? Can't you just copy those ideas and best practices, lie back and watch your conversion rates go up?
In Karl's opinion copying that is a bad idea most of the time. Best practices don't always work! Karl has done several tests in which those magic green checkmarks utterly failed and even one where awful stock images did work. In his talk during YoastCon 2015, he told us all about how to improve your conversion rate!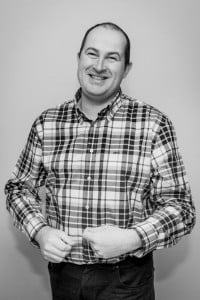 As managing partner of AGConsult, Karl Gilis maps out the road they travel on as a company, together with Els Aerts.
He was keynote speaker at numerous events of companies like Record Bank, Shimano and Daikin Europe. Karl is also a guest lecturer at Thomas More, Karel de Grote-Hogeschool and Kluwer Opleidingen and he's taught in-company trainings at Thomas Cook, Barry Callebaut and Atlas Copco, among others.
Companies like Concentra, TUI Belgium, Telenet, Suzuki and local and federal government agencies hire Karl to help them with their web strategy. And to lift their websites to a higher level.
Save yourself $135,549.73 when you build your next site – Chris Lema
Or how to avoid costly mistakes before your next launch. Eleanor Roosevelt once said that you needed to learn from the mistakes of others because you might not live long enough to learn from your own. In our time together, we'll look at various sites and learn a series of lessons without having to pay the price directly.
Whether you're a blogger, running a business, or hosting an e-commerce site, these stories and key takeaways will help you optimize your site.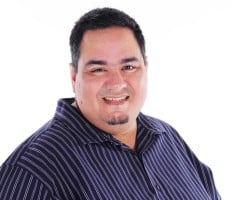 Chris Lema, now at LiquidWeb, was the CTO and Chief Strategist at Crowd Favorite at the time of the first YoastCon. He's also a daily blogger, a public speaker, and product strategist. He helps companies leverage WordPress, and helps WordPress companies find leverage.
For twenty years Chris has developed and managed high performing engineers to build software products – particularly SaaS products in a variety of B2B vertical markets. He's also spent the last ten years coaching startups on product development & marketing strategies.
Rise of the Machines – Marcus Tandler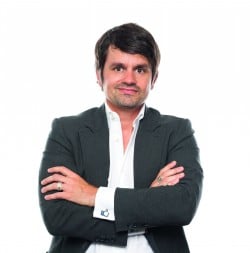 At YoastCon 2015, Marcus showed us what Google has up its sleeves to master the next evolutional step in search engine ranking.
Marcus' main theory was, that links would soon become irrelevant. He explained Yandex´ approach, who have announced to not use links anymore within their ranking formula (only for commercial queries within the Moscow region though, for now).
Marcus also showed some impressive examples, that have led him to the conclusion that Google is already doing something quite similar: leveraging the power of machine learning to become independent from ranking factors that can be gamed from the outside.
Marcus Tandler, also known as the Mediadonis, is Co-Founder and Managing Director at Ryte – an award-winning Technical SEO software with the mission to help webmasters make better websites. Marcus started working in the SEO industry well over seventeen years ago, and was co-host of the popular "Webmasters on the Roof" show on Webmasterradio.FM.
He´s a regular speaker at various conferences around the world such as TEDx, LeWeb, The Next Web, SMX and O'Reilly's web2.0expo. He got a lectureship at the University of Applied Sciences Erding, the University of Applied Sciences Würzburg-Schweinfurt as well as at the Bavarian Academy of Advertising and Marketing, teaching students how to excel in Online Marketing.
The State of WordPress Security – Tony Perez
There is no denying that WordPress has become the platform of choice for bloggers and businesses alike. Powering over 23.5% (back in 2015) of the top websites in the world. A remarkable feat in it of itself!! With this fame however has come a huge target, making it to the top targeted platform on the web by malicious actors with ill intent.
This has brought about a lot of fear and uncertainty about what is going on and how to effectively deploy the platform for your needs. In his presentation, we explored the past 24 months and the evolution of WordPress security; how it's impacted the platforms image, but more importantly what it means to the everyday website owners that depend on the platform.
With popularity comes a price, with ease of use and extensibility comes a responsibility. We explored these points and work to understand what website owners should and could be doing to improve their overall online security posture.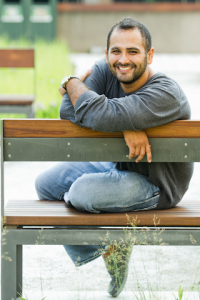 Tony Perez is one of the Co-Founders and CEO at Sucuri, a globally recognized website security company focused on providing security services to website owners. Sucuri is known for their ability effectively clean hacked websites, and protect them from malicious actors.
Tony has devoted the past four and half years to learning and understanding the motives behind today's website hacks; armed with this knowledge, he spends a lot of energy educating website owners of all sizes. When not studying security or working on the business, you can find Tony on the mats as he is an adamant Brazilian Jiu-Jitsu (BJJ) practitioner.
Erwin Brouwer & Joost de Valk
At YoastCon 2015, Erwin and Joost reveiled our then new and now current logo. We showed the process leading to this logo and how we can to the logo you know and are used to :)
Besides that, Joost welcomed everyone at this edition with a short retrospective on 5 years of Yoast: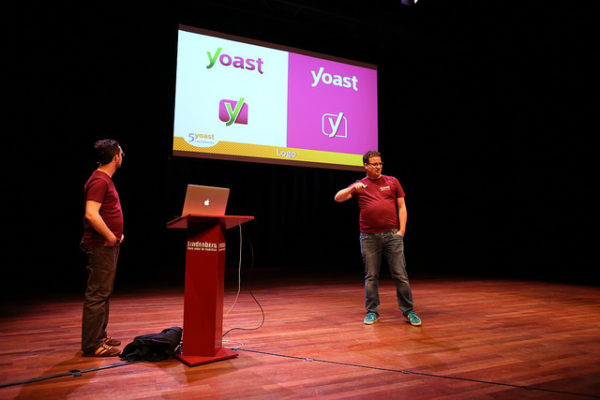 Workshops YoastCon 2015
During YoastCon 2015, you had the option to attend two of the following three workshops. These workshops were very practical. While these workshops were more WordPress focussed than the other sessions, we made sure visitors picked up something even when not using WordPress. SEO for everyone!
Writing for the web using the WordPress SEO plugin
How do you write articles that are both friendly to the reader and to (your ranking in) search engines? How do you use the snippet preview and page analysis functionality in WordPress SEO? What other things should you be aware of when writing for the web?
Marieke presented tips on style, structure and the technical aspects of writing good web copy. See Marieke's articles to get an idea of what kind of things were covered in her workshop.
Configuring the WordPress SEO plugin for maximum impact
Do you know what WordPress SEO does for your site? Do you really know all its features? In this workshop, Taco guided visitors through some of the WordPress SEO plugin's most hidden features.
From the powerful XML sitemap to the all-new JSON+LD functionality, this workshop made sure you knew what it is and how to use it. We know the plugin can be daunting sometimes. This workshop made sure you know what each setting does. Taco, Yoast's community manager, gave this workshop.
Google Analytics for your WordPress site
While the WordPress SEO admin can be daunting, Google Analytics is worse. Not our plugin, but Google's product itself has more screens than you ever want to lay eyes on. In this workshop, Thijs showed the audience the specific reports our Google Analytics plugin allows you to make.
If you run a blog, you'll want to see which authors attract the most visitors. You'll want to see which URLs on your site 404, ordered by what 404 occurred the most. Simple analytics that you can change your behavior on.
Wrapping up YoastCon 2015
Joost thanked all speakers and organizers and the entire team! It was awesome and made us consider a next YoastCon. You know how that turned out, right…