10 things we celebrated over the last 10 years!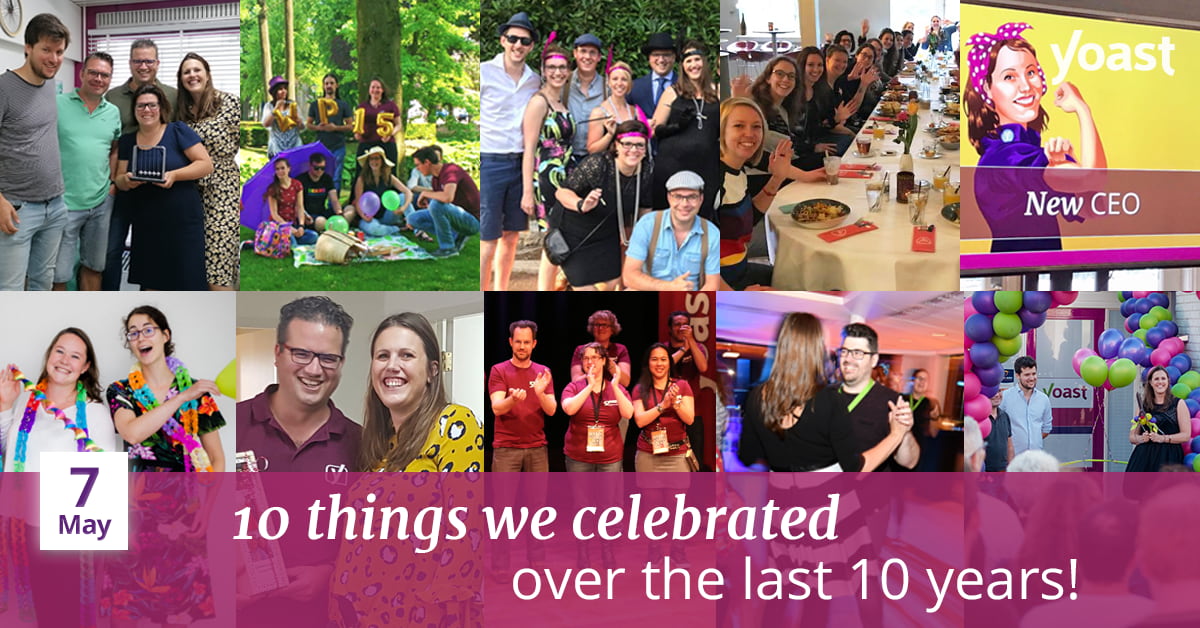 We celebrate a lot at Yoast, we celebrate so much that we even organize a monthly celebration moment with our entire team! And because we're now celebrating our 10th anniversary, we'd like to share 10 memorable celebrations we've had in the past 10 years!
1. Our very first YoastCon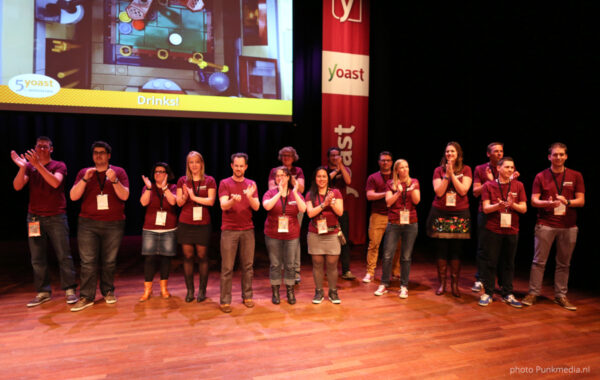 In May 2015 we held our first YoastCon ever at De Lindenberg in Nijmegen. This event coincided with our 5th anniversary celebrations, which made this first edition extra special. With several speakers and different workshops, this day was a huge success!
2. WordCamp Europe afterparty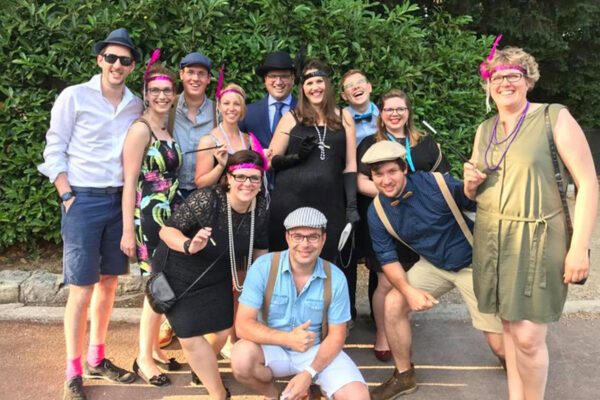 WordCamps are a great way to get together with other WordPress users and fans. And did you know that every WordCamp ends with a themed afterparty? At Yoast, we grab every opportunity to dress up and have a good time. Especially if that means partying in style with our friends in the WordPress community. And as you can see from this picture, the WordCamp Europe afterparty in 2017 was no exception!
3. YoastCon afterparty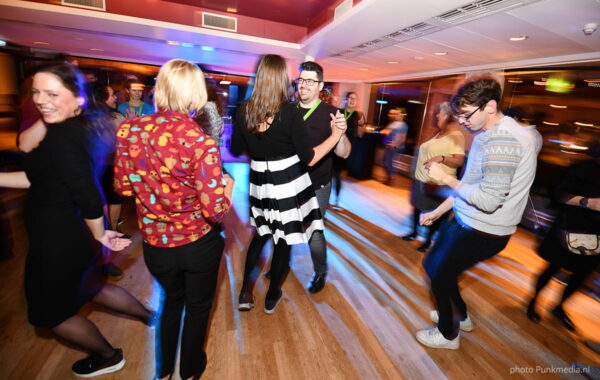 In November 2017 we organized another YoastCon and felt that this was the perfect excuse for an awesome afterparty! Our team was very happy to end a successful day of workshops and SEO talks with a few awesome moves on the dance floor.
4. International Women's Day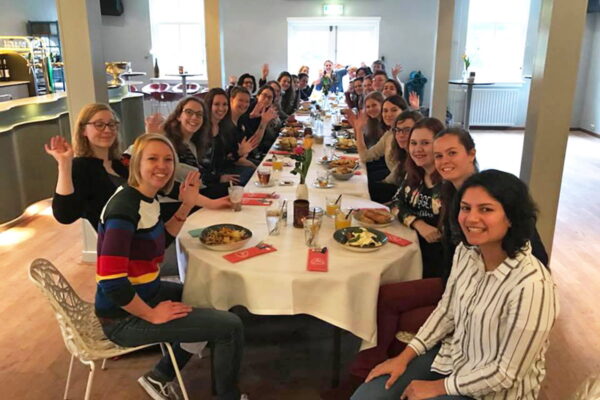 International Women's Day comes around on the 8th of March every year. And because we feel that this is a special occasion, we hold a yearly lunch in honor of all the women who work at Yoast. This photo is of our International Women's Day lunch in 2018, showing all the women that were part of our team two years ago. Of course, we've welcomed a few new colleagues in the meantime so you can imagine that we've had to add a few tables more!
5. 15 years of WordPress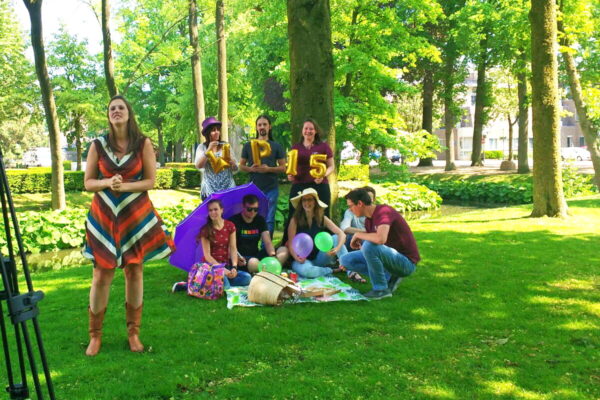 May 2018 marked the 15th anniversary of WordPress. And what better way to celebrate its birthday than with a lovely picnic? So that's exactly what we did. We had a picnic with cake and balloons! To give WordPress the birthday party it deserves. Here's to the next 15 years!
6. Joost and Marieke's 10th anniversary
In August of that same year (2018), Marieke and Joost celebrated their own 10th anniversary! Wedding anniversary that is. And as we love to celebrate, this was another occasion the team at Yoast could not let pass unnoticed.
7. Academy is 3 years old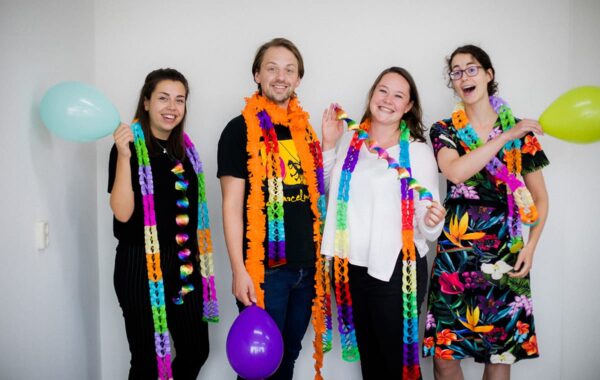 Around the same time, we celebrated that Yoast Academy was 3 years old! That made us very happy because the courses that are part of Yoast Academy take us one step closer to our mission: SEO for everyone. And seeing that this is almost two years ago, this year will mark the 5th anniversary of Yoast Academy. Hurray, another celebration to look forward to!
8. Our third building opens
The year 2018 truly was a year of celebration, because this was also the year that we got to celebrate the opening of our third Yoast office building! We decided not to throw a bottle of champagne against the wall (that's more of a boat-thing right?), but we did cut a ribbon to make the opening official. And we had balloons! Lots of them!
9. Yoast has a new CEO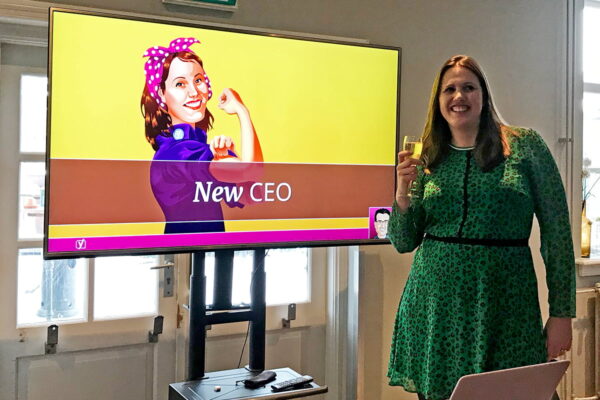 At the start of 2019, we had one of our biggest celebrations of the decade. Founder of Yoast Academy and Chief Strategy Officer at Yoast, Marieke van de Rakt, became our new CEO and embarked on this journey with big plans and in good spirits!
10. Judith's 5th year at Yoast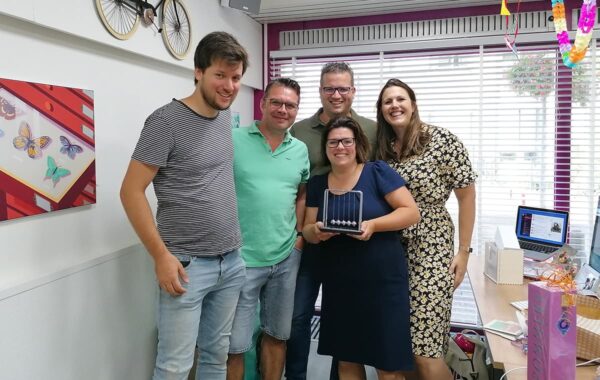 Last year, our lovely colleague Judith celebrated her 5th year at Yoast. She was our 13th employee and we now have over 100! Every employee gets a nice gift from our board on their 5th work anniversary and as you can see, Judith is quite happy with hers.