Looking back at Yoast in 2020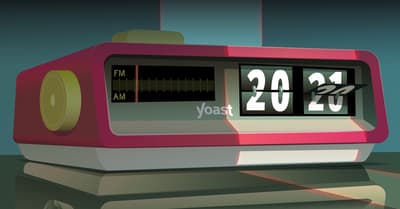 The year 2020 is coming to its end and what a wild year it's been! The pandemic has had a huge impact on all of us, and this isn't different for our team at Yoast. As many shop owners turned to the web to stay in contact with their (potential) customers, we saw the importance of improving our plugin even more. That's why we've added lots of features and new languages to our Yoast SEO plugin in 2020. But we've also launched our new board this year! All while working from home and attending lots of fun events virtually. Let's look back at everything that happened at Yoast HQ in 2020!
A year of working from home
Although we have colleagues all over the world, the largest part of team Yoast works from our offices in Wijchen (the Netherlands). From March on, we've had the advice to work from home as much as we can in the Netherlands. And so we did! Work from home as much as we could. We're very happy that this was possible with our team, but it did call for big adjustments. In the way we worked, the way we brainstormed, and the way we kept each other informed. But also in our time management, as a lot of our colleagues had their kids at home as well.
How our team kept in touch
From the first day we started working from home I started doing daily vlogs! To keep each other informed, to share fun work projects and lockdown hobbies with each other, but also to remind everyone to take time off when they needed it to relax. As working from home can be tiring without your colleagues around. We made a fun compilation of our daily vlog up until now and plan to keep them going for as long as needed!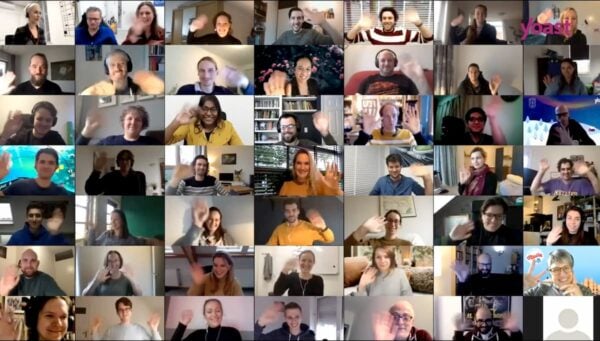 Travelling all over the world – virtually
Logically, a lot of WordCamps and other fun events looked a bit different in 2020. Most of them took place online, which meant that we attended lots of these events virtually. That was also new, but still loads of fun! It allowed us to travel the world virtually, think of new fun games for our virtual Yoast booth, and made it possible for lots of us to attend different WordCamps. Some of them even on the same weekend! We can't wait to see all of you offline again, but in the meantime, these online events were a great way to meet up with everyone in our community.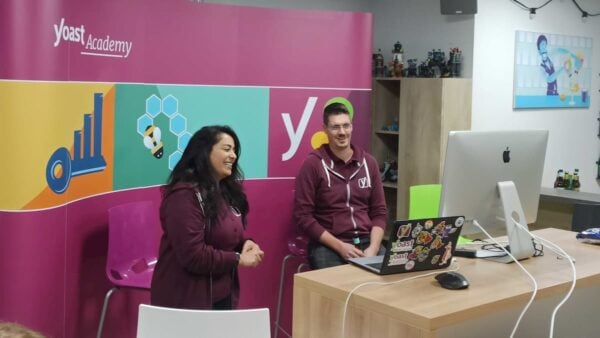 Improvements to Yoast SEO in 2020
A year of new and improved features
In 2019 we solved a lot of technical debt, in 2020 we released lots of new features in Yoast SEO. From our very first release of Yoast SEO 12.8 on January 7, 2020 to our latest release of Yoast SEO 15.5 on December 15, 2020. That's more than 20 releases in one year! As you can imagine, this allowed us to make lots of improvements to our plugin and released lots of cool new features as well.
I won't mention all of them here, but let's take a look at a few highlights. For example, Yoast SEO now comes with an improved sidebar that helps you tick all the boxes when it comes to optimizing your content. We've also improved the publishing flow by adding the option to share your post right after publishing or even setting Zaps to fully automate this process. Yoast SEO also helps you make your URLs stand out on Slack. Yoast SEO Premium now comes with different blocks that really help you improve site structure and get those rich results.
Of course, this isn't everything we've added. Both our free and Premium plugin have had lots of other new features added to them. Additionally, we've added support for different languages to make our plugin more accessible for people writing in any other language than English.
Also a year of new languages
In March 2020, we made a few changes to our language analysis to make it easier to add new languages. This improved language processing system allowed us to add heaps of new languages to our plugin. From Spanish to Arabic, we added support for 13 different languages this year! So make sure to check out in which languages you can now write readable and SEO-proof content with Yoast SEO.
A year of integrations and fun partnerships
This year we also partnered up with other companies to make some awesome integrations happen. Firstly, we partnered up with our friends at SEMrush to help you find high-performing related keyphrases while you're working in the post editor. Secondly, we worked together with Zapier to help you automate your publishing flow by setting Zaps that automatically run when you publish something. Lastly, we just released a seamless integration with Elementor, allowing users of Elementor to fully optimize their content with Yoast SEO while they're working on their content!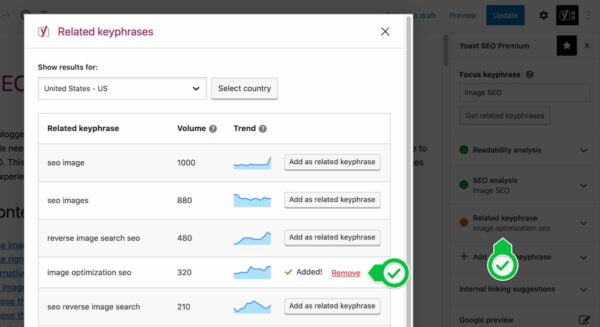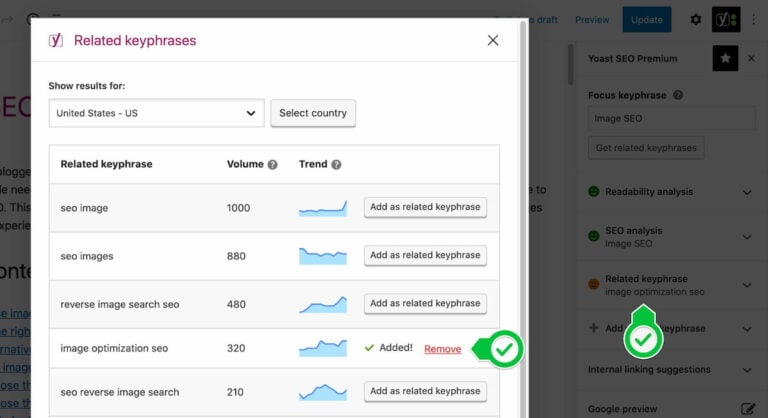 Plus: we've combined our two biggest products
Last in this list, but definitely not least: we've combined Yoast SEO Premium with Yoast SEO academy this year! This means that when you buy Yoast SEO Premium, you'll now also get free access to all of our SEO training courses in Yoast SEO academy. So the price of our plugin hasn't changed, but what you're getting has. This will allow you to take your SEO to the next level as Yoast SEO academy is full of in-depth courses on different SEO subjects. Read more on how and why we've combined our two biggest products.
New at Yoast in 2020
In addition to the improvements we made to our existing plugins, we also had other fun stuff that was new at Yoast in 2020. Such as a new plugin, a monthly webinar that is now accessible for everyone and our Yoast SEO Podcast series.
Welcoming Duplicate Post
In June 2020, we welcomed the plugin Duplicate Post and its creator Enrico Battocchi to Yoast. We were already big fans of Enrico and his work, as this plugin does one task simple and very well. Duplicate Post lets you duplicate any post or page in WordPress with one click. Allowing you to copy everything on that page and saving you lots of time. We're very happy that Enrico joined our team and together, we'll work on improving Duplicate Post even more.
Monthly webinar that are accessible for everyone
Every month, our SEO experts Joost de Valk and Jono Alderson discuss the latest news in SEO and WordPress. These webinars were always acessible for users of Yoast SEO academy, but this year we decided to open it up for everyone. Meaning that you could watch these webinars live, on Youtube or Facebook, and even ask questions! These are always great fun, so check out the December SEO news webinar and make sure to join our next one on January 26, 2021!
The start of our Yoast SEO Podcast
This year, we also launched the Yoast SEO Podcast. This is a podcast series in which our founder Joost de Valk talks to well-known friends in the SEO world. These podcasts can give you lots of relevant insights into SEO and how to optimize your own site(s) to rank higher in the search results. As our Yoast SEO Podcast series launched at the end of 2020, it's still early days, but you can expect lots of new podcasts on a regular basis in 2021!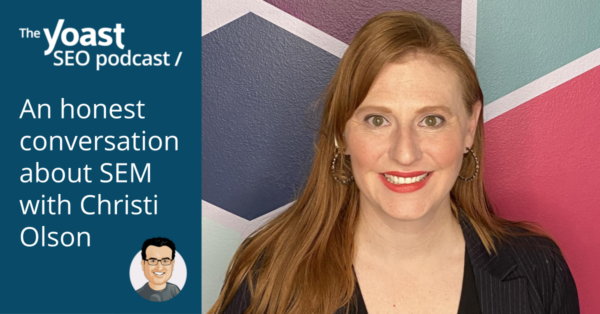 What else happened at Yoast in 2020?
Last year also came with some changes when it comes to the way we run our company. With loads of people joining our team and all of us working from home, we wanted to make sure to keep our fun and familiar work environment going. While still providing our users with a reliable product that makes SEO accessible for everyone.
An even stronger focus on our core values
At Yoast, we all work to make the web a better place. For everyone. That's why our mission is SEO for everyone. We believe in having fun at work and sharing knowledge with others. But we also value inclusiveness and equality. All of these core values are part of Yoast, they're in our DNA. But to always keep them in mind in our day-to-day business, we decided to write our core values down this year.
This helps us remember what (and who) we're doing this for. And what decision best serves our mission to make SEO possible for everyone, from big companies to the local shop around the corner. Something that became even more important in this year of doing business online.
We launched our new board
We had another piece of exciting news in December of this year. We were able to welcome two new board members and partners: Chaya Oosterbroek and Thijs de Valk! Chaya is our new COO and knows everything about optimizing business processes. That's why we're very happy to have her on our team. You can read more about her background and focus in this interview.
Thijs is our new CCO at Yoast and has a gift for optimizing conversion and sales. That's why he's a perfect fit for this role in our team. Thijs will help us grow Yoast even further, and with it, improve the web as a whole. Of course, I will remain the CEO of Yoast, Joost de Valk is still our CPO and Omar also stays on board as our CTO. Read more about these changes, or watch our video, in the blog post announcing our new board.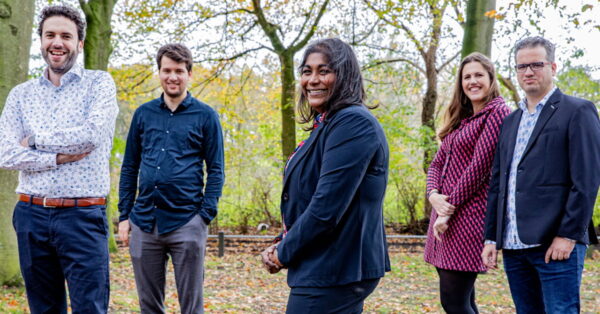 That was it for Yoast in 2020!
All in all, this was a year that we'll never forget. A year that brought us lots of challenges due to the pandemic, but also chances to improve our products and business in a creative way. We want to thank all of you for the fun events we had, and thank you to our users for staying with us another year. We hope to see you in 2021!
Coming up next!
Event

September 29, 2023

Team Yoast is at Attending WordPress Community Day – Rome 2023! Click through to see who will be there, what we will do, and more!

See where you can find us next »

SEO webinar

03 October 2023

Learn how to start your SEO journey the right way with our free webinar. Get practical tips and answers to all your questions in the live Q&A!

All Yoast SEO webinars »