Yoast SEO 15.4: Seamless integration with Elementor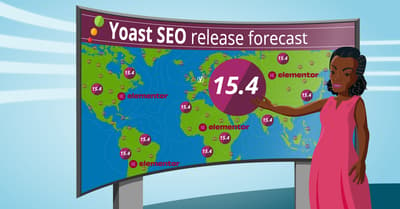 Yoast SEO 15.4 is a special release — especially if you are one of the more than five million users of the Elementor WordPress site builder. In this release, you'll find a seamless, easy-to-use integration of Yoast SEO with Elementor. Building websites and optimizing content for the search engines now in one workflow!
Elementor & Yoast SEO: A great match
Elementor and Yoast SEO are two of the most popular WordPress plugins on the planet. Both rank firmly in the top five WordPress plugins on WordPress.org. Both tools share a similar goal: helping people from all walks of life to make great websites. We both want to lower the barrier to entry into a world that is often seen as complex and technical. But joining these two wasn't that easy and using Yoast SEO in Elementor was always a struggle. As of Yoast SEO 15.4, we've fixed that. We built a seamless integration with Elementor!
The Yoast SEO Elementor integration is fully-featured and free to use for everyone — no Premium required. You can find all your favourite tools in the new Elementor sidebar, available for you on the left-hand side of your screen. But if you have Yoast SEO Premium, you'll also find your extra features in that same spot, like the internal linking suggestions, social previews and the related keyphrases.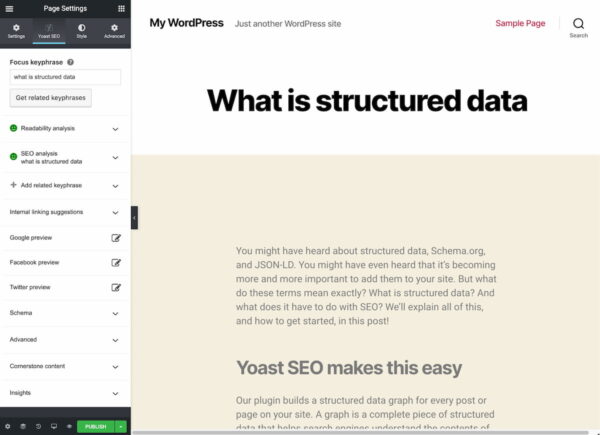 Yoast SEO fully integrated into the Elementor sidebar
If you are an experienced Yoast SEO user you'll feel right at home. As an Elementor user, you now get access to all the great Yoast SEO tools where you need them the most — right in the post editor. Now, you can make use of all our suggestions and feedback to build that awesome piece of content you are looking for. The analyses of Yoast SEO work in all fields and in every type of content. The eye icons, used to mark specific pieces of text inside the fields, is the only thing that doesn't work yet.
Why should use you Yoast SEO in Elementor?
Yoast SEO is the leading SEO plugin in the WordPress space, offering a wealth of features that help your site perform well in the search engines. Yoast SEO doesn't just improve the technical side of sites but also provides invaluable tools to write high-quality content and build a great site structure. One of the most important innovations is the content analysis that helps you improve your content by giving you advice in real-time — as you write.
As of today, you'll also get everything you need to optimize the pages you make in Elementor for the search engines right at your fingertips. Awesome SEO features, a powerful toolbar, with real-time analysis of your content and feedback that makes sure that your content follows SEO and content best-practices.
Buy Yoast SEO Premium now!
Unlock powerful features and much more for your WordPress site with the Yoast SEO Premium plugin!
How to find the Yoast SEO sidebar in Elementor sidebar
Working with Yoast SEO in Elementor should come naturally. It is very easy and you'll get used to it in no-time. Simply open up one of your pages or posts and hit the big, blue Edit with Elementor button.
The first time you open a post after installing Yoast SEO 15.4, you'll see a notice a pop-up that announces the arrival of Yoast SEO. Simply follow it to get started. You can also open the Yoast SEO sidebar by clicking the hamburger menu from the main Elementor sidebar and clicking the Yoast SEO button. Lastly, you can reach it via the settings cog at the bottom of the left-hand screen. This opens the page settings and you'll notice the Yoast SEO icon.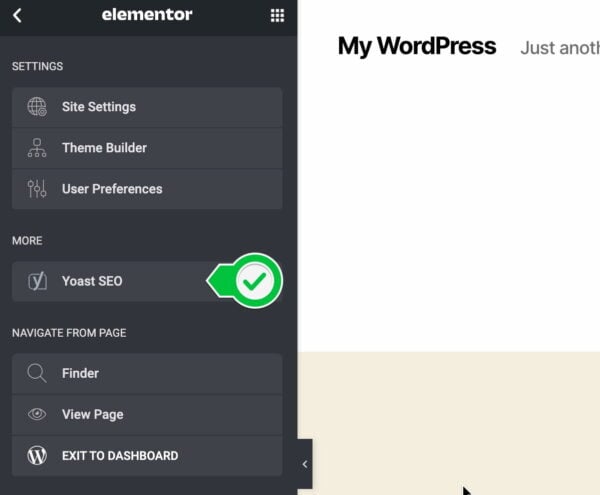 Here's a quick screencast showing the Yoast SEO Elementor integration in action:
Yoast SEO 15.4 with a major new feature
The main focus of Yoast SEO 15.4 was this awesome integration with Elementor. It's not easy getting tools like this to play nice, but we pulled it off. We hope fans of Elementor will be pleased by this integration and we hope this partnership is the start of something beautiful. For people not familiar with Elementor, please check it out — it's an incredible tool that's more than just a simple site builder.
Read more: How to use Yoast SEO in Elementor »
Coming up next!
Event

December 09, 2023

Team Yoast is at Attending, Organizing, Sponsoring WordCamp Ahmedabad 2023! Click through to see who will be there, what we will do, and more!

See where you can find us next »

SEO webinar

12 December 2023

Learn how to start your SEO journey the right way with our free webinar. Get practical tips and answers to all your questions in the live Q&A!

All Yoast SEO webinars »