Yoast Duplicate Post is your new best friend
Ever wanted to quickly make a copy of a post in WordPress to work on some changes without the risk of ruining the published post?
Are you in need of an easy way to duplicate a page for a new service or product?
You're in luck, because these are just some of the ways you can use the Yoast Duplicate Post plugin.
The Yoast Duplicate Post plugin is one of those WordPress plugins that seem to do one thing and does that extremely well. In its core, the Yoast Duplicate Post plugin allows you to simply make a copy of a post or a page. That's it! But this opens up a whole range of possibilities — from building a complete editorial flow to quickly build landing pages to boost your SEO.

Awesome, right? Best of all, it's free! Find out why over 3 million users trust the Yoast Duplicate Post plugin to save them precious time and prevents frustrations.
Download it now on WordPress.org »
What does Yoast Duplicate Post do?
The Yoast Duplicate Post plugin lets you duplicate any post or page in WordPress — with one click. Of course, you could copy a page by hand if you like, but that doesn't duplicate things like the featured image, meta data or the SEO optimizations you've made in Yoast SEO. The Yoast Duplicate Post plugin allows you to copy everything over, with one click. It is always easier and faster to start from a copy!
What do people use the Yoast Duplicate Post plugin for?
A lot! Here at Yoast, it has become an integral part of our editorial workflow. We do a lot of content updates and we don't like to work in the published version of the post. For big updates, we always make a copy. In that copy, we do our work — updating the content, replacing images and improving the SEO of articles. Once done, we copy everything back to the original post and delete the draft. Easy peasy!
This is just one example. People like to duplicate posts and pages for loads of things:
As a way to quickly convert existing sales pages for new products
To make backups of all-important posts and pages
Speed up the process of making posts that look very much alike
Expand your event listings in a jiffy by copying an existing template
Built a site? Have your customer easily populate a site by filling in the drafts
Et cetera
Et cetera
The main takeaway? This plugin helps you speed up your processes and improve your workflow. All that with a simple Clone button.
Unlock powerful premium features with Yoast SEO Premium
Save time and improve your SEO with all premium features, and get full access to all the Yoast SEO academy courses!
Features of the Yoast Duplicate Post plugin
The Duplicate Post plugin is built to blend into the background, allowing you to work without noticing it. You can customize the plug so that it fulfils its duty in a way that makes sense to you.
Two modes: Clone or New Draft
The Yoast Duplicate Post plugin adds two simple links to your post overview: Clone and New Draft. Simply click the Clone button to make a copy of that specific post or page. Click the New Draft link to copy that post or page and open it in the editor right away. You can also do this straight from the admin bar in the post editor or from the post settings itself — look for the Copy to a new draft link.

Set the plugin to your liking
You can fine-tune the plugin to your liking. In the settings, you determine exactly what the plugin does and doesn't duplicate for you. In the settings, you can also change where the copy page buttons appear.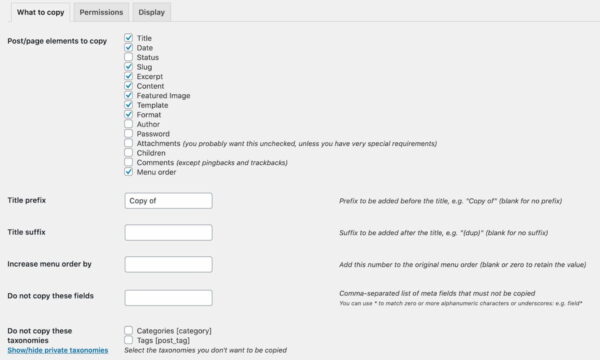 Determine which roles get to do what
As a site manager, you can also determine who of your editors get access to the page duplication features. This also includes the SEO roles that Yoast SEO introduced.
Manage the appearance of connections
You can also determine how the connections between the copy and the original appearance. It might be a new column in the post overview or simply a not after the title. You can also have the original article appear in the post editor, including the block editor sidebar.

New: Rewrite & Republish feature
Rewriting a post has always been quite a struggle in WordPress. But not anymore! Keep your content manageable with the brand-new Rewrite & Republish feature. It allows you to seamlessly edit your content within WordPress, without taking it offline. Updating your content has never been easier!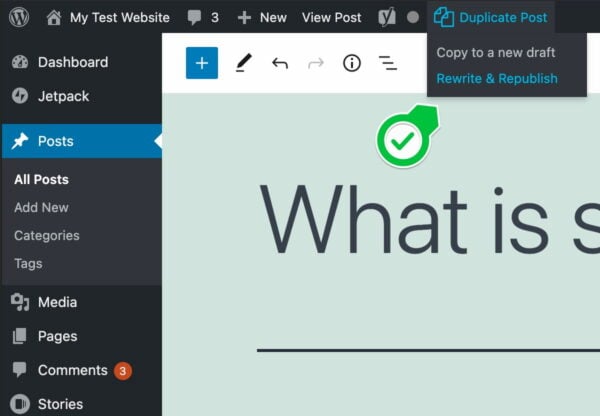 How does it work? When you click the Rewrite & Republish button, a new duplicated version of your original post is created. You edit the duplicated version and after you're done, your duplicated post will be merged into the original post! Automatically deleting the duplicated version and updating the original post, maintaining the original URL. And, you can schedule these updates as well! This feature also works seamlessly in Elementor.
Curious to see how this brand-new feature works? Check out this video!
There's more to come!
The Duplicate Post WordPress plugin is a recent addition to the Yoast stable. We're avid users of this plugin and have awesome new plans for it. Stay tuned!
Download for free
The Yoast Duplicate Post plugin is a free download. You can get it from the WordPress.org plugin directory, or by clicking the link below.