Low-quality pages ...and how to fix them
Low-quality pages are pages that don't contribute much to your SEO. In most cases, these pages add little value for your visitors as well. You can have different types of low-quality pages on your site, sometimes without even knowing it. Like thin content – pages holding little information – and duplicate content – pages showing the same information as on other pages. Especially the latter can work against you if you want to rank well. Read how to find and fix those pages here.
What are low-quality pages?
In general, thin content pages aren't useful for your visitors nor the search engines. That could be because these pages hold little information, or contain just an image, like most attachment pages in WordPress. These pages are only used as a placeholder for an actual image. They are often linked when clicking, for instance, an image on a WordPress blog.
The second type of low-quality content is duplicate content. The same goes for these duplicate pages: they add little value. Their content is already in Google's index, on your site or another site. These low-quality pages can have a strong influence on your site's rankings. Google might even penalize you for having them. 
In addition to these indicators of low-quality content, there's a third issue that you can fix yourself: poorly written content. Google gave us a kind of checklist in 2011 already. I think most of what's in there is still relevant seven years later.
Panda
We've written quite a bit about Google's Panda update. We've seen our share of websites whose rankings dived being hit by that algorithm update. The Panda update handles quality control, so to say. If your website has a lot of low-quality pages, you can bet on it that Google will someday find these. All of a sudden, your website drops a few or even a lot of places in Google's rankings. You're not sure why, and then you remember this post. It might be your low-quality content.
As Google has integrated this Panda update (that used to be on a specific day) in its algorithm, so it's sometimes hard to find the exact reason for the drop. But be sure to analyze if you have any low-quality pages first. It makes all the sense in the world to me that if Google considers the majority of your pages thin content, it will lower your rankings.
How to identify low-quality pages
It's pretty hard to give you one trick, or one application to identify the pages you want to address because we're talking about all the pages that don't help Google and your visitors.
If we're talking about duplicate content, please read our article on it: Duplicate content: causes and solutions. You might have duplicate content without even knowing it! Tools like Copyscape are your first help, but please investigate a bit more like described in the article.
If you want to rule out attachment pages in WordPress, you should simply query your site in Google: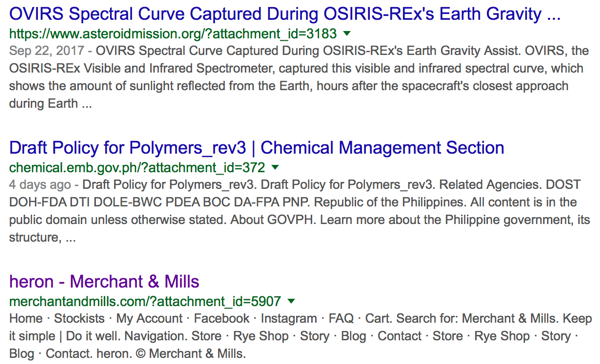 If you use this as a query – replace example.com with your domain – it will return all attachment pages that are indexed for your website (or none, which is good):
site:example.com inurl:attachment_id
Screaming Frog
One of the main tools I use myself to identify low-quality content is Screaming Frog SEO Spider. After clicking through a website for some time, you will learn what the default page structure is, perhaps remember the main pages' URLs and their structure.
When you run a query for your website in the SEO spider, you will get a list of all the URLs on your site. Now scroll through that list and visit every URL that makes no sense to you. The thing is that low-quality pages often occur in groups, not as a single page. Think along the line of old .html pages where you end your URLs with a trailing slash now. Think some attachment pages, think anything with too many numbers in it. These should all make you feel suspicious. Visit the page, see if it shows low-quality content that shouldn't be on Google. Test if these pages are indexed and see if there are more pages like them. Just go about it like that and if present, you'll find these low-quality pages in no-time.
Moz describes an even more in-depth analysis of low-quality pages in one of their Whiteboard Fridays you might want to check as well, by the way.
How to fix low-quality pages
Here's where logic comes in and you'll need to trust your instincts in some way. You'll need to determine if you still need these pages and what you want to do with it.
Remove pages (periodically)
Step one will be to find out if you need these low-quality pages. This isn't one-time maintenance; I'd recommend that you'd do this, for instance, once a year – depending on how much content you write per year, obviously. If you are using a content management system, it pays to check your first posts, from way back. If you find any posts that have no use anymore because they don't touch your current business anymore, it is probably safe to remove those.
What to do with the URLs? If they still receive a decent amount of traffic, redirect them. To a similar page or post if possible, otherwise to a related category or tag page, and if all of that doesn't fit, to the homepage. If there is little to no traffic, simply remove them and let Google find the 404 or 410 error message. Your page will vanish from the search results and Google will be able to focus on relevant pages on your site instead.
Noindex
If the page itself still holds relevant links to other parts of your website and has some traffic due to, for instance, links from other websites, why not use noindex, follow in your robots meta tag. This way Google can find the page, follow the relevant links, but it will keep the page itself out of the search results. Note that this is a different approach than merely deleting the page.
Write better content
Oh, the obvious. Write better content, write unique content. Try to become the source for people instead of copying that source. If you write unique, insightful, useful content, people will be much more inclined to share that content on social media and link to it. Google will see that content as an addition to their index. There's a lot you'll have to do yourself, but our Yoast SEO plugin guides you with the readability analysis as well, and we offer courses like SEO Copywriting that will give you plenty of insights on how to write more engaging, better content as well.
All of this will give Google a website that truly helps their visitors, and in the end, simply answers their question. As soon as you have cleaned up all that low-quality content and all high-quality pages surface in Google, you know you've made yet another sustainable step towards better rankings. Have fun!
Read more: Content SEO: the ultimate guide »