WordPress 5.2 introduced a brand-new feature called Site Health. This is a tool that monitors the health of your site and notifies you of any issues or improvements to make. It is important for you to keep an eye on this page as this is where all major plugins will drop their notifications as well. Let's dive in.
What is Site Health?
Site Health is a tool in WordPress that helps you monitor how your site is doing. It consists of two parts: a Status screen and an Info screen. You can find the Site Health tool via Tools > Site Health in your WordPress backend. In addition to WordPress' checks, plugin developers can also integrate with Site Health.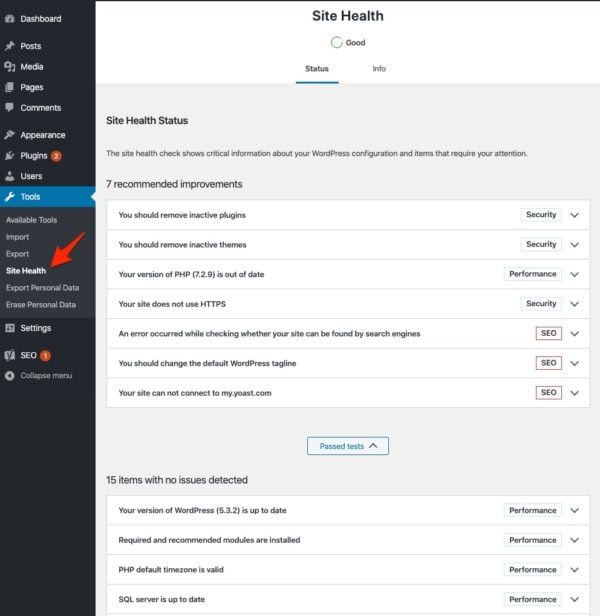 In WordPress 5.4, the team added a Site Health Status widget to the dashboard, this makes it a lot easier for users to discover issues.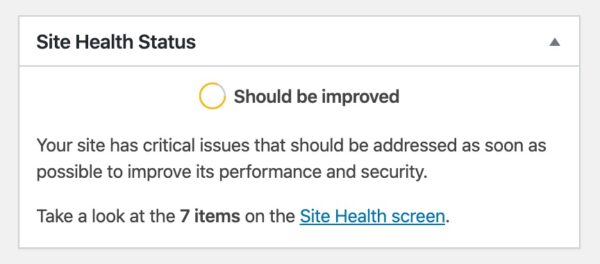 Status page
Arriving on the Status screen, WordPress runs a performance and security analysis that checks your site and gives notifications and recommendations. At the top of the page, you'll also notice a coloured circle that gives you an idea how healthy your site is. Seeing red? You've got work to do.
All the notifications are collapsable, so you can click on the title to see more information. You'll also find links to more information about the issue and how to it.

Info page
On the second page, you'll find an Info screen with detailed information about the configuration of your site. You can use this information to get help from your web host or developer when you run into trouble. Simply copy and past the information when needed!
Why should I care about Site Health?
Just as you should care about your own health, you should care about the health of your site. You could see Site Health as a kind of doctor — it finds problems and proposes solutions. These improvements range from upgrading your PHP version to deactivating unused plugins for security reasons and from implementing HTTPS to checking if the REST API is available. Simply click on a notification to see additional steps to take or more information about the check. You'll also see which plugin notified you of the improvements.
In the future, Site Health will be the goto place for these kinds of checks and notifications. Increasingly, WordPress plugins will put relevant checks and notifications on the Site Health dashboard. This makes it a critical part of your journey towards building an awesome, secure and up-to-date site.
Yoast SEO & Site Health
As of Yoast SEO 13.2, you'll find some of our checks in Site Health. For instance, you'll find the permalink check, the paging comments check, the default tagline check and the Ryte-powered indexing check in Site Health. We'll probably move more checks to Site Health whenever that makes sense. In addition, we also warn you if your site can't connect to MyYoast to activate Yoast SEO Premium.

All about Site Health
Site Health might miss a little bit of visibility right now, but that doesn't mean you can simply forget about it. A dashboard widget is on its way and there will probably be a lot more new stuff in the future to look forward to. For now, please keep an eye on Site Health so you and your site can enjoy a bit of good health!
Read more: Get your website back into shape with SEO fitness »
WordPress for beginners series
Coming up next!
Event

December 09, 2023

Team Yoast is at Attending, Organizing, Sponsoring WordCamp Ahmedabad 2023! Click through to see who will be there, what we will do, and more!

See where you can find us next »

SEO webinar

12 December 2023

Learn how to start your SEO journey the right way with our free webinar. Get practical tips and answers to all your questions in the live Q&A!

All Yoast SEO webinars »