Does Yoast SEO really work?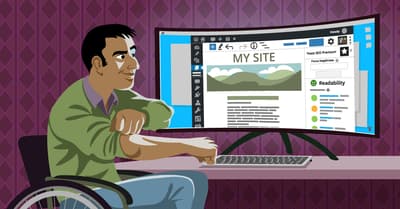 Yes, Yoast SEO really works! Yoast SEO has been the most popular SEO plugin on WordPress for 11 years now. In fact, it has over 11 million downloads and a 5-star rating! You don't stay that long in the game if you don't have something to show for it. And it has a lot to show. It helps you write excellent content, gives your site a technical boost, and makes it easy for search engines to find and display your content! Here, we'll show you why Yoast SEO works and how it helps you get your site in the best SEO shape.
What does the Yoast SEO plugin do?
Before we dive into the why, let's first look at the how! Yoast SEO makes sure your site meets the highest technical SEO standards. It also gives you the tools to optimize your content for SEO and overall readability.
Its sophisticated analyses help you write excellent content
Enjoyable content is a major reason people stay on your site. Therefore, Yoast SEO includes a well-researched state of the art readability analysis. As you are writing, the analysis works in real-time. For example, it warns you if your sentences are too long, checks your paragraph distribution, calculates your reading ease score, and much more! All these factors combined contribute to well-written content that readers enjoy.
With the SEO analysis, the plugin ensures that you use your keyphrase enough and in the right places. Doing so increases the chance that search engines and readers will find your site for the term you want to rank for. Yoast SEO Premium even takes the analysis to the next level, also analyzing the synonyms of your keyphrase, its different word forms, as well as related keyphrases, just like Google does. It lets you write engaging and varied copy in a more natural way.
Read more: Yoast SEO Premium analysis: Synonyms, related keyphrases and word forms »
Yoast SEO

Yoast has helped me by making it incredibly easy to optimize all my on-page elements on my WordPress site, to get me from 0 to a consistent 3,000 monthly page views. I couldn't have done it without you guys. On top of the effortless on-page optimization, Yoast has an incredibly thorough and in-depth content catalog on their website that has allowed me to learn so much about SEO.
Peter Conley

– Producer & Web Designer
It leads search engines and your audience on your pages
You get audiences to your site by showing search engines the way to and on your pages. Internal links enable search engines to find your pages, cluster related topics and show what's most important. Hence, we offer the internal linking tool in Yoast SEO Premium, making it easy for you to add relevant links to your posts. Using it saves you time and effort. You won't have to go through all your published content manually and pick relevant links. Instead, the plugin will make a selection, so you'll just have to pick the best ones! Moreover, it gets even easier with the Yoast SEO Premium internal linking blocks. Just add the block, and you'll automatically add links to related posts!
On the more technical side, Yoast SEO comes with an XML sitemap. It guides search engines to your most important pages and makes sure search engines visit them whenever you make an update.
Yoast SEO Premium

The Yoast Premium "Internal Links Manager" really helped improve my clients' rankings for category pages on his online shop. Before we used Yoast SEO Premium, we had important keywords rank on either product or blog pages, which was not the intention. Using this very practical tool, we achieved clean link hygiene and made it very easy for Google to understand which pages to rank for which keyphrase. This feature can even be handled by users with low SEO experience – Really easy and effective!
Christian Eichhorn

– SEO Monkey
It contains tools that can make your content stand out
In the search results
The plugin contains a Google preview editor that lets you control what your snippets look like in the search results. You can use it to add your preferred SEO title, meta description, and URL slug. Yoast SEO will also analyze that data, and give you feedback on it, so you'll know if your snippet is on the right track. We should mention that Google and other search engines don't always show the data you add in the search results. However, adding it increases the chance they will pick it up and display it on their search engine pages.
To make your content shine and get all the attention it deserves, Yoast SEO also works hard in the background. It automatically generates structured data on your pages, which helps search engines understand your pages and makes them eligible for rich results. We also have an ever-expanding library of structured data blocks that give you an even greater chance to have attention-grabbing search results!
On social media platforms
Social media posting should be an essential component of your content strategy. So, if you want to stand out from the crowd, your social media posts should be eye-catching and informative. With Yoast SEO you can decide how your posts and pages appear when someone shares them on Facebook or Twitter. In Yoast SEO Premium, you can even preview the social media post yourself, right in the plugin's editor.
It helps you solve 404 errors
Proper maintenance of your site is as essential as the content you have on it. With that in mind, we've also created the Redirect manager in Yoast SEO Premium that helps you get rid of 404 "Page not found" errors on your site.
Yoast SEO Premium

I have been using Yoast SEO plugin for a very long time. Being a Tech Support and a part time blogger I recommend every WordPress user to use Yoast SEO plugin for their blog or for their website. The plugin helps you to optimize your site and rank higher on Search Engines. It has some extra ordinary features which even a non-techie (Like me) can configure the plugin in minutes. I recommend Yoast SEO as it definitely helps in boosting my conversions.
Deekshit Nair

– TopWPBlog
With Yoast SEO Premium you get access to all the SEO knowledge!
In line with our mission – SEO for everyone, we offer all our academy courses (12!) to clients of the Yoast SEO Premium plugin. As a result, you get all the knowledge at your fingertips, helping you become an SEO expert. 
Yoast integrations take working on your SEO to the next level
The plugin does a lot, but it can do even more by working with other great tools. Therefore, you'll find some exciting integrations in Yoast SEO Premium:
So, Yoast SEO will improve my rankings and I don't need to do anything?
Unfortunately, while Yoast SEO does a lot, you will still need to put a lot of effort as well. Primarily, you will need to write great, relevant, and up to date content. But we can't create that for you; we can just help you improve it. And, it is your task to continuously test your site and make sure it's fast, safe, and user-friendly (both on desktop and mobile!).
In short, we give you all the essential tools that can make your work significantly easier. So, if you put in the effort as well, great results are bound to come!
Keep reading: Yoast SEO Don't just set it and forget it! »
Coming up next!
Event

September 27 - 28, 2023

Team Yoast is Sponsoring WordPress Accessibility Day 2023, click through to see if we'll be there, who will be there and more!

See where you can find us next »

SEO webinar

26 September 2023

Get expert analysis on the latest SEO and WordPress news with Carolyn Shelby and Alex Moss. Join our upcoming webinar! 📺️

All Yoast SEO webinars »