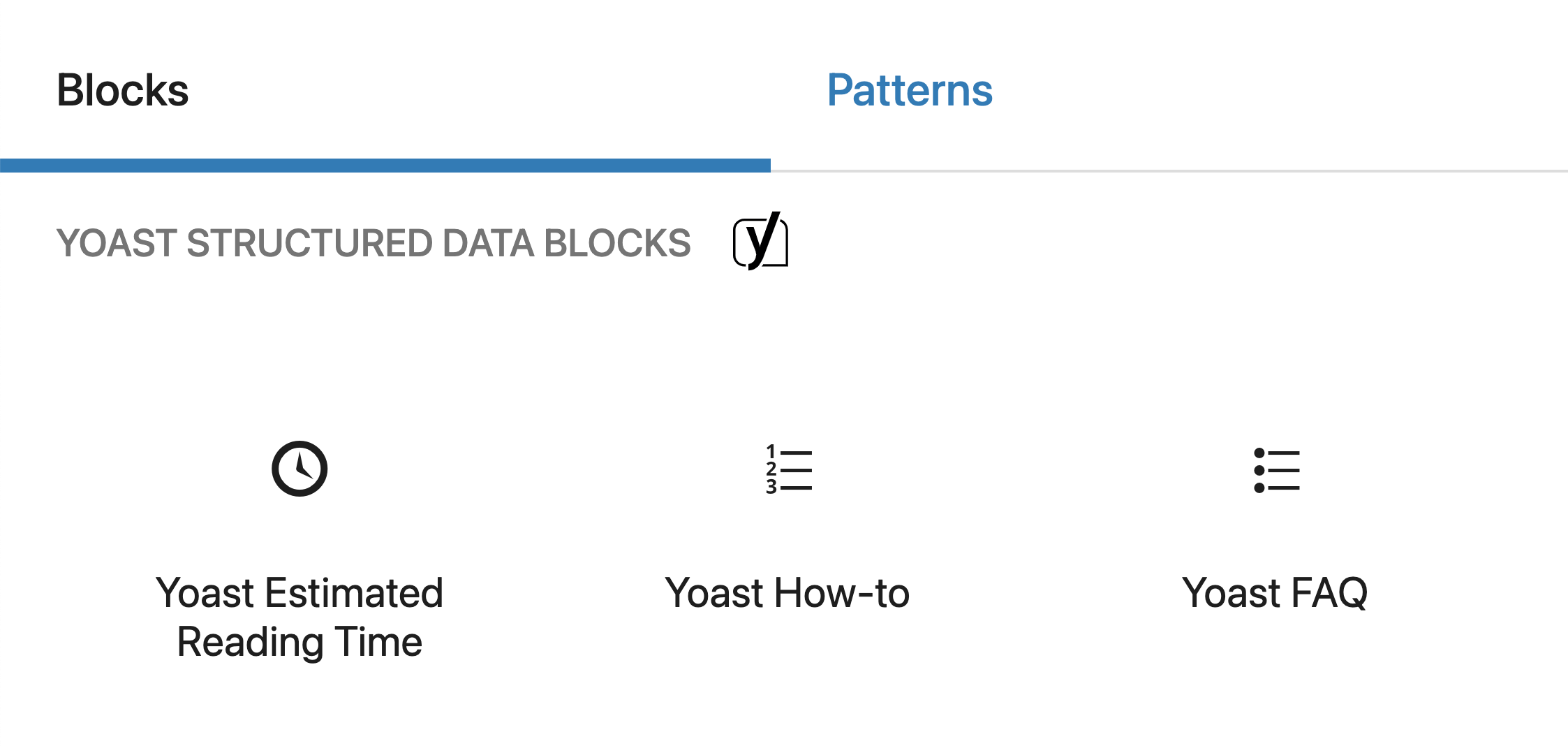 Why use structured data content blocks
There are a lot of reasons why you should use the Yoast SEO content blocks, but here are the three most important ones:
Automatically add Schema.org structured data code
Schema.org structured data is getting more important by the day. It is one of the important pieces that help you get your content noticed in search engines. By adding structured data, you're making it easier for search engines like Google to understand what your site and this specific piece of content is about. In turn, that search engine might reward your content with a rich result in the SERPs.
Much easier to get rich results for these types of content
FAQ and how-to rich results are relatively new in Google and pretty easy to get. Simply write great content and use our content blocks to add the correct structured data code. This makes sure that search engines understand that your FAQ really is an FAQ so that it can be sure to award it a rich result.
Build pages by filling in simple fields
Thanks to the content blocks in the WordPress block editor, you're building epic pages in no-time. Simply select the block for that specific type of content – be it an FAQ, how-to or something else -, add it to your page and start filling in the fields. It's all very intuitive. You can even add images that make the content even clearer for both readers and search engines. You don't have to think about code: Yoast SEO does it all for you!
Get Yoast SEO Premium!
The Schema implementation is available for free. But, if you are serious about your site Yoast SEO Premium can help you make your job a lot easier.
Which structured data blocks does Yoast SEO have?
Yoast SEO offers two structured data content blocks for free at the moment. These are the FAQ block and the How-to blocks. We're currently working on a new structured data block framework so we can easily expand the number of blocks. In the future, you can expect blocks for recipes, jobs, and events, to name just a few. All these blocks will integrate with the Schema.org graph that Yoast SEO generates for every site. This way, we can offer search engines with the complete package of all the connections on your site.
The FAQ Schema.org content block
Many sites have an FAQ page where common questions are answered. While there are many, it's not often that these are powered by FAQ Schema.org structured data. By adding this, your content has a great chance of appearing as a rich result. Your questions and answers will appear straight in Google, making for a real eye catcher. Thanks to the Yoast SEO FAQ block, you can have a great FAQ page in a jiffy!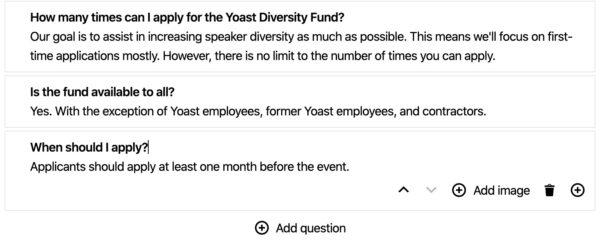 The How-to structured data content block
There are a million and one how-to articles on the web, but not everyone has discovered how-to structured data. By using this to mark up the articles, you'll get a good chance at Google turning them into a how-to rich result on mobile devices. Even smart assistants, like Google Assistant and Amazon Alexa, love structured data-powered how-to content. You can now use the Yoast SEO How-to content block to build an awesome how-to article. The plugin will automatically add the correct structured data for you – no coding necessary!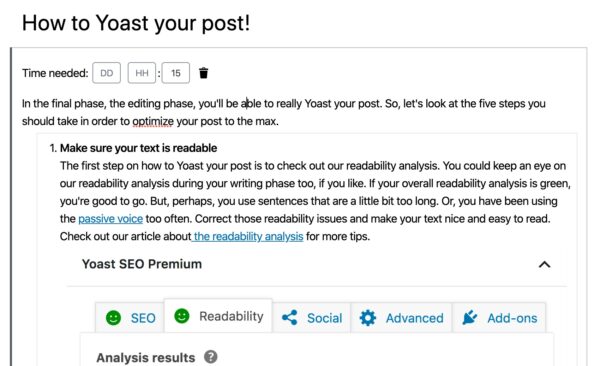 Many more in development
As mentioned before, we have a number of new content blocks in development. This will arrive in due time. Once our framework is in place, you can expect a whole bunch of new ones, including improved ways of filling, handling and maintaining them. Check back often!
How can you work with the Yoast SEO structured data blocks?
The blocks are relatively easy to use in the WordPress block editor. Watch the video below, and learn all about how you can work with them!
---
Get Yoast SEO Premium!
The Schema implementation is available for free. But, if you are serious about your site Yoast SEO Premium can help you make your job a lot easier.