Yoast SEO assessment: Previously used keyphrase
What does the previously used focus keyphrase check do?
The previously used focus keyphrase check assesses whether you've already used the focus keyphrase for other posts or pages on your site. If you've used it for another post or page you'll get a red bullet as you should optimize only one page for one keyphrase.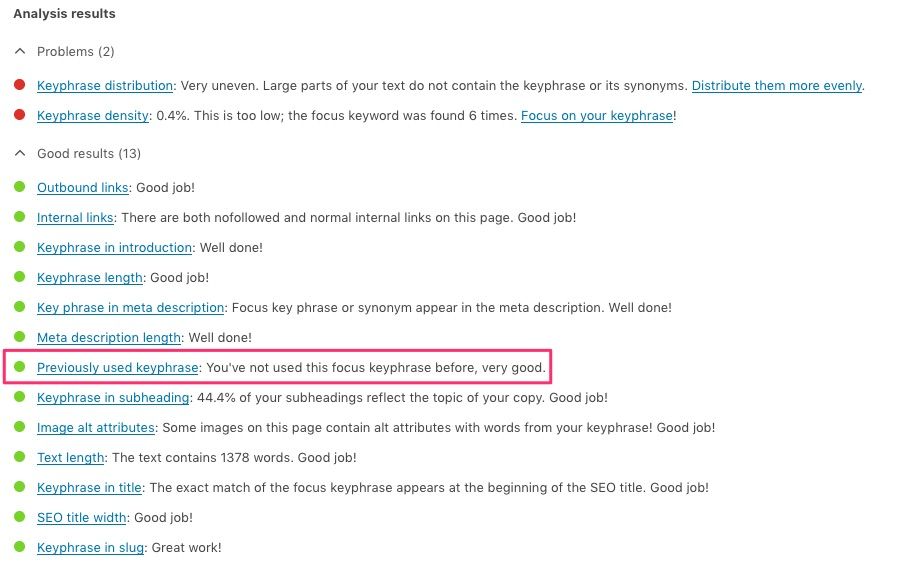 Why is it important for SEO to use your focus keyphrase only once?
If you optimize multiple posts or pages for the same keyphrase you might get duplicate content issues. This means that Google (or other search engines) get confused about which page or post to rank for a certain query. For instance, if you optimize two posts for [baking vegetarian pancakes] Google might not know which one to rank highest for that query. Therefore it might even rank both articles lower and rank an article from another website higher.
Want to learn how to choose your focus keyphrase well?
A solid keyword strategy is indispensable if you're aiming for your website to rank high. You should investigate which keywords you'd like to rank for, research what the competition is doing and write excellent copy about your focus keywords at the very least. If you want to learn how to thoroughly perform keyword research for your website, read our Ultimate guide to keyword research or try our online Keyword research training!
Optimize your site for the right keywords for your users
Avoid dead links in your site
Get previews for sharing on Twitter and Facebook
Content quality and link suggestions as you write
More info