Yoast SEO assessment: Keyphrase length
What does the keyphrase length assessment do?
The keyphrase length assessment checks whether the focus keyphrase is present and whether it is not too long. You can try to target a rather short keyphrase in a cornerstone article (e.g., "mountain biking") or a rather long one in a more specific piece of content (e.g., "mountain biking in South France"). For languages with function word support, the optimum length for a keyphrase is up to 4 content words. If your language doesn't have function word support, the plugin allows up to 6 words for your keyphrase.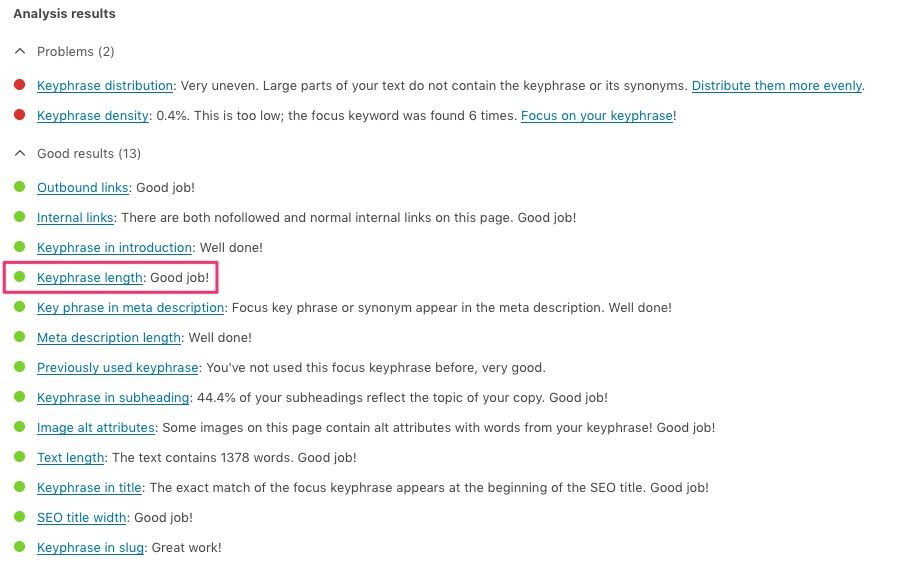 Remember that If you haven't set a focus keyphrase, Yoast SEO cannot calculate the SEO score of your page or post.
Why is the keyphrase length important for SEO?
By using longer focus keyphrases, you are automatically optimizing your post for the long tail. The longer your keyphrase is, the fewer competitors you'll have. That's not to say you should make your keyphrase a whole sentence. We recommend a maximum of four relevant keywords for your focus keyphrase. Longer keyphrases make it harder to optimize your post. Simply because you need to repeatedly use a large number of words close to each other, while still trying to create a readable copy.
It's also the other way around: using a single, high-level focus keyword might make it easier to optimize the post, but it will be harder for that post to rank for that specific term. The competition will be fiercer. Whether your keyphrase is long or short depends on where in the internal structure of your website the new content will be positioned. Thinking ahead about how different articles of yours are related will prevent you from re-using your keyphrase and thus competing with yourself in the search results.
Do you want to improve your focus keyphrases?
Choosing what you want to rank for is hard. That's where keyword research comes in. In your keyword strategy, you should define what you want to rank for and how you want to achieve those rankings. Find out what you want to rank for and which terms, phrases and concepts are related to that. Find out what people use to describe the product or service you're offering. It could be that you want to target a high-level keyphrase with an all-encompassing cornerstone article and support that with content ranking for long tail focus keyphrases. That's up to you, and, if done well, your keyword research will give you those keyphrases on a silver platter. Yoast Academy explains exactly what you can do to improve your focus keyphrases.
Check out the Yoast SEO assessments overview ▸
Optimize your site for the right keywords for your users
Avoid dead links in your site
Get previews for sharing on Twitter and Facebook
Content quality and link suggestions as you write
More info