Optimizing your posts and pages with a keyphrase makes it easier for people to find your content. Here, we'll dive into a particular aspect of the keyphrase – its length. We'll tell you how the length of your keyphrases relates to SEO. And, you'll get a few essential tips on when to use short or long keyphrases.
Did you get a red or orange bullet for the keyphrase length in Yoast SEO? Jump straight to reading what the keyphrase length assessment in Yoast SEO does. Or read about what you need to do to stop seeing the orange or red bullets for your keyphrase length.
What is a focus keyphrase?
The focus keyphrase is the phrase that you want your post or page to be found for in search engines. Sometimes, it is a single word, but it usually consists of a few words. That's why we call it a keyphrase. For example, if you want your blog post to rank for 'healthy snacks', then optimize your post for that term. Your focus keyphrase can also be longer. For instance, you could write an article about healthy snacks specifically made for kids and optimize for 'healthy snacks for kids'. Or a post about healthy snacks to eat after a workout, and optimize for 'healthy snacks after workout'.
Why is the keyphrase length important for SEO?
There are different approaches to choosing a keyphrase for your posts or pages. You can choose to optimize your article for a short, generic keyword. These are the more common keywords that get a lot of search traffic. But, they also have a great deal of competition. Like, 'snacks', for example. A lot of people will search for this term. However, there will be many companies optimizing for it. In the image below, the body of the mouse represents these less specific keyphrases.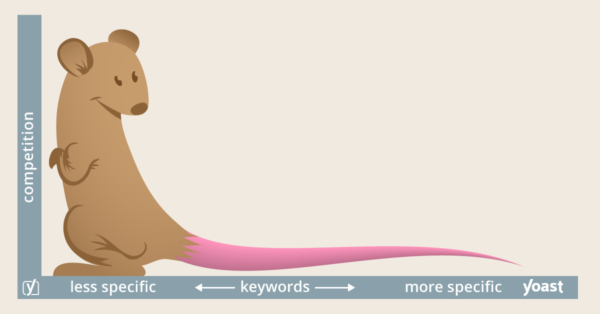 You can also choose to optimize for a longer, more specific keyphrase, represented by the tail in the image above. These longer keyphrases are also called long-tail keyphrases. They get less search traffic, but they usually have a higher conversion value. That is because they focus more on a specific product or topic. For example, a lot of people would probably search for the generic term 'snacks'. And, fewer people would search for the long tail keyphrase – 'healthy snacks for children'. Still, there's a higher chance that the people who use the long tail keyphrase will find what they are looking for because they used a more specific term.
Longer keyphrases make it harder to optimize your post. Since you'll need to repeatedly use a large number of words close to each other, it will be hard to keep your copy readable. Of course, Yoast SEO Premium and Yoast SEO for Shopify can help you solve that puzzle. It recognizes word forms and lets you optimize for synonyms and related keyphrases as well. It's also the other way around: using a single focus keyword might make it easier to optimize the post. But it will be harder for that post to rank. The competition will be fiercer.
Buy Yoast SEO Premium now!
Unlock the premium content analysis and much more for your WordPress site with the Yoast SEO Premium plugin!
What does the keyphrase length assessment in Yoast SEO do?
The keyphrase length assessment checks whether the focus keyphrase is present and whether it is not too long. But what's too long? To answer this question we'll have to explain a bit what Yoast SEO does with your keyphrase, and which words in the keyphrase we count when assessing your keyphrase length.
Yoast SEO mimics Google
Google is capable of recognizing the separate words from longer search terms, even if the words are not in the exact same order as the query. For instance, if you Google [easy to use and short site structure guide] you'll get these results: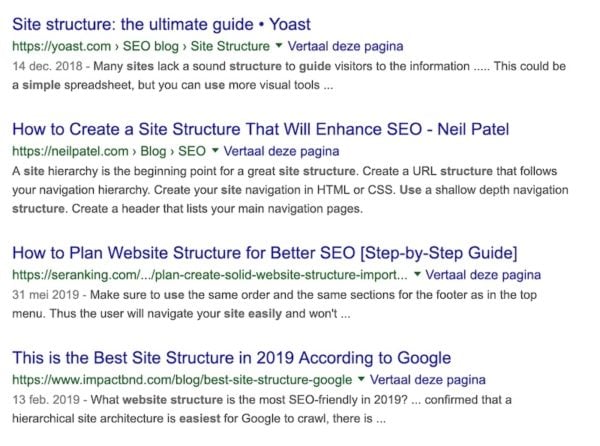 You can see that Google highlights the words (and different word forms) of this search term in the search results, even though they're not in the exact same order as the original query.
Yoast SEO tries to mimic Google's behavior. It chops your keyphrase into pieces and then uses these words in various SEO assessments. For instance, in our keyphrase density check, we'll check whether these words appear close to each other somewhere in your copy. We won't look for an exact match of the focus keyphrase in this check, because if you write naturally you'd probably variate the order of those words in your sentences.
In particular languages, we're even able to filter out function words like "the" or "and" or "if". We'll just keep the so-called "content words", which carry the most meaning. And, in Yoast SEO Premium for WordPress and Yoast SEO for Shopify, we're also able to check for different word forms and synonyms of the words in your keyphrase.
What are the boundaries?
Back to the length of your keyphrase. In Yoast SEO, we'll check how long your keyphrase is. And we'll provide you with feedback if it's too long. If it's too long this might jeopardize the readability of your copy. Imagine using [easy to use and short site structure guide] more often in your copy. Even if you don't have to write those exact words in the same order, this will probably result in a strange and unnatural text.
The boundaries we use for this assessment depend on whether we can take out the function words for your language or not. If we can, the boundary is four words. In case we can't take them out, the boundary is six words. If your keyphrase is longer than that, you'll find an orange or red bullet in the SEO assessment of your post!
What should you do with those extra words?
If you're on Yoast SEO you should reduce your focus keyphrase to the most important words you want this post to rank for. Of course, you can use the other words in your copy as well. But in order to be able to see if you use them often enough (and if you could rank for them!), you should use the related keyphrase functionality in Yoast SEO Premium or Yoast SEO for Shopify.
For example, if you want to rank for the keyphrase [easy to use and short site structure guide], I would advise optimizing your post for [easy site structure guide] and use the related keyphrase field for [short site structure guide]. Of course, you can use this field for more topical keyphrases too. In this case, [internal linking] would be a nice, on-topic example. If you optimize your posts this way, you'll make sure you're optimizing for all the specifics of your long-tail focus keyword.
This functionality enables you to focus on multiple aspects of a long-tail keyword. The readability of your text will not suffer, and you'll still make sure you cover all the aspects of a long search term in your writing. Plus, you'll be able to enter synonyms of your keyphrase too! Read here why you should use synonyms in your text.
Read more: Beyond exact keyword matching: optimize your text naturally »
Conclusion
Keywords or keyphrases help you rank. So, you need to use them wisely. After you've done your research and you've decided on the keyphrase you want to use, Yoast SEO will help you. One of the things it does is check the length of your keyphrases. It warns you when your keyphrase is missing, or when it is too long. And, it gives you a green bullet if you get it right. So use it, optimize your posts and pages, and make it easier for people to find you!
Keep reading: Keyword research for SEO: the ultimate guide »
Become a Yoast SEO pro series
Coming up next!
Stay tuned

Keep an eye on our site and social media to stay up-to-date.

See where you can find us next »

SEO webinar

12 December 2023

Learn how to start your SEO journey the right way with our free webinar. Get practical tips and answers to all your questions in the live Q&A!

All Yoast SEO webinars »