Which articles are my cornerstone content?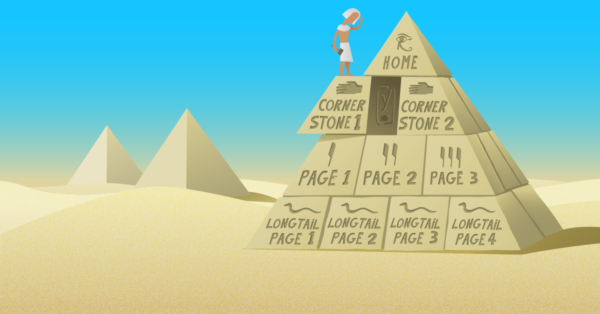 Cornerstone articles are the most important articles on your website – the pages or posts you want to rank highest in the search engines. Cornerstone articles are usually explainers; relatively long articles combining insights from different blog posts.
Even if your website has been around for a long time, you may never have thought about cornerstone articles before, but you probably still have a few articles that do really well in search. So how do you decide which articles are your cornerstones? And what should you do to optimize these articles, once you've identified your cornerstone content? Here, I'll help you to work out which are your cornerstone articles and give you some tips for optimizing them to increase their chance of ranking.
5 steps towards a pragmatic cornerstone approach
Ideally, you should do extensive keyword research, after which you can produce really awesome, long, informative and beautifully written cornerstone articles. But you've probably written tons of articles already. Follow these five steps to turn some into killer cornerstone content:
Step 1: Think about your keywords
You have to determine the essential keywords you want to rank for. Make sure you use the words your audience search for. Trying to rank for words nobody uses, is utterly useless. Your cornerstone articles should be optimized for the most 'head' or most competitive keywords you're aiming for.
Read more: Keyword research: the complete guide »
Step 2: Choose the best post
Go through the posts that are optimized for keywords closest to the most important, most competitive keywords. Which post do you think is the best? That'll be your cornerstone from now on!
Step 3: Rewrite it
Rewrite your cornerstone article. Make it awesome and SEO-friendly. Expand it and make sure it's totally up to date. You should check it and expand that article regularly. Make sure that this article covers all the information that is relevant to that topic.
Also, make sure the article is incredibly nice and easy to read. Reading from a screen is challenging. Cornerstone articles tend to be longer than regular articles. You should, therefore, focus even more on readability. Think about the structure of your text, present topics in a logical order, write clear and short paragraphs.
In Yoast SEO we offer a specific cornerstone content analysis now. This analysis is stricter and more extensive than the usual content analysis. It, therefore, helps you to write excellent content for your cornerstone articles.
Keep reading: 5 tips for a readable blogpost »
Step 4: Optimize your other posts on long tail variants
Once you've chosen and improved your cornerstone content article, you should pay some attention to the blog posts that are about similar topics as your cornerstone article. These other blog posts should be optimized for long tail variants of the 'head' keyword you're focusing on in your cornerstone article. So, if the keyword of your cornerstone article is 'ballet shoes', the keywords of the other blog post could be: 'ballet shoes for kids', 'cheap ballet shoes', 'classical ballet shoes' and 'ballet shoes for men'.
Read on: Why you should focus on long tail keywords »
Step 5: Linking from those tails to your head
An important reason why you should use a cornerstone content approach is because you do not want to compete with your own content for ranking in Google. That's why you have to tell Google that your new cornerstone article is the most important one on your site. You can do that by linking from all the long tail articles to your cornerstone article!
The link counter in Yoast SEO helps you with this! You can easily select your cornerstone articles in the post overview and see how often they're linked to internally:
If a cornerstone article gets too little links you should link to it more often from related articles. With Yoast SEO you can see, at a glance, which of your cornerstones need a bit more attention!
Keep on reading: Site structure: the ultimate guide »