Headings and why you should use them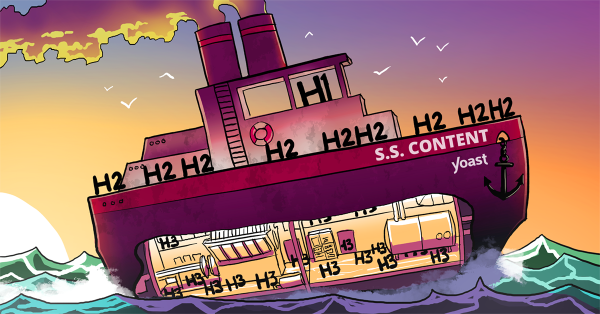 Heading tags, as the name implies, are tags that are used for the creations of headings. The most important tag is the <h1> heading tag, and will usually be the title of a post. Heading tags have a top-down hierarchy from <h1> to <h6>.
Structuring the page
When used properly, headings describe the structure of a piece of content, and divide it into neat, digestible sections.
Before we start, we should point out that there are two different sets of 'rules' when it comes to how to use HTML heading tags; the 'classic' approach (from the HTML4 standard), and, the 'modern' approach (from the HTML5 standard). We're going to focus on the classic approach, as there are some usability and SEO challenges with the modern approach (you can read more about that here).
What are the rules?
With the 'classic' approach, the rules are simple.
Firstly, you are limited to using one H1 heading tag on each page. This tag should be the name/title of the page or post. On this page, that's "Headings and why you should use them". Think of your H1 like you would think of name of a book.
On a category page, your H1 would be the name of that category. On a product page, it should be the product name.
Then, as you write your content, you might use multiple H2 tags to introduce different sections – like the "Structuring the page" section that you're reading right now. Think of these like chapters of a book. Those individual sections might also use more specific headers (h3 tags, then H4 tags, etc) to introduce sub-sections. Anecdotally, it's rare for most content to get 'deep' enough to need to use H4 tags and beyond.
Don't overdo it!
It's important to avoid the temptation to put lots of your text, or your calls-to-action, into headings. That won't help users, and, it won't help search engines.
Headings should only be used to structure and break up your pages and content, not to contain your post or page content.
Headings and SEO
It's generally believed that using heading tags doesn't have a direct impact on your SEO. You're unlikely to rank higher because you tweak your structure to use a H3 rather than and H4, for example.
But there are indirect benefits
Even if headings don't directly impact your rankings, using them to structure and break up your content will make it more readable, and, might improve the quality of your writing. They'll also help users to skim, read and digest your page more easily, which might create the kinds of engagement signals and behaviours which help convince Google that your page is a good result.
Given this, it's reasonable to say that well-structured content indirectly affects rankings, and therefore it's definitely something you should consider when writing.
How to check your headings
If you're using the Block Editor in WordPress, there's a handy button in the upper left of the content editing screen, which shows an outline of the page you're editing.
If you've structured your content well, it should look something like this!