Yoast SEO 8.2 Automatically add structured data with Gutenberg content blocks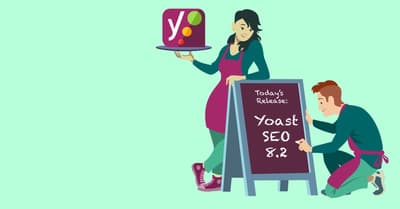 While we're still only at the start of the Gutenberg adventure, we're presenting an awesome, brand-new feature for the new WordPress editor today. Meet the Yoast SEO structured data content blocks! The content blocks automatically add valid structured data code to the content that is added to these blocks. Our initial line-up consists of How-to and FAQ content blocks, plus address and map blocks for our Local SEO plugins, but we're looking to add more in the future.
Adding structured data in Gutenberg
Structured data is important but pretty hard to implement. By adding Schema.org structured data to your pages you can tell search engines exactly what's on there. For most people implementing it comes down to asking their developer to hard-code it into the site. Or learning to master Google Tag Manager so you can inject the necessary code into your pages — this is what we teach you in our Structured data training. This complexity is one of the reasons structured data has been struggling to reach critical mass, even though Google has been pushing it for years. This is now changing with Gutenberg structured data content blocks in Yoast SEO 8.2!
As of today, we're adding that structured data metadata automatically to the content that's added to two new, free Gutenberg blocks inside Yoast SEO, namely How-to and FAQ. Local SEO and WooCommerce SEO have blocks for addresses and maps. So, if you have an FAQ page on your site you can now build these pages inside Gutenberg. Yoast SEO will automatically add the necessary Question Schema.org to that block. The same goes for How-to. Build your how-to article with the How-to content block in Gutenberg, including all the necessary steps and even images, and see a valid piece of structured data appear in the source of your page. It is now easier than ever for Google to find and understand that particular piece of content. Fantastic, right?
Our CPO Joost de Valk and CTO Omar Reiss explain the how and why of Yoast SEO structured data content blocks in this interview »
How-to structured data
How-to structured data is a fairly new addition to the Schema.org vocabulary. You use it to mark up content that teaches you how to do something following a series of steps. This could be how to cat-proof your apartment or how to install Yoast SEO Premium or something else entirely. We published a post a while back on how to add how-to structured data to your how-to articles. Please read that if you need more background information. In addition, the specifics of the How-to block can be found on the Yoast SEO How-to Schema content block product page.
The structured data content blocks come with default styling, but we made it easy for you to change these. Our UX designer Luc wrote a post detailing how you can give the How-to content blocks your own styling so they fit right in with the rest of your site. There will be a post about styling your FAQ content blocks later on.
Using the Gutenberg How-to structured data content blocks is incredibly easy.
Choose the Yoast SEO structured data block for How-to
Type the description for the how-to
Enter the time needed to do the how-to
Fill in the first step title
Fill in supporting text for the step
If necessary, add an image using the Add image button
Hit the Add step button to add a new step
Use the Insert step button to insert a new step between existing steps
Done? Save your draft!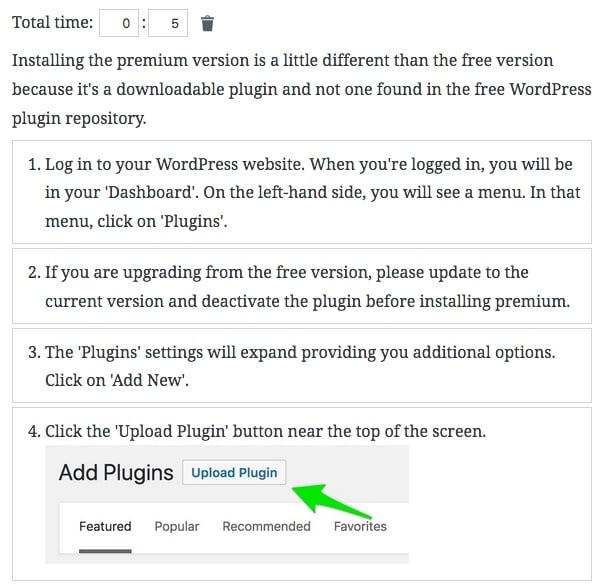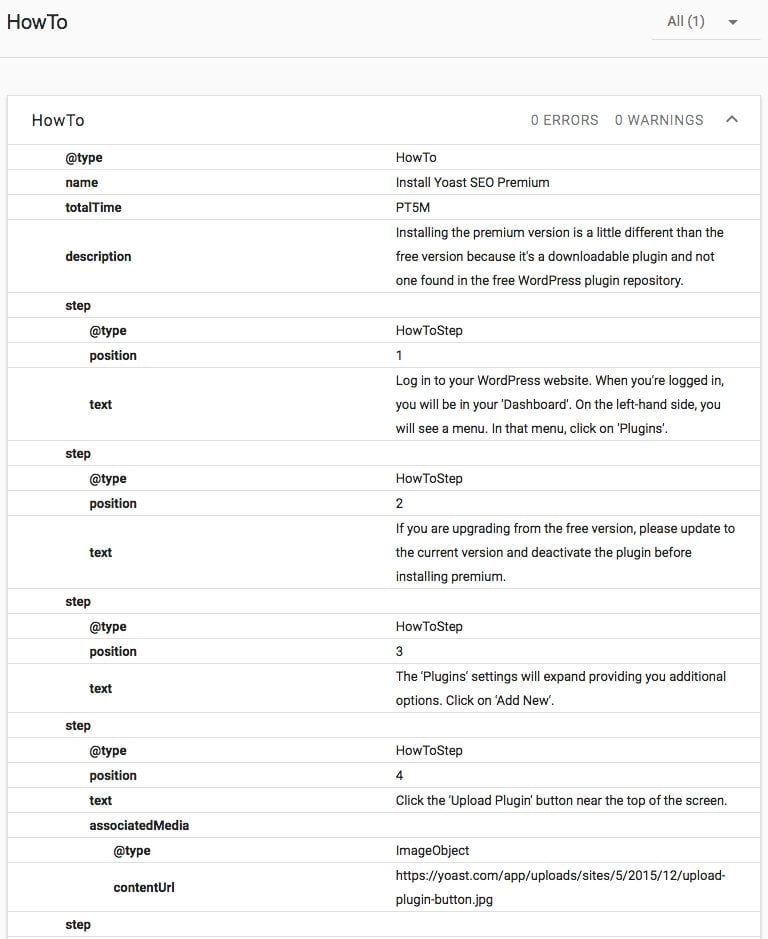 Here's an example how-to on how to install Yoast SEO Premium:And here's what Google's Structured Data Testing Tool says of that page:Epic, right? Remember, due to restrictions by Google it is not possible to add more than one How-to content block on a page.
Want to dive into the mark-up and styling of our HowTo block? Read this post from our UX designer Luc.
FAQ structured data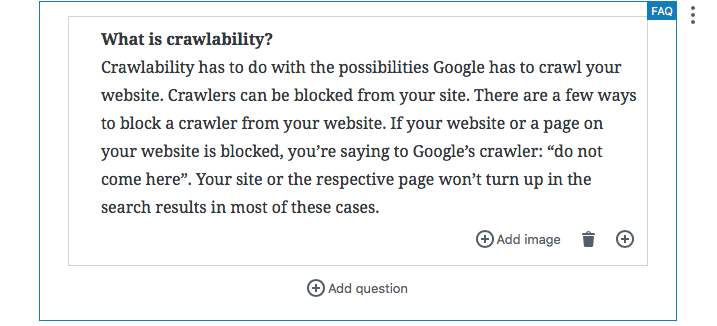 If you have a section on your site for frequently asked questions — an FAQ— then you'll enjoy the new FAQ structured data content block. Schema.org/Question is "A specific question – e.g. from a user seeking answers online, or collected in a Frequently Asked Questions (FAQ) document." You can now easily add the structured data needed for search engines to understand FAQ content. Just fill in the questions, add the answers and maybe an image if needed. Hit publish and your perfectly structured FAQ block is ready!
Local SEO & WooCommerce SEO with Gutenberg blocks
Of course, we had to give some of our other SEO WordPress plugins some Gutenberg love as well. Do you own a local business or are you doing a lot of local SEO? If so, you need our Local SEO or WooCommerce SEO plugins. These plugins help you to improve your site so it can more easily rank in your local search results.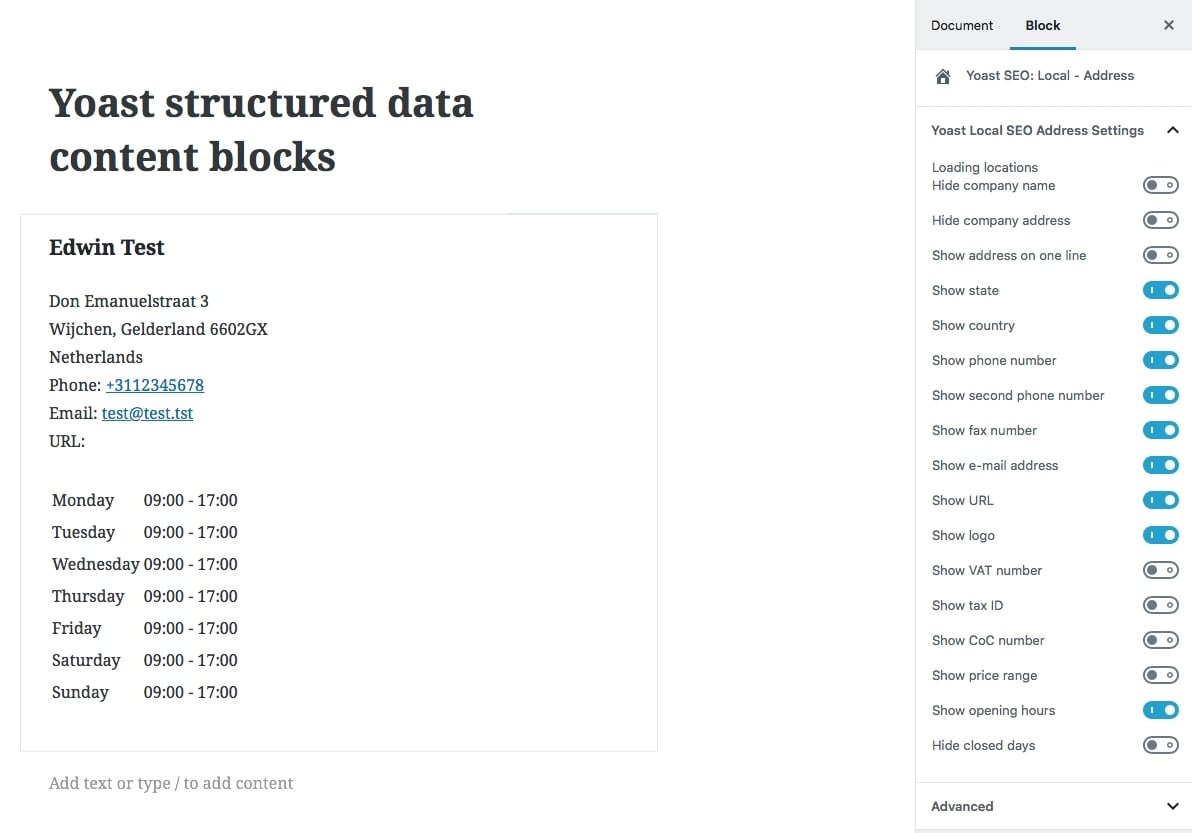 Today, the two local SEO plugins get structured data content blocks for Gutenberg as well: you can now add valid structured data to your site by adding the new address block. The fields will appear automatically if you've filled in the fields in the plugin settings. Of course, you can finetune what you do and don't want to appear. In addition, you can use the new Google Maps structured data content block to easily add a good looking map with structured data to your site.
More to come
Gutenberg's block-based design makes it a very interesting platform to design for. These structured data content blocks are our first tools specifically built for the new WordPress editor. We hope to expand our offering of structured data blocks in the near future. We can't wait to bring you blocks for job postings, events and recipes, among others! And please, do give us your feedback so we can make these blocks even more awesome.
Polish readability analysis
Yoast SEO 8.2 also brings a new supported language: Polish! We can now analyze text written in Polish and make suggestions to improve the readability. In addition, we will now also suggest articles to link to using our internal linking tool in Yoast SEO Premium. The Polish readability analysis was made possible by contributions from the community. We're thankful for the great support from the people at Macopedia, who sent us word lists which make a vital part of our analysis. We're always super enthusiastic when people in the community show us their love for our products and also a commitment to the open source spirit by contributing to our code base!
Bug fixes and enhancements
As always, we've fixed a couple of annoying bugs. This time we focused on fixing bugs related to slugs, user input incorrectly triggering analyses, zooming issues on iPhones and several others. You can read up on them in the changelog. We do want to thank mt8, who helped us fix a bug related to OpenGraph images that wouldn't correctly show for the front page in a couple of situations.
Update now!
Yoast SEO 8.2 is a very exciting release. With the launch of the structured data content blocks for Gutenberg, we're heading into unknown and very exciting territory. We can't wait to see what you do with the current set of blocks and hope to bring even more blocks to you in the near future. Try it, tell us what you think and enjoy using Yoast SEO 8.2!
Read more: Why you should buy Yoast SEO »
Coming up next!
Event

December 09, 2023

Team Yoast is at Attending, Organizing, Sponsoring WordCamp Ahmedabad 2023! Click through to see who will be there, what we will do, and more!

See where you can find us next »

SEO webinar

12 December 2023

Learn how to start your SEO journey the right way with our free webinar. Get practical tips and answers to all your questions in the live Q&A!

All Yoast SEO webinars »