A better local presence
Yoast SEO: Local SEO for WooCommerce gives you a beautiful contact page, better local search results and more options in your WooCommerce store to sell locally:

WooCommerce local options – Give your customers the option to locally pick up the goods they order in your store.

Insert Google Maps – Add a custom Google Map to your contact page so customers can find you and navigate to your location.

Add contact details – Make sure customers can easily contact you. You can add everything you want.

Add opening hours – When do you open and when do you close your business?
Insert a location finder – Have multiple locations? Use this location finder so customers can find the shop nearest to where they are.
Get your license here:
Screenshots
Local SEO for WooCommerce takes your contact page to the next level! Check out what it can do for you: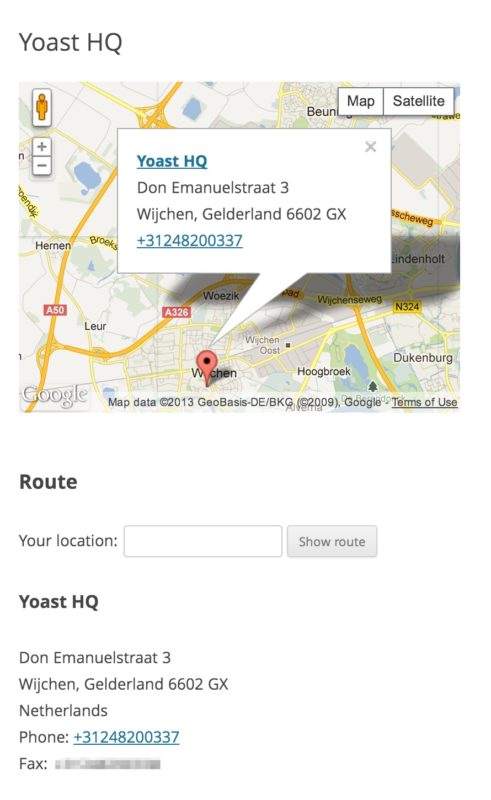 The plugin extends the WordPress eCommerce plugin WooCommerce with some options to sell your items locally. Let customers pick up their orders in your store!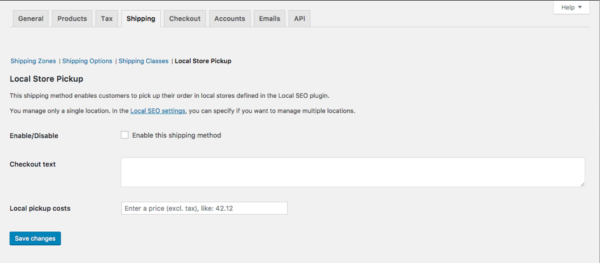 Getting started
To get started you can read our getting started guide or dive right into the manual. If you want to keep track of what we're adding, fixing or enhancing, you should check the changelog.
Technical specifications
It's a pretty long list, but here are some of the best features of Local SEO for WooCommerce:
KML File generation and automatically adding these to your XML sitemap (needed for Google).
Address output in Schema.org format.
Showing opening hours (with Schema.org output).
Showing Google maps, including a route planner.
A store locator to easily find your nearest location.
Support for multiple locations.
CSV upload for multiple locations.
WooCommerce shipping method: local pickup.
New WooCommerce status messages to keep customers in the loop.
Add shipping costs for local orders, if any.
So get your copy now:
The Local SEO for WooCommerce module for the Yoast SEO plugin is being developed in partnership with Uprise, the developers behind GeoSitemapGenerator.com, experts in the field of local search optimization, and especially the technical aspects of it.